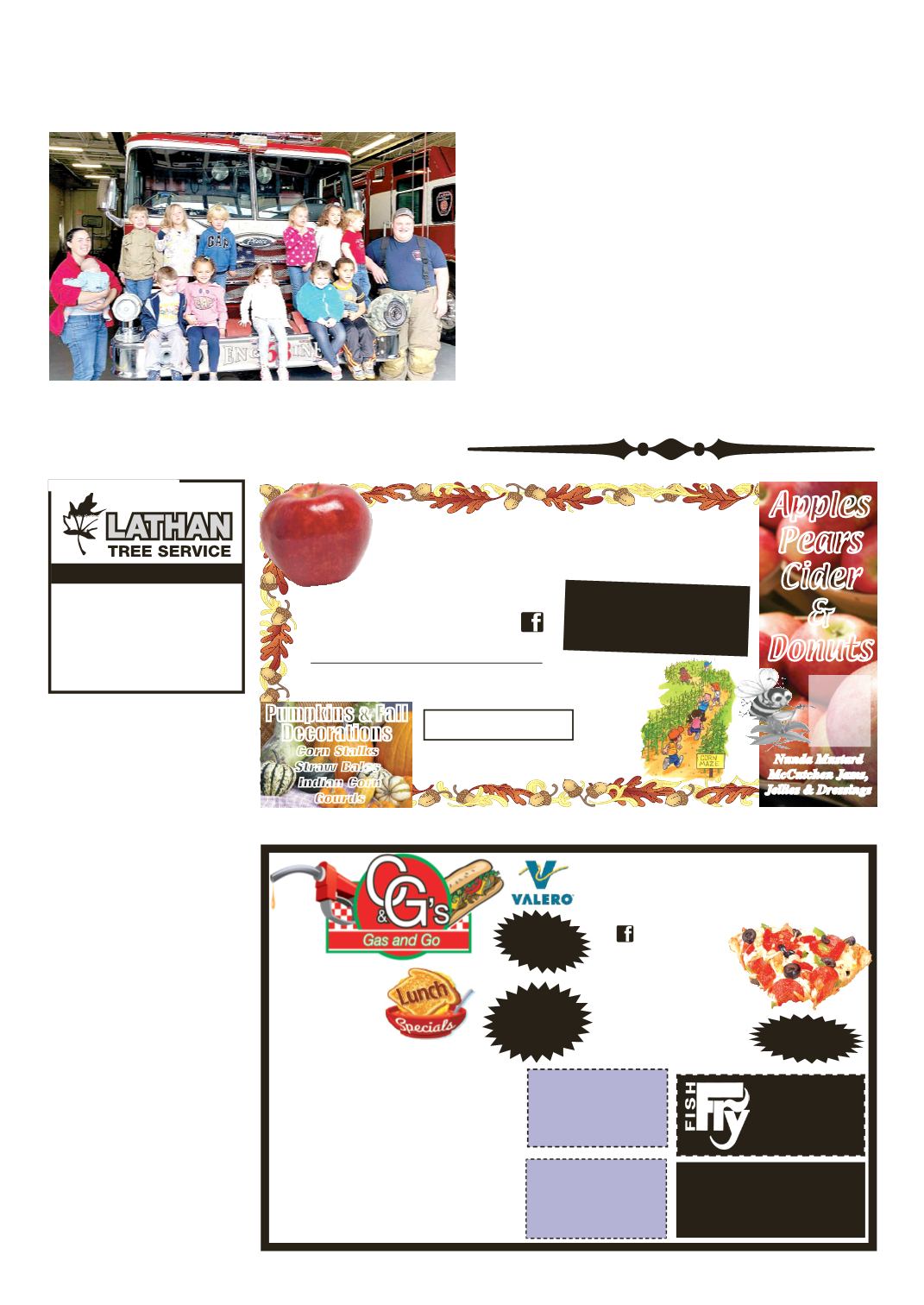 LEROYPENNYSAVER&NEWS -OCTOBER 25, 2015
LATHANTREESERVICE
TreeSurgery • TreeRemoval
StumpRemoval • Planting
FreeEstimates Fully Insured
Mon. - PulledPorkwithColeslaw
Tues. - Hot TurkeySandwich&MashedPotatoes
Wed. - LasagnawithGarlicBread
Thurs. - 2SlicesPizza& 3ChickenWings
(add$1.00 for FrenchFries)
Chris'sFamousChili -AvailableNOW!
Sat.&Sun. Foot-longColdSub -$5.99
SunshineNurserySchool'sPre-Kclasswalked to theLeRoyFire
Department to learnaboutfire safety.The studentswereexcited
to try onfirefighter gear, climb aboard a fire truck and tomeet
our local heroes!Thank youFirefighters!
AFireStationFieldTrip
ForSNS
UnitedMemorialMedicalCen-
ter and the Cancer Services
Partnership will provide free
health screenings to Genesee
ages of 40-64with no insurance
or high deductibles, onTuesday,
October27, 2015 from4-8pmat
the Jerome Center, 16 Bank St.,
Batavia.Appointmentsareneces-
sary for some of the screenings.
For women age 40-64, nurse
midwife, Cecilia Stearns, MSN
health screenings, including pap
smears,pelvicexamsandclinical
breastexams.Additional services
available at the event include
mammography, total cholesterol,
blood pressure and take home
colorectal cancer screening kits.
All screenings will be pro-
vided at no charge. Funds are
available for follow-up care if
necessary. Please call United
Memorial's Healthy Living
Department to schedule an
appointment at (585)344-5331.
Light refreshments,health infor-
mation and free giveawayswill
Batavia
CTECenter
OpenHouse
Career andTechnical
EducationWorks!
Crime scene analysis, 3-D
printing processes, welding ap-
plications, animal caremethods,
and the newest cosmetology
trends are just a fewof the prac-
ticesstudents learnat theBatavia
Career and Technical Education
Center (CTE). TheBataviaCTE
Centerwill hold anOpenHouse
on Thursday, November 5 from
Students, parents and com-
munity members are invited to
tour the center and discover the
manyskilled tradesopportunities
available at this facility.
Thisevent isopen to thepublic.
TheBataviaCTECenter is locat-
edat8250StateStreetRoad,Bat-
avia,NY14020.Pleasecall (585)
344-7711with anyquestions.
HealthScreeningsForThe
Uninsured orUnderinsured
8160LakeRd. (Rt. 19) LeRoy, NY
768-2280 • 704-1157
Hours:Mon.-Sat. 9-6, Sunday 9-5
pullysfarmmarket.com
Corn Stalks
StrawBales
Indian Corn
Gourds
DuckRacesEVERYDAY!
CornBox! BirdSeed
Corn
Maze
OPEN
NundaMustard
McCutchenJams,
Jellies&Dressings
OFF
Dinner
-
Expires 10/31/15
COUPON
PIZZA SLICES
2/
$
3.00 Every Day!
HOURS: 5 am-9 pm •Deli 11 am-8pm • Lunch11 am-2 pm
COUPON
$
2.00
OFFAny
LargePizza
Expires
10/31/15
COUPON
$
2.00
OFFAny
Large Sub
Expires
10/31/15
Generous
Servings
at
Affordable
Prices!
(additional toppings $1.50)
Everything
Made FRESHDaily
Never Frozen
CheckOut Our
GAS PRICE
5¢OFF
Every SUNDAY