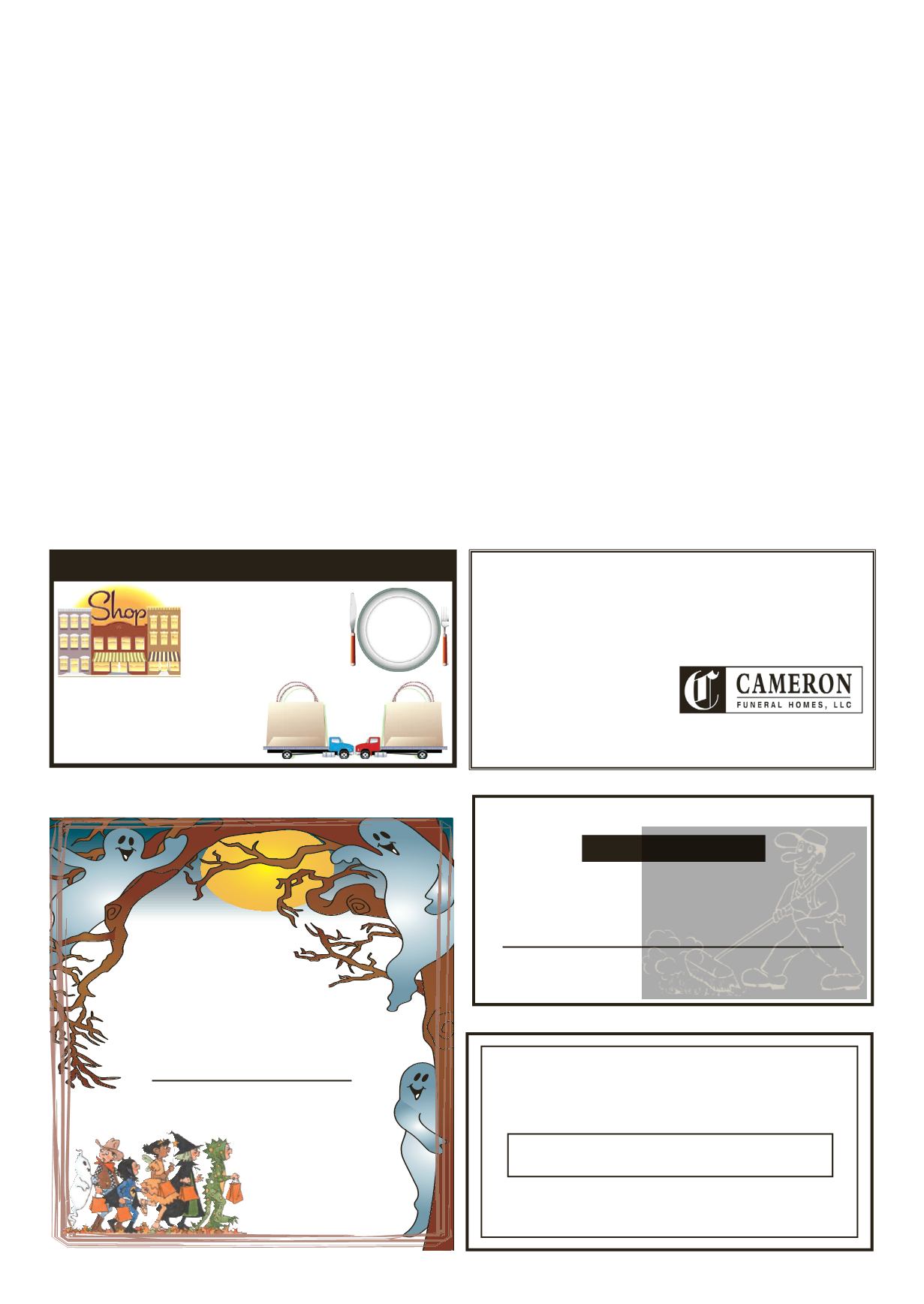 LEROYPENNYSAVER&NEWS -OCTOBER 25, 2015
HelpingFamiliesCelebrateaLifeLived
"Our FamilyServingYours Since 1907"
Trusted•Honest •Proven
Cameron, Brady&Steuber
FuneralHome
111Wolcott Street
LeRoy,NY 14482
(585) 768-6800 •
Likeus onFacebook
Plumbing • Heating
Installation&Repair Service
For All Residential &Commercial Work
CleaningService
•Carpet &UpholsteryCleaning
•Spot Cleaning&Odor Removal
•Tile&WoodFloor Cleaning&Waxing
•Complete Janitorial Services
bySenatorRanzenhofer
October 2015
Few things in life are more
frightening than a diagnosis of
cancer.Thewordalone isenough
to send shivers down the spines
of most people, especiallywhen
it strikes close to home, either in
Yet, theoutlook forpeoplewith
cancer is, in many cases, better
than ever before due to medical
breakthroughs, research and
education. As is often the case
with chronic illness, education is
key toearlydetection in thefight
According to the American
Cancer Society, breast cancer is
themost common cancer among
women in theUnitedStates,other
than skin cancer. It is the second
leading cause of cancer death in
women, after lung cancer. The
good news is that the survival
rate,whendetectedearly, isvery
In theUnitedStatesalone, there
are2.5millionbreast cancer sur-
vivors which can be attributed
to earlier detection and better
The best protection is early
detection. By recognizing the
symptoms of breast cancer, even
when some appear to be incon-
sequential, women can seek
medicalattentionearly, ifneeded,
thereby increasingsurvival rates.
The American Cancer Society
recommends that every woman
have a baselinemammogram by
age 40, then a screening mam-
mography every year thereafter.
However, every woman should
consult with her doctor about
While many people know that
October isBreastCancerAware-
nessMonth,othersmaynotknow
that October 16th is National
Mammography Day. It is an
important day to raise awareness
about this life-saving screening
and to encourage women to
schedule an appointment for a
In August, I was glad that so
manywomen took advantage of
mammogram screenings at my
Family Health Fair. I partnered
with theMobileMammography
Coach to offer the screening for
In the 2015-16 State Budget, I
workedwithmycolleagues in the
StateSenate tosecurea$200,000
state grant, administered by the
State Department of Health, to
increase outreach initiatives to
individuals impacted by breast
cancer and to provide expanded
cancer services in our region.
This funding is much needed
since some of the counties in
Western New York have the
highest rates of breast cancer in
Later thismonth, Iwillbehost-
inga round tablediscussionwith
survivorsofbreastcancer to learn
about theirexperiences following
the diagnosis. The programwill
be facilitated by theBreast Can-
cer Coalition of Rochester. Join
us for an important conversation
on October 30th at 1 o'clock in
the afternoon at the YWCA of
Formore informationabout the
round table and breast cancer,
pleasevisitmywebsiteat ranzen-
Education isKey in theFightAgainstBreastCancer
Every $10 inPurchases,
Gift Certificates&Memberships
at ParticipatingBusinesses
Receives 1Entry
InPrizeDrawings!
Shop
Small
Save your receipts& bring to
CommunityHolidayBazaar
by 3 pm, Dec. 5th
tobe entered to
!
$HOP, DINE&WIN -LEROY!
Annual
Starts at 6:00 p.m.
Sat.,October 31st
Meet theTownClown behindTheBank ofCastile
Sponsored by
LeRoyBusinessCouncil