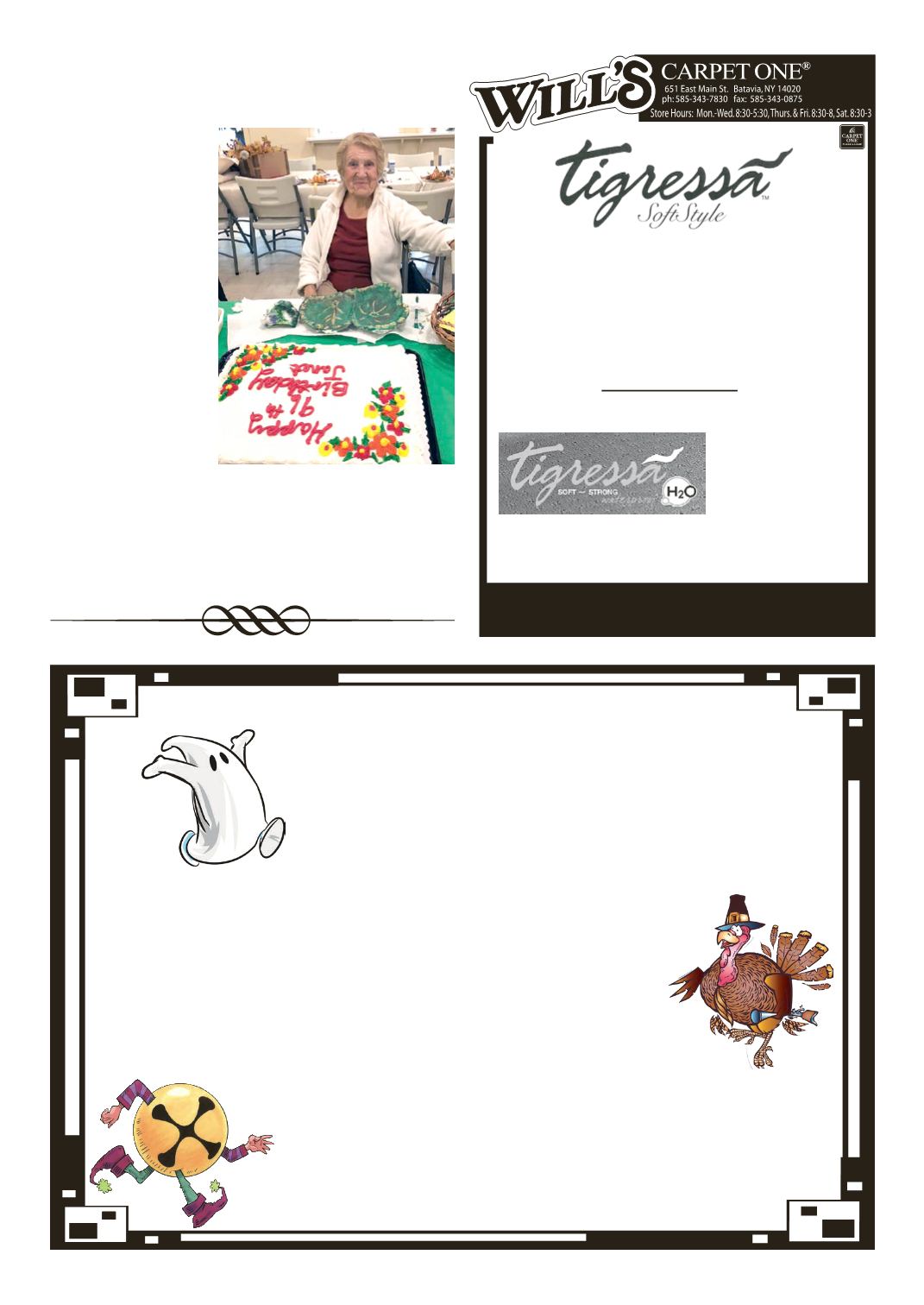 LEROYPENNYSAVER&NEWS -OCTOBER 25, 2015
TheONE store for your perfect floor.
•FinancingAvailableToQualifiedBuyers
•Professional InstallationAvailable
FLOOR
&HOME
TrickorTrot 5KRun/Walk
2mileWalk andKids' FunRun
October31st at 11:00am
LeRoyHighSchool
Bringanewor gentlyused coat orpair of sneakers and get entered intoa raffle for a great prize.
Kids' FunRun and gameswill be availablewhile you race!
Proceeds to benefit the Le Roy Jr/Sr high school student council
TurkeyTrot
–
November7that 10:30am
Memorial run inmemoryof JennySmith!
Proceeds to benefit Sunshine Nursery school and Luv Bugs Nursery School
JingleBell 5K/10KRun/Walk
December5that 3pm
Come jinglewithus andhelp support theLeRoyFoodPantry
Formore informationor to register,
visit
Tri theOatka's
Upcoming
Running/WalkingRaces
leaves from their garden.
was a challenging project
Janet Fitch with her leaf
cake. Club members helped her
celebrate the occasionwith cake
The November meeting will
be held on November 11th at
the First Presbyterian Church in
LeRoyGardenClub –
Sept.&Oct. 2015Meetings
LeRoy. Members are asked to
bring non-perishable items for
the LeRoy Pantry. Contact Ann
Waltersat 737-9481or768-8130
EntireLineOnSale
UpTo
50%
OFF