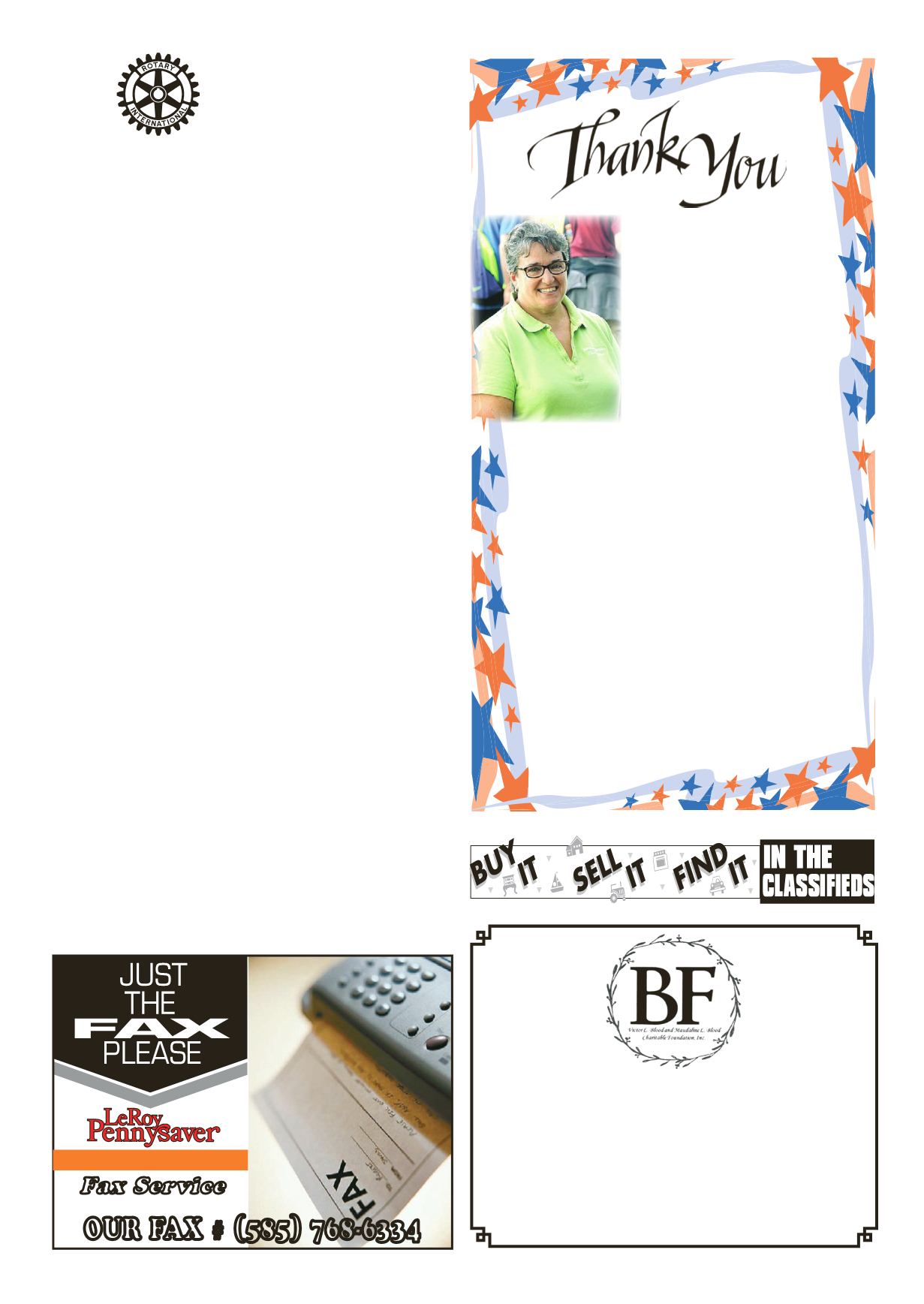 LEROYPENNYSAVER&NEWS -OCTOBER 25, 2015
LeRotary
Notes
1ChurchSt., LeRoy, NY • (585) 768-2201
TheVictor L. andMaudaline L. Charitable Foundation, Inc.
is pleased toannounce theavailability
of grant funding for 2016.
Eligibleorganizationsmust be501(c)3not-for-profit agencies
serving the residents of LeRoy.Maximumgrants are $5,000.
Applicationsmust be submittedonlineat the
Blood Foundationwebsite:
byDecember 1st, 2015.
support
confidence
myability to successfully
assistance
educatingme in the impacts on your
challenge
services in all levels of local govern-
ment, reducing costs and extending
the valueof our property taxdollars.
electing
local leaderswithpassion,
know howand energy for protecting
and improving all facets of our com-
vote
continue representing you.
ShelleyStein
County Legislature, LeRoy, District 5
Photo byRocco at TheDailyNews
RotaryNotes 10/14/15
Guests: High school seniors:
TaylorKirbyandTannerBolsei
ApplianceRaffleNovember1st
at theAmericanLegion.This is
our biggest fund-raiser. Please
get out there and sell tickets.
October 20th at 11:00 am.
November 15th 8 am – noon.
Nominationsofupcomingofficers.
Please place your nominations
in the ballot box provided.
BataviaRotaryNight at Batavia
Downs.ContactSusieBoyce if
LeRoyRotaryChristmas Party–
CookieAuction -December 9th
AnnualArea14ChristmasParty -
January 8th at TerryHills.
updategivenbyLynneBelluscio.
October28th–SamanthaVagg,
November11th–RonPangrazio
Missed Meetings:
viano, Lynne Belluscio, Bob
Bennett, Jim Ellision, Jerry
McCollough, Scott McCumis-
key, and RobMurray. All with
fine excuses and/or make-ups.
Special notes: Jerry was in Ire-
land and had a grand time and
to his surprise ran into Dr. Joe
Fines:
that his Michigan Wolverines
have had3 shut outs in a row. A
video of Sully running around
the Caledonia monument after
the Knights won…priceless! A
touchdownbyRyanBoycecosts
grandpaBoyce.NickEglingand
Nate Flint also received recog-
nition for touchdowns. Aunt Sa-
manthapaid forNateandMarcia
McKenzie threw in aswell.We
were treated with a nervous but
game Chris Biviano singing the
St. Bonaventure fight songwith
no help from Phil Weise. (with
RandyVink in the background).
President Tony, Chris and Phil
are Bonnie grads. Go Brown
Our Guest speaker was Joce-
lyn Sikorski from the Genesee
County Youth Bureau. Youth
court began in 2008. This is a
preventive program funded by
Social Services.Youthages7-16
canbeprocessed.Three judgesof
theirpeerspresideovereachcase.
All school districts in Genesee
County participate. Referrals
come from the schools or law
enforcement.Thishelps theyouth
be accountable for their actions.
All proceedings are confidential
and documents are sealed. For
more information call 344-3960.
Learn more about Rotary at
Appliance Raffle fundraiser and