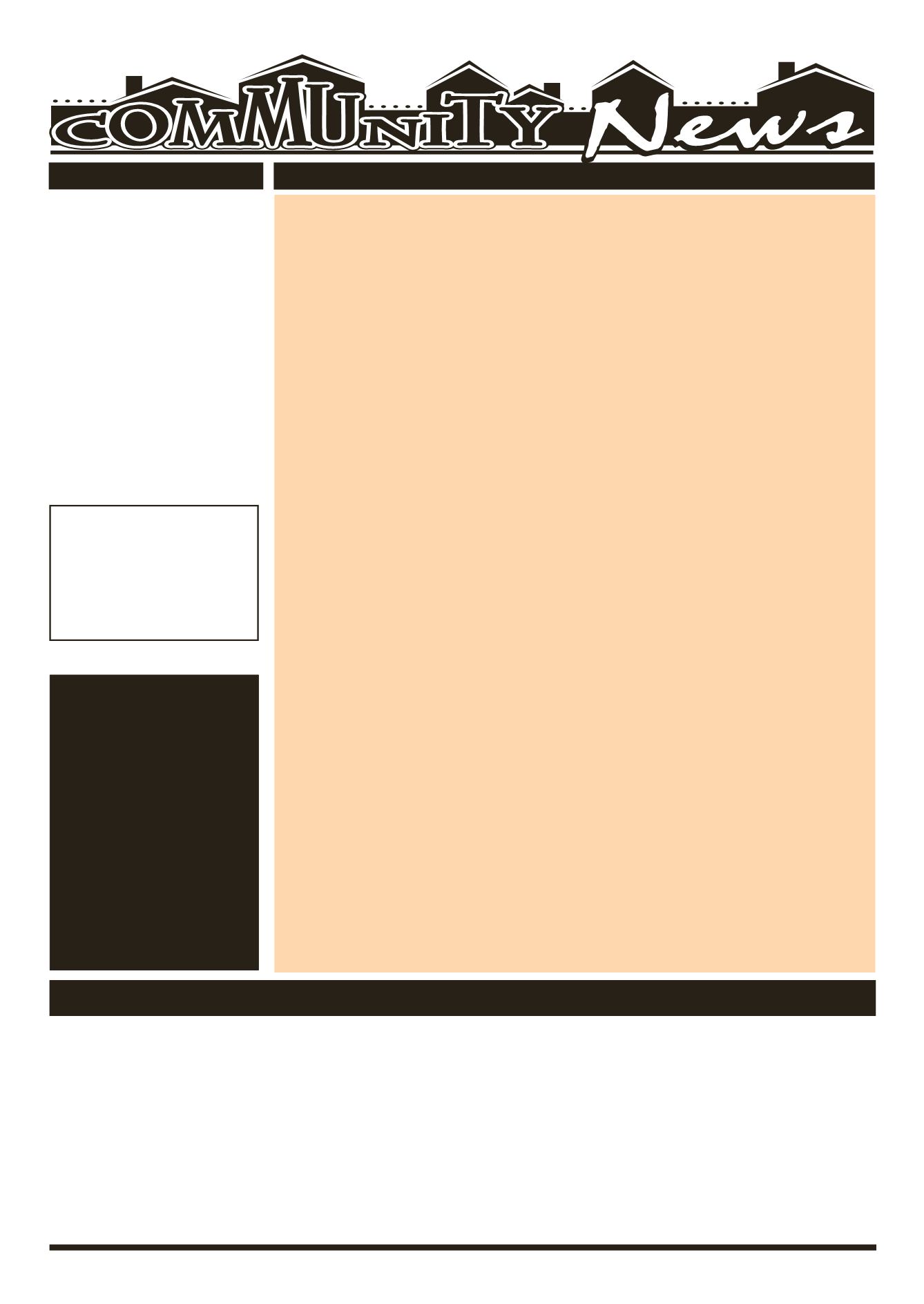 LEROYPENNYSAVER&NEWS -OCTOBER 25, 2015
All GeneseeCounty residents, 60andolder, can takepart in thisweek'sactivitiesat theBataviaSenior Center, 2BankSt., Batavia. Formore information, call 343-1611.
SENIORCITIZENSACTIVITIES (October 26th -October 30th)
WEEKLYEVENTS
OBITUARIES
ArthritisExercise
is scheduled tobeginat 9:30a.m.;
Bridge
is scheduled tobeginat 11:00a.m.
Cribbage
is scheduled tobeginat 1:00p.m.
QuiltersGroup
is scheduled tomeet at 9:00a.m.;
Euchregame
is scheduled tobeginat 1:00p.m.
Cribbage&Bridge
are scheduled tobeginat 1:00p.m.;
MusicalKeyboardLessons
ArtClassandLineDancing
is scheduled tobeginat 10:00a.m.;
Euchre
is scheduled tobeginat 12:00p.m.
SUNDAY,OCTOBER25
KonnectYouthGroupat LivingWatersChurch,
days from6:30 to8:30pm forages12-18. "BringDownall theWalls! Connect
withGodandConnectwithothers." Formore information, checkusoutonline
at: livingwatersleroy.org/konnect-youth-ministry/
MONDAY,OCTOBER26
TOPS (Take Off Pounds Sensibly)
meets Monday evenings at the LeRoy
Presbyterian Church, corner of Clay &Main Streets. Doors open at 6:00 pm
andmeeting is from6:30-7:15pm.Visitorsarealwayswelcome.Call585-768-
7103 formore information.
TUESDAY,OCTOBER27
Preschool Storytime:
Every Tuesday at 11 am featuring stories, craft and
songsatPavilionPublicLibrary, 5WoodrowDr., Pavilion. For info: 584-8843.
LCCP'sGRACE'SKITCHEN:
A FREEdinner everyTuesdayevening, 5-6:30pm
at theMasonicCommunityCenteron12BankSt. Plentyofparking.Takeout&
delivery are available. Formore info. contact SelbyDavis at 585-738-8882or
GRACE'SCLOSET:Aclothinggiveawayprogram
MethodistChurch,10TrigonPark,LeRoy,9:30am to11:30ameveryThursday.
Wehaveclothing forallages.Weneedbeddingofallkindsespeciallyblankets.
Donationscanbedroppedoffatthehousenexttothechurch.Pleaseputallbags
INSIDEon thebackporch. NO ELECTRONICS, COMPUTERS,DISHES, etc.
Open
Tuesdays5-6:30pm.
Anyquestions call theoffice768-8980.
LeRoy ZoningBoard of AppealsMeeting
(as necessary) 7:30 pm at the
TownHall, 48MainSt. For further info. call 768-6910, Ext. 223.
WEDNESDAY,OCTOBER28
Wednesdays from6:30pmuntil 8:00pm -
First Baptist Pavilionwill be
having theiryouthprogram. titled"JOYCLUB". It isopen tochildren in thepre-
school ageup to6thgrade. Itwill beheldat the church10956S. LakeRoad,
Rte. 19. It isa fun timeofBible stories, game time, refreshmentsandmemory
work.Call for further information585-584-3179ext.12.Leaveyournameand
number and the secretarywill call youback.
TheStaffordHistoricalSociety'sAnnualFallHarvestAuction
at7:00pm intheCourtRoomofStaffordTownHall, locatedat8903Route237.
Produceandusable itemsfortheauctionaregratefullyaccepted. Call344-0834.
VillageofLeRoyBoardMeeting,
7pmat theVillageHall, 3WestMainSt.
LEGO&Game Club at theWoodwardMemorial Library
gradesK-6, from3:15-4:15p.m.BuildwithLegos,playboardgameswithyour
friends, or jamoutonGuitarHero. Registration isNOT required.
MovieDiscussionofTheSixthSenseattheWoodwardMemorialLibrary
at6:30p.m. Watch thisfilmathome (available for loanatWML)and then join
inastaff-leddiscussion. Registrationrequired! Call768-8300orregisteronline
THURSDAY,OCTOBER29
GeneseeVeterans Support Network
(GVSN) supports the development
ofVeterans focusedAAmeetings everyThursday, 6-7pm at the First Baptist
Church, 306 E. Main St., Batavia. Meetings led by MikeW. & are open to
non-veterans as well. Handicap accessible. For additional information call
That's My Story! Early Days in Le Roy! At theWoodwardMemorial
Library
from 6:30 to 7:30 p.m. Listen to stories about growing up in Lime
Rock. GeorgePurselwill tell stories fromhispast. Registration required! Call
768-8300or registeronlineat
FRIDAY,OCTOBER30
Flea&Farmer'sMarketFridays
-GeneseeValleyEMS,3338CaledoniaAvon
Rd. (Rte. 5), Caledonia, NY. 11 am to 6 pm - every Friday,May 1st - October
30th. Fresh fruitandvegetables, etc.Hot foodanddrinkswill beavailable for
purchase.11'x22'spaces -$20.To reserveaspaceormore info -call 585-698-
8244. All proceeds go toGeneseeValley EMS&CaledoniaAmbulance. Come
Penuel ChristianFellowship,
One Step to Freedom addictionsministry, a
Christ CenteredAddictions program, aweeklymeetingeveryFridayat 7pm.
Call theChurch formore informationat768-6901or594-9575.
SATURDAY,OCTOBER31
UPCOMINGEVENTS
Meet the Candidates Night -
Tuesday, October 27th, 7-9 pm, Stafford
TownHall, Stafford, NY. Forum for residents tomeet candidates for - County
Legislator, Town Supervisor, Town Council, Town Justice. Format: Moderator
&written questions from the floor. Refreshments. Sponsored by Stafford
TheannualbusinessmeetingoftheStoneChurchRuralCemeteryAs-
sociation
willbeheldat7pm,Tuesday,November10,2015attheStoneChurch
PresbyterianChurch,Route19,Bergen,NY. Themeeting isopen to thepublic.
TheSeventhAnnualHarvestCraftShow
willbeheldSaturday,November
14, 2015 from10am to3pmat theNorthBergenPresbyterianChurch, 7068
NorthBergenRoad, Bergen, NewYork.Many unique itemswill be available
just in time for theholidays! Ournow renownedOvenBrickPizzawill behot
and ready for lunch. Forquestionsordirections, call 585-455-3392.
CommunityCalendar Submissions shouldbe sent to:
Le Roy
Pennysaver
PAVILION — Howard E. Wellman,
67, of Boyd Road passed away early
Monday morning (Oct. 19, 2015) at
HighlandHospital inRochester. In lieu
of flowers,memorialsare suggested to
eitherVisitingNurseServices-Hospice,
2180EmpireBlvd.,Webster,NY14580;
or Pavilion Food Pantry, PO Box 456,
STAFFORD— George H. Torrey, 85,
of Torrey Road passed away early
Tuesday morning (Oct. 20, 2015) at
the Genesee County Nursing Home.
Memorial donations be directed to
Genesee Cancer Assistance, 16 Bank
Don't waste precious time