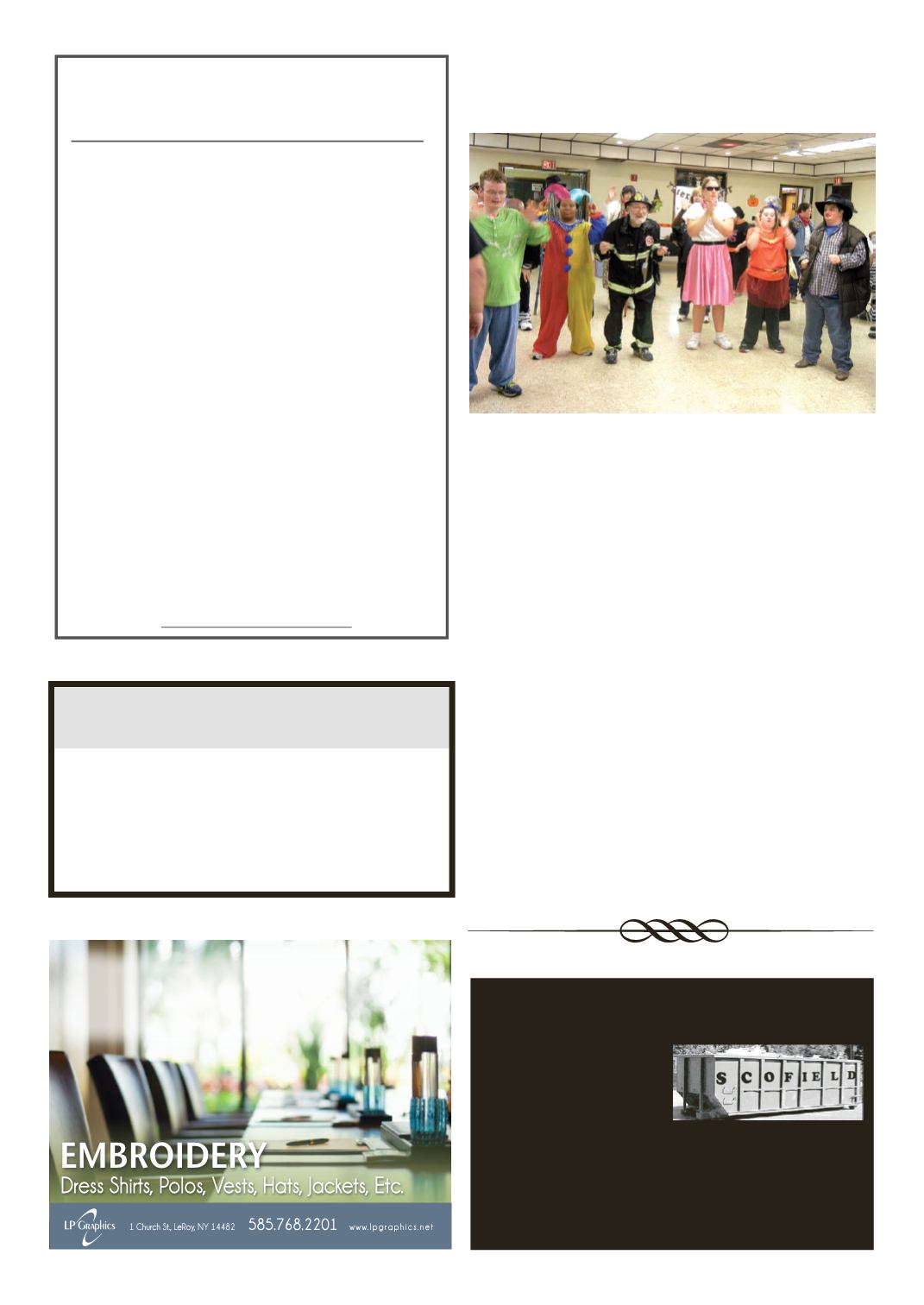 LEROYPENNYSAVER&NEWS -OCTOBER 25, 2015
On Thursday, October 15th
at the Byron Fire Hall, 85 plus
attendees came together to cel-
ebrate Halloween at Genesee
County's Adults with Develop-
mentalDisabilitiesDance.There
were witches, inmates, police-
men, firemen, clowns, cowboys,
princesses, hippies and a host
of other characters who arrived
Attendees entered ghostly
bat-ridden, spider-webbedByron
FireHall on amildOctober eve-
ning. DJ Tom queued up some
of the group's favorite tunes.
As usual, folks mingled on the
dance floor in between enjoying
somedeliciousTimbits fromTim
Horton'sandapplecider.October
birthdayswere recognizedprior to
our customary circle dances; the
chickendance& thehokiepokie.
On a sad note, we gathered to
remember threedancerswhohad
passedon earlier this yearwith a
moment of silence. Little cards
with their photos were handed
out at theendof thedance. Folks
alsosignedaget-wellcard forour
photographer, Uncle Joe, who is
The next dance is the much
anticipated Christmas Dance on
Thursday, December 19th. We
are expecting a visit from Santa
and he usually comes bearing
gifts. The dance will be held at
The dances are sponsored by
ByronLadiesAuxiliary, and are
open to all folks with develop-
mentaldisabilitiesages13andup
living inGeneseeCounty, family
andcaregiversarealsowelcome.
Adequatesupervision is required.
Anyone wanting to volunteer or
needing more information may
call Pat Iamon at 245-2918 or
LauraPlatt at 548-2245. If danc-
es need to be cancelled due to
weather, please listen toWBTA.
HalloweenDance
AGhostlyGoodTime
Full time jobopeningavailable immediately inYork,
NewYork14592,onaFamilydairyFarmwithhighly
productive soils, for intensivecropmanagement. This
farm isgrowingandneedsamotivated individual.
Youwill be inchargeof all phases of crop produc-
tion andmust be able to operate andmaintain
modern forage and planting equipment.You
MUSThaveknowledgeandunderstandingof how to
produceHighQualityForages for aHighProducing
Dairy inorder toapply. Communicatingeffectively
withnutritionistsandherdmanagersaboutherd
healthalongwithproviding economically vi-
able solutions valuedbyowners. Mustbeknown
byothersashaving theability to leada teamand
troubleshoot systems.Computer skillsarenecessary.
Two-yearor 4year collegedegree,validCDLand
experiencewithprecision agriculture a real plus.
Benefits includehousing,health insurance,and retire-
Please reply
DairyFarmCropManager
York,NewYork
ALLWORKMANSHIP GUARANTEED • INSURED
297-9097 • 768-7737
• InteriorPainting
• Plaster/LathRestoration
•Drywall&DrywallRepair
•TextureRemoval
• Floors Stripped
&Refinished
•OldCeilings&Walls
MadeLikeNew!
MikeDarby'sPatch&Paint
MissingSomething?
15, 17, 20, 25, 30,
and 40 cu. yd.
CONTAINERS
ScofieldRolloff •343-8383
NobodyBeatsOur Prices!