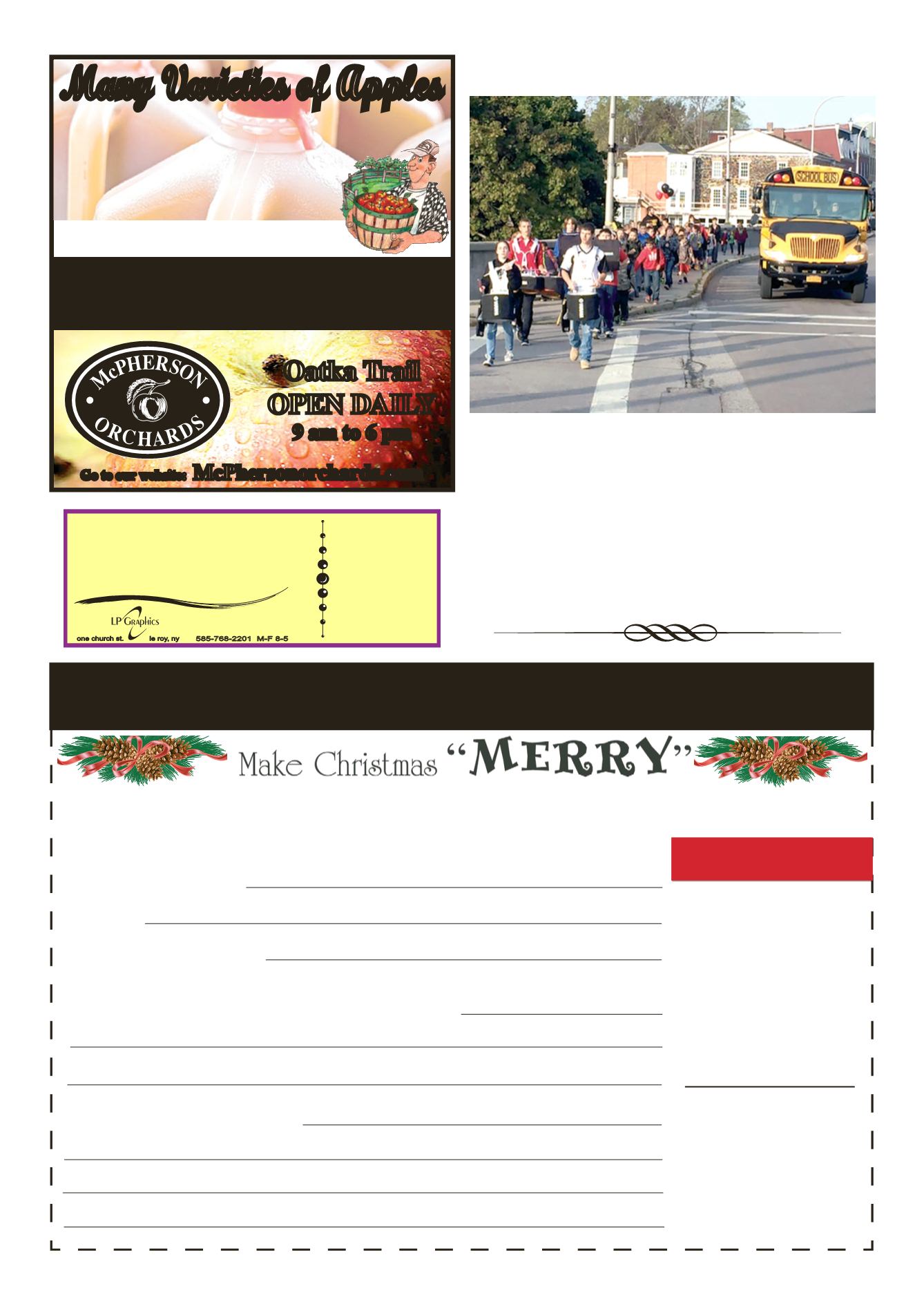 LEROYPENNYSAVER&NEWS -OCTOBER 25, 2015
Students at Wolcott Street
School recently participated in
National Walk to School Day.
The purpose of this event was
to encourage physical activity
and teach the students safe pe-
destrianskills.Theywere joined
by administrators, school board
members, teachers, staff, par-
ents, communitymembers, and
Walk toSchoolDay
theLeRoyPoliceDepartment.
Prior to walking to school,
everybodymet at theKnights of
Columbus to hear safety tips for
walking to school and enjoyed a
healthysnack. Thestudentswere
alsoaccompaniedbyhighschool
studentvolunteersand theLeRoy
The LeRoyPantry&HelpFundwill be considering recipients for this year's foodbaskets andgifts programs. If you or if you know of
someonewho you feel shouldbe considered, please fill out the formbelow: Applicantsmust live in the
LeRoyCentralSchoolDistrict.
MAILTO
LeRoyPantry&HelpFund
APPLICATION
DEADLINE
November 15th, 2015
Submitting aname does not
The allocations committeemust
balance need against available
resources andmust reserve for
itself the right tomake decisions
on its perception of greatest
need. Youwill be notified only
ALLWHOWISHTOBECONSIDEREDMUSTSUBMITTHISFORM
BasketsDelivered
Please stay at home.
Pickupmay be arranged
Established1980
Prefer local number
(names, male or female and date of birth)
Maple Syrup•Honey•Winter Squash
OatkaTrail
OPENDAILY
9 am to6pm
FromOurMill
BakeryOpenWeekendsOnly
ManyVarieties ofApples
Go to ourwebsite:
McPhersonorchards.com
one church st. le roy, ny
one church st. le roy, ny