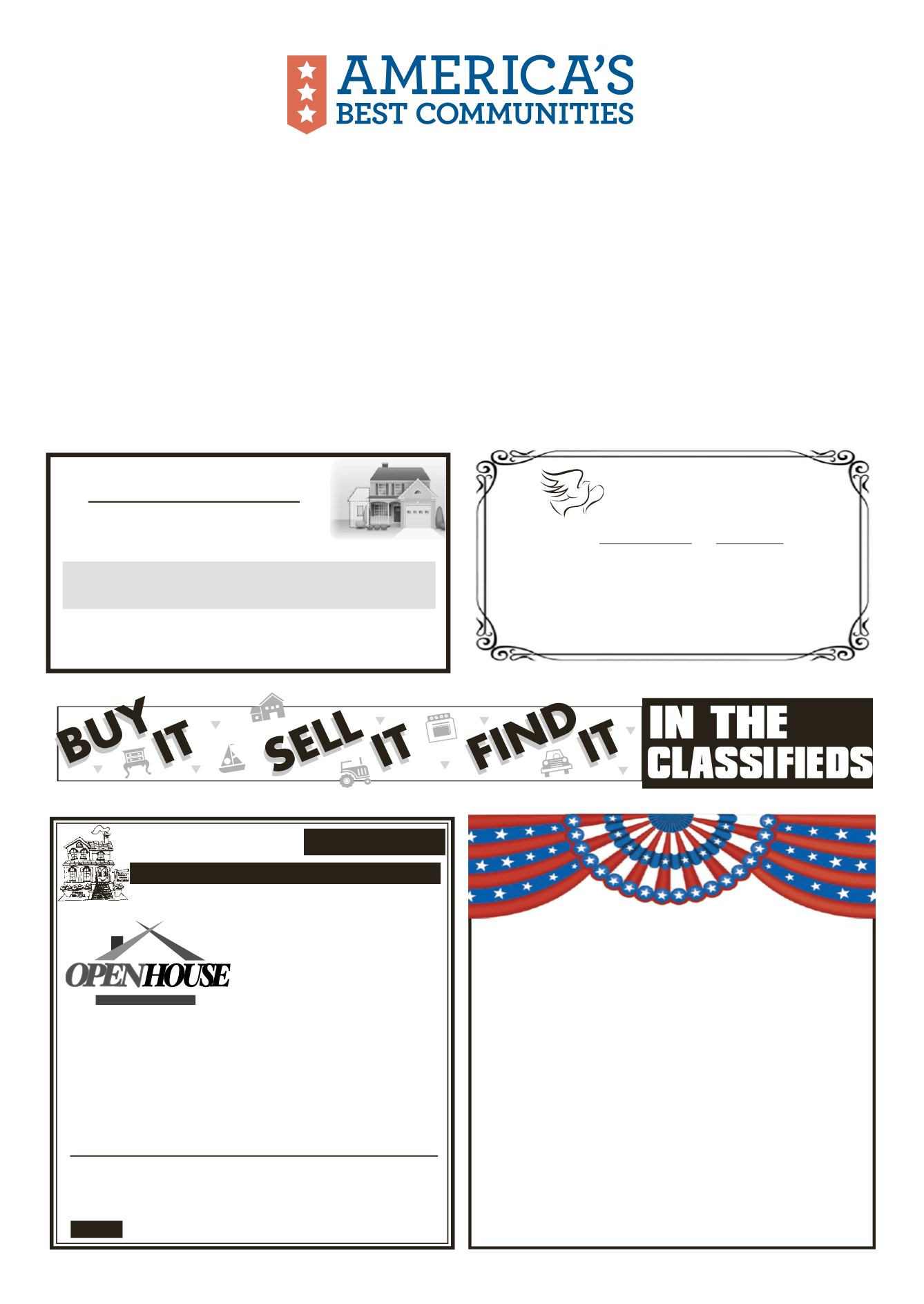 LEROYPENNYSAVER&NEWS -OCTOBER 25, 2015
Director /Owner
FuneralDirector
F
ALCONE
F
AMILY
Funeral&Cremation Service, Inc.
Director/Owner
"ALOCALFAMILY
CARINGFORLOCALFAMILIES"
"CompleteCarpentry Service"
M
ILLER
B
ROTHERS
B
UILDERS
CustomHomes •Remodeling•Additions
Roofing• Siding
DANIEL
MICHAEL
From theverybeginning,Aly-
sonSlack andRobCamoinhave
been listening towhat folks from
LeRoy and Bergen have been
telling them so theycancraft the
LeRoy-BergenCommunityRevi-
talizationPlan. OnNovember6,
itwill be submitted to theAmer-
ica's Best Communities judges
for their review for the next step
in the contest, yet if LeRoy and
Bergen proceed no further, we
havea revitalizationplan thatcan
be used for many other applica-
tions. OnMonday night, Alyson
andRobmet in a public forum at
theAuditoriumonTrigonPark, to
Everyone had the opportunity
to review the Vision Statement:
"Our economy is grounded in
strong agricultural and food
production industries, a resilient
manufacturingsector,andvibrant
village centers. Our proactive
economic development invest-
mentsprovide the foundation for
sustainable, long-term growth.
Our communities maintain a
high quality lifestyle and liveli-
hood throughacollaborativeeth-
ic of adaptation and reinvention
and by leveraging our historic
and natural assets." As Rob and
Alysonsaid, thisvisionstatement
is unique to LeRoy and Bergen
and focusesonour specificneeds
and plans for the future.
There are two main goals of
the plan. The first is to develop
a broader tax base to support a
higher qualityof life.Within this
goal areseveral actionpoints that
willenable thisgoal tobemet,not
the least of which is to develop
infrastructure - - gas, broadband
and sewers. The second goal is
toensure thatLeRoyandBergen
areattractivecommunities to live,
workandplay.Suggestions from
the audience included - housing
and encouraging educational
opportunities inworkforce train-
ingwill be incorporated into the
We'd like to thank all the folks
who joined us for this meeting
andwe appreciate your construc-
tive comments. We all sincerely
believe that LeRoy and Bergen
havewhat it takes to anticipate a
prosperous future. We know that
it takes patience, work and com-
Great starter home, 4 bed-
rooms, updated kitchen, separate dining room, all
oak flooring & woodwork. 2 car garage and much
LeRoy,8464KeeneyRd.
-Superstarteror retirement
home. 2bedroomRanchwithupdatedeat-inkitchen.
Garage, deck and priced to sell at $99,900.
RiderReal EstateNot TheBiggest - Just TheBest!
Sunday,Oct. 25th
1:00-3:00pm
LeRoy - 28SouthSt.
Meet The Candidates Night
Tuesday, October 27th, 2015
Forum For Residents ToMeetCandidates For:
Format:Moderator &WrittenQuestions
Refreshments -Cider &Doughnuts
Sponsoredby StaffordPreservationGroup