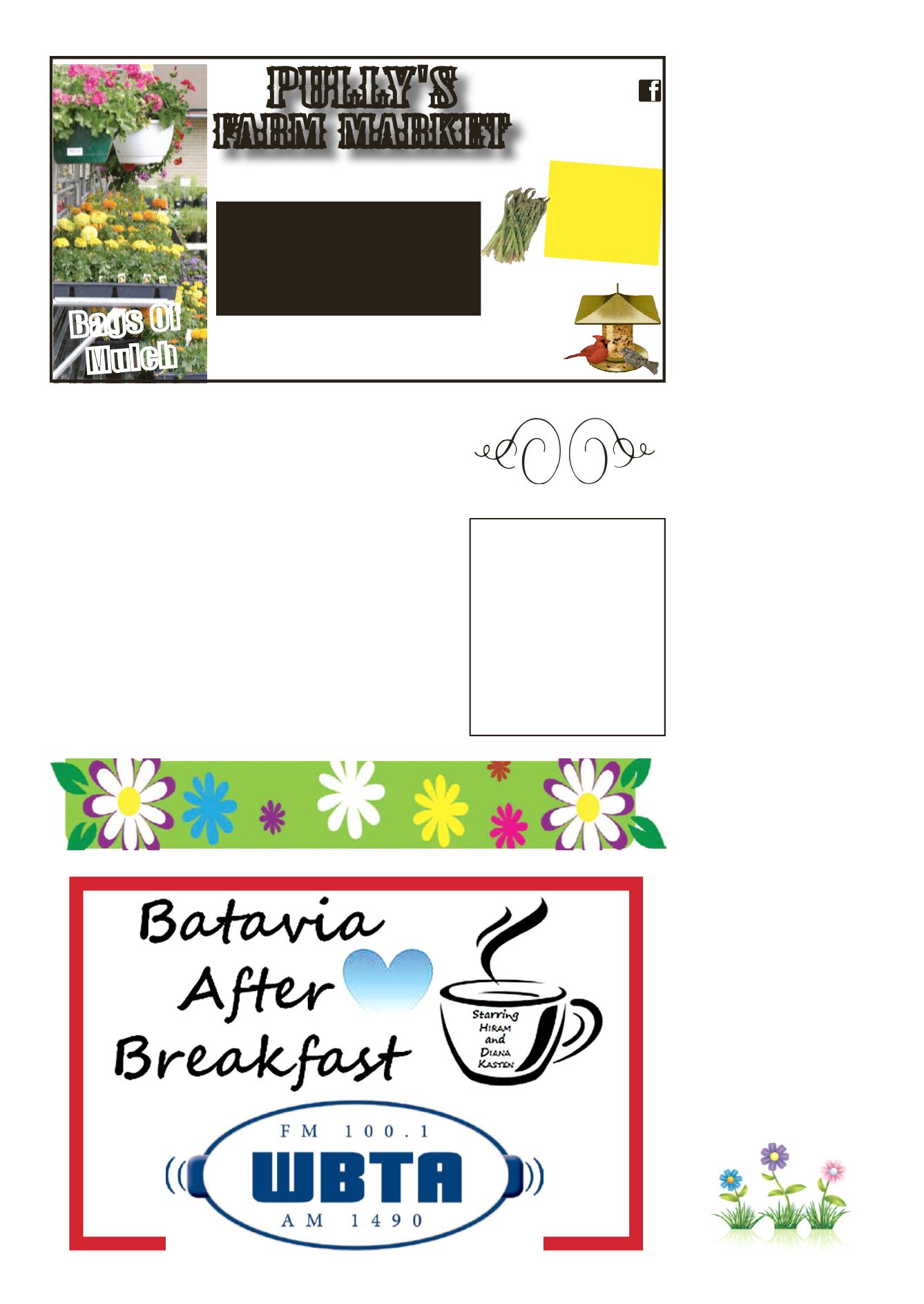 LEROYPENNYSAVER&NEWS -MAY 22, 2016
8160LakeRd. (Rt. 19)
LeRoy, NY
1/2mile southof Thruway
768-2280 • 704-1157
Hours:Mon.-Sat. 9-6, Sunday 9-5
pullysfarmmarket.com
PottingSoil&TopSoil
HANGINGBASKETS
ANNUALS • PERENNIALS
VEGETABLEPLANTS
COMBOPLANTERS
HERBS
Jams • Jelly • Seed
Honey • Syrup
Fresh
Asparagus
PickedDaily
FromOur Farm
Gift CertificatesAvailable!
Bird
Seed&
Feeders
Sarah Donovan
Lycoming College with a major
inhistory fromBergen,N.Y.,was
awarded a Joanne and Arthur
Haberberger Fellowship at the
college's annual Honors Convo-
The Haberberger Fellowship
is a $1,000 scholarship given
annually to students who dis-
play exceptional research and
scholarship. The fellowship was
founded in 2009 by Arthur A.
Haberberger, a 1959 Lycoming
alumnusandchairemeritusof the
college's boardof trustees.
Additionally, Sarah earned the
Ada RemleyMemorial Scholar-
ship Award for academic excel-
lence and service to college and
community, aswell as theDavid
Library for the American Revo-
lutionResearchFellowship,given
to an exceptional upperclassman
working on a capstone, honors
thesis, or substantial research
paperonanyaspect ofAmerican
history between 1700 and 1800.
Karisa Kobel
graduated from Nazareth Col-
lege with a doctoral degree in
PhysicalTherapyduring the89th
Commencement ceremonyat the
Blue Cross Arena on Sunday,
Eric T. Witkowski,
of Le Roy, NY, was named to
the Dean's List for the spring
2016 semester at AlfredUniver-
sity (AU). He is a senior in the
Inamori School of Engineering.
Studentsmust earn at least a 3.5
gradepoint average toqualify for
Witkowski is a Mechanical
Engineeringmajor at AU, which
is ranked fourth by the 2015
U.S. News&WorldReport Best
Colleges rankings among 15
institutions selected as Great
RegionalSchools atGreat Prices
AgraduateofLeRoyJr-SrHigh
School, Witkowski is the son of
Robert andMarianneWitkowski
SoftballGame,Monday,May 9
U12LeRoyGirlsYouthSoftball:
Tompkins-Bank of Castile-
Tompkins-Bank of Castile-
LeRoy 1 beats Attica 17-4.
RileyWoodandHailey Johnson
led theway forLeRoywitheach
scoring 3 runs. MauraDambra
got things started for LeRoy
with a 2 out, 2 RBI hit in the
second inning. Great defensive
playsweremadeby JamieStaba
andAmaraCondidorio. Kailyn
Tresco,AnnaRoseWinters, and
Ellie Dambra each pitched two
Softball-GameMonday,May16
U10LeRoyGirlsYouthSoftball:
Bubba's Landscape-LeRoy 1
Bubba's Landscape-LeRoy 1
beats Perry 1 9-4. MaddieCon-
didorio, Marisa Roides, Isabella
Farrell,andKennaMcKenzieeach
had two hits for LeRoy 1. Lilly
Herrick, DanaReschke, andBela
Condidoriomade great defensive
plays.MarisaRoides,AbbyAllen,
andMadison Spink each pitched
LeRoyGirlsYouthSoftball
PRAYERTOTHEBLESSEDVIRGIN:
(Never known to fail).Oh,most beautiful flower
ofMt.Carmel, fruitful vine, splendorofHeaven,
BlessedMotherof theSonofGod, Immaculate
Virgin, assist me in my necessity. Oh Star of
the Sea, help me and show me herein you
aremyMother. OhHolyMary, Mother of God,
QueenofHeavenandEarth, I humblybeseech
you from the bottom of my heart to succor me
in my necessity (make request). There are
none that can withstand your power. OMary,
conceived without sin, pray for us those who
have recourse toThee (three times).HolyMary,
I place this cause in your hands (three times).
Say thisprayer for three consecutivedays you
must publish it & it will begranted to you.
G.G.