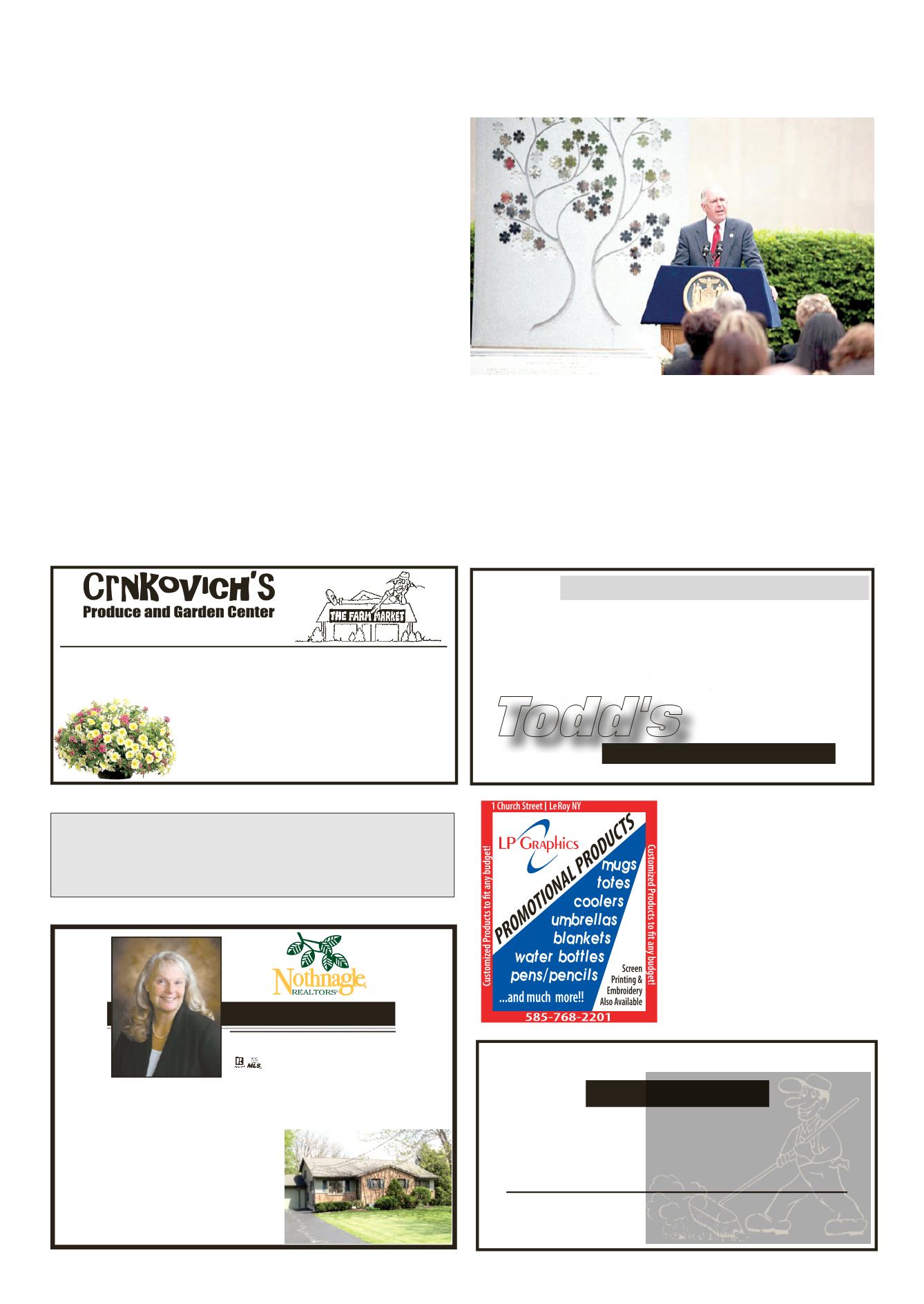 LEROYPENNYSAVER&NEWS -MAY 22, 2016
CleaningService
•Carpet &UpholsteryCleaning
•Spot Cleaning&Odor Removal
•Tile&WoodFloor Cleaning&Waxing
•Complete Janitorial Services
bySenatorRanzenhofer
May 2016
BarryG.Miller has beenpost-
humouslydesignatedas a recipi-
ent of theNewYorkStateSenate
LibertyMedal by State Senator
The New York State Senate
Liberty Medal is awarded to
individuals who have merited
special commendation for ex-
ceptional,heroicorhumanitarian
actsonbehalfof their fellowNew
Yorkers. Hewas tragicallykilled
last September in an ambulance
accident on hisway to a fire call
in the performance of his duties
as an emergency responder.
"As a first responder, Barry
actedwithbravery inmanyemer-
gencysituations. Hewasdedicat-
ed, loyal and compassionate to
his family and our community,"
said Ranzenhofer. "Barry made
theultimatesacrificewhile faith-
fully executing his responsibili-
ties as an emergency responder.
It is sofitting for theStateSenate
topause in itsdeliberations today
tohonorhimandhis familywith
Senator Ranzenhofer joined
members of the Miller Family
earlier in the day for the New
memorative Ceremony. During
the special ceremony, Miller's
namewasplacedon thememorial
in remembrance of his ultimate
sacrifice, along with the names
of other EMS personnel from
"Our family is completely
honored and in awe of the honor
presented tomy son," saidMill-
er's father, TracyMiller.
Miller held the title ofChief of
MillerPosthumouslyReceivesLibertyMedal
Miller family accepts highest honor bestowed upon individuals
SenatorRanzenhoferspeaksduringaspecialceremony infrontof
theEMSMemorial at theEmpireStatePlazawhereBarryMill-
er'snamewillbeplaced inremembranceofhisultimatesacrifice.
EmergencyMedical Services in
Bergen. For over three decades,
he was a member of the Bergen
FireDepartment.Millerwasalso
amemberofLeadershipGenesee
Classof 2008.Hewas theowner
ofMiller'sMillworks in Bergen
and the Beaver River Lodge in
theAdirondacks. Healsoworked
forseveralyearsatRochesterEye
8041 E.MainRd. (Rt. 5) 1Mile East of LeRoy
OpenDaily •768-7259•768-7813
HangingBaskets •ComboPots •Annuals&
Perennials •Clematis •VegetablePlants
MULCH • SOIL • PEAT
Everything for your spring planting
and landscaping needs!
We'veGotEverythingYouNeed
ForYourMemorialDayPlanting!
Fresh
Baked
Goods
NewHomes •Additions •Garages •PoleBarns
ToddCarli • Phone 703-0964
Todd's
Decks •Windows •Doors
Kitchens •Baths
CeramicTile
Basement Finishing
CustomShelves/Built-Ins
Siding •Remodeling
Roofing • SnowPlowing
FULLY INSURED
JustListed! $169,900 • 9425/9429SouthStreetRoad, LeRoy
One owner for this 3 bedroom, 4 bath, 2 kitchen duplexwithinwalking
distanceofLeRoyHighSchool.Utilities
are separate for eachunit. Enjoy the pri-
vacy afforded by a country setting and
mature grounds. Each unit has a garage,
screened inporch, central air and all ap-
pliances included.This incomeproducing
duplex ismove-in-ready and amust see!
TuesdayNight
Golf League
DonaldWoodwardMemorial
Golf League
1st -
2nd -
LowGross -
LowNet -
SUPPORTYOUR LOCALADVERTISERS!
They help sponsor the local news section of the Le Roy Pennysaver.
THANKS FORYOUR SUPPORT!
BataviaOffice: 570EastMainSt., Batavia
Direct Line: (585) 409-2112
CAROLDIFRANCISCO
LicensedSalesperson, REALTOR