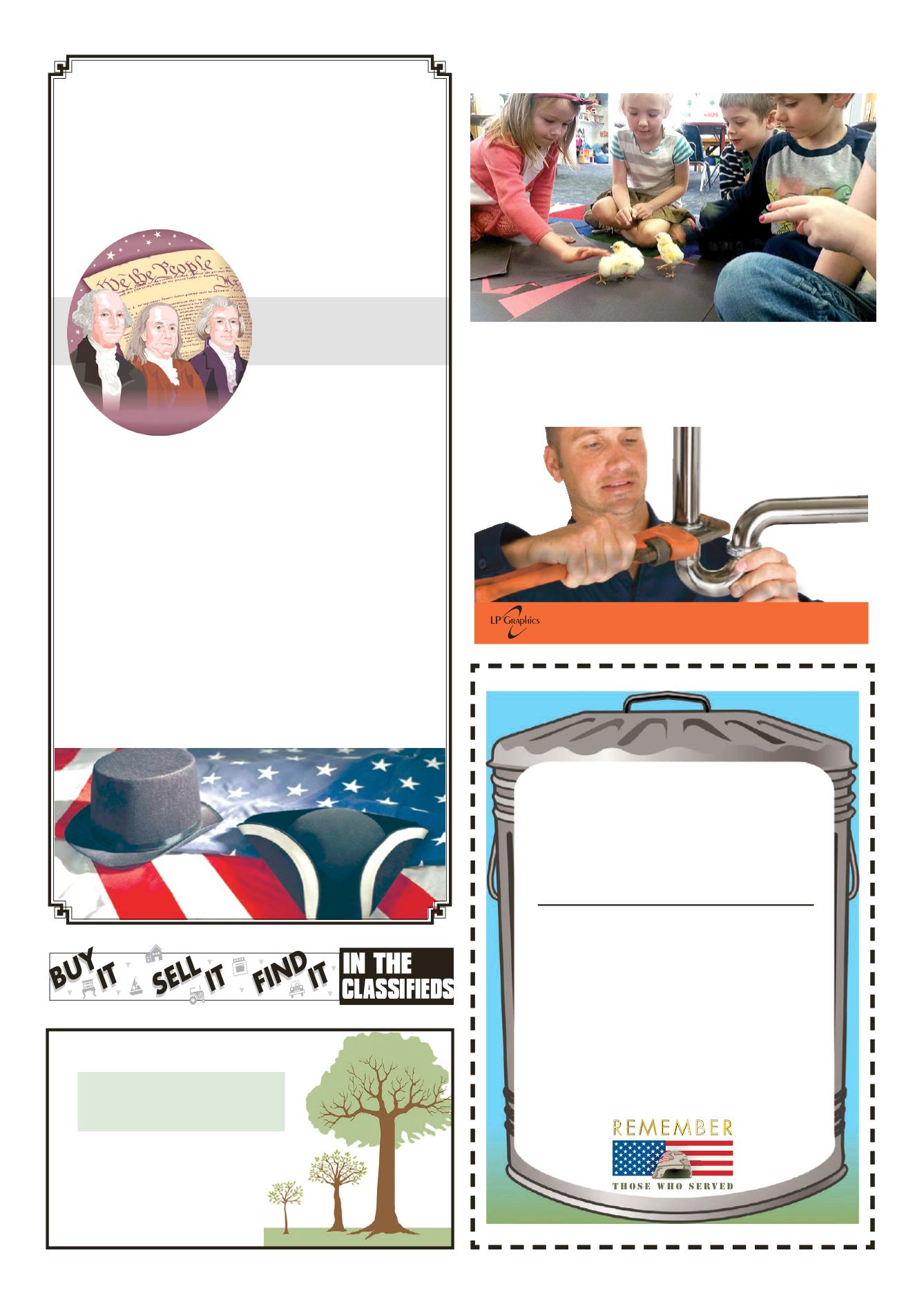 LEROYPENNYSAVER&NEWS -MAY 22, 2016
Residents of LeRoy
who are customers of
WasteManagement
NOTICE
MemorialDayHoliday, collectionof all
residential trash and recyclingwill be
delayedoneday for theweekof
Have aSafe andEnjoyableHoliday.
GodBlessAmericaand
GodBlessOurMilitaryVeterans.
Clip andSave
Clip andSave
InBusiness Since 1985
Contact Info:
Steve Smudzin
585-813-9629
Light Trimming To
Complete TreeRemoval
StumpGrinding
Fully Insured• Free Estimates
24Hour Emergency Service
StaffordHistorical Society
is happy to host
Dr.Michael Eula,
GeneseeCountyHistorian
whowill discuss
Does
History
Matter?
Searching for thepast and the futureof ournation.
May 25th, 2016
• 7:00pm
StaffordTownHall, Route 237, Stafford,NY 14143
Spending timewith the past helps us tounderstandwherewe
are and howwe arrived there.
History is an indispensable part of what it means to be an
American. To be apart of our experiment with democracy is to
strive tomake a realty of such notions as liberty, opportunity
and justice - ideals rooted in apast that has to be examined and
preserved if theyare tohavemeaning inour ownday - and into
the future.
How that history played out inGeneseeCounty - and by im-
plication our nation as awhole - is the focus of our discussion
inStafford onMay 25th.
All arewelcome.
ThechildrenatLoveBugsPreschool raisedbabychicks in their
classroom this spring. The Pre-K class took great care of the
eggsandhadseveral chickshatchafter the21daysof incubation.
Theyhadmany lessons focusedon the lifecycle,growthandcare
of baby chicks.What a great learning experience for all!
LoveBugs SpecialDelivery
Dress Shirts, Polos, Vests, Hats, Jackets, Etc.
1ChurchSt.
LeRoy, NY14482
585.768.2201