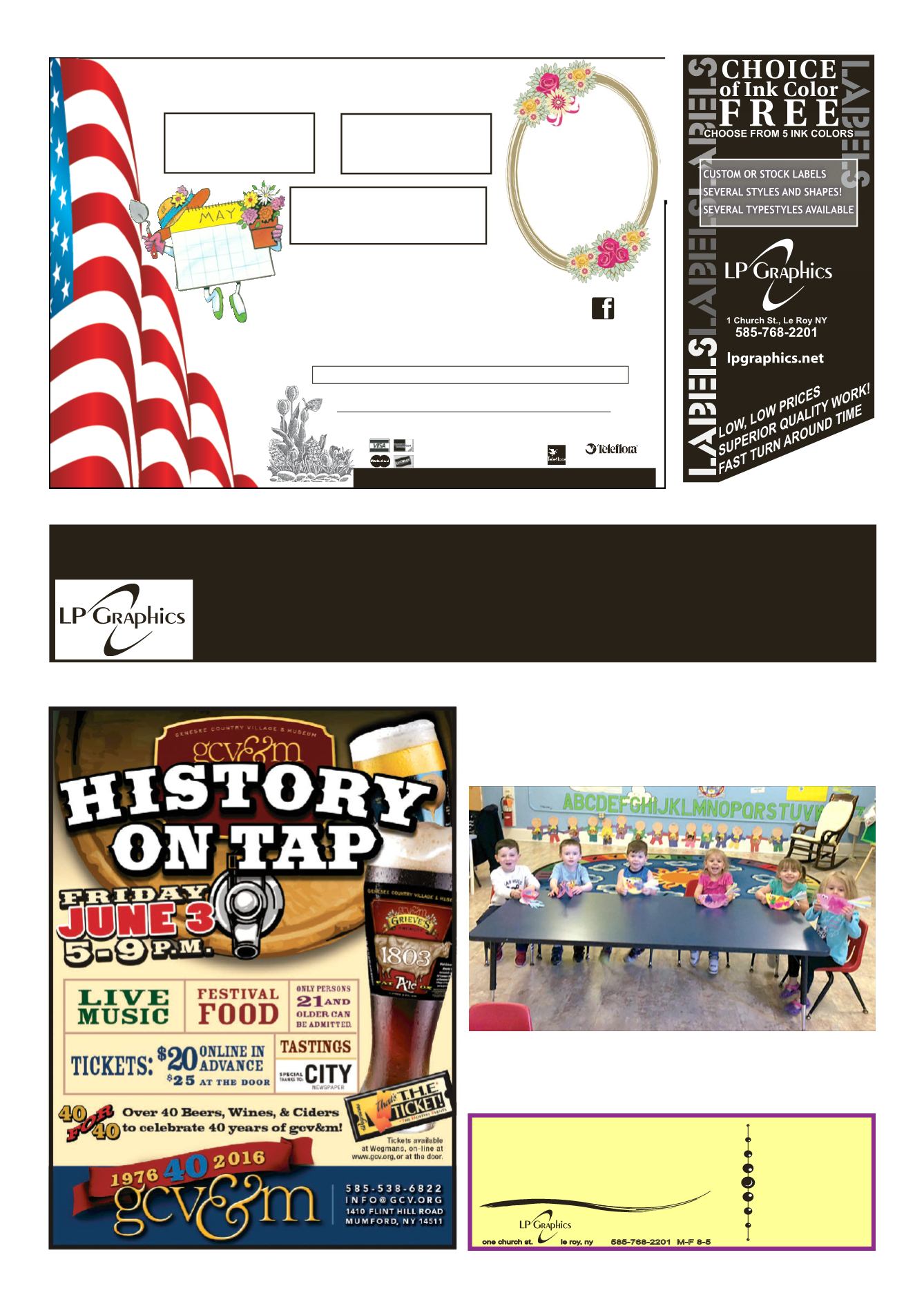 LEROYPENNYSAVER&NEWS -MAY 22, 2016
T-shirts • Hats • Visors • TankTops • Jackets • Towels
GREATGIFTSFORYOURFAMILY • FRIENDS • ETC.
1ChurchSt., LeRoy, NY • 585-768-2201 • Fax 585-768-6334 • Hours: Mon.-Fri. 8:00-5:00
SNSPlaygroup
SaysTweetTweet!
SunshineNurserySchool'sPlaygroupstudentsareproudof their
most recent works of art! The children put their glueing skills
towork and createdbeautiful birds!
one church st. le roy, ny
Lakestreet Florist&Gift Shoppe
WeDeliver To: LEROY, Byron, Bergen, Caledonia,Mumford, Pavilion,Wyoming, Stafford&Batavia
TelefloraWire ServiceForFamily&FriendsOut of Town
768-7720
110LakeSt., LeRoy
HOURS:
M-T 9-5:30
F9-6:00
Sat. 9-4:00
COOK'S LANDSCAPING - 330-3819
HANGINGBASKETS
PATIOPOTS
BeddingPlants •Annuals •Geraniums
Spikes •Vinca •German Ivy •Ferns
LookatourWEBSITE for lotsof ideas!
May2016
TAKINGORDERS
FORCEMETERY
URNS
GRADUATION
RECITALS •CORSAGES
PRESENTATIONBOUQS.
PROMTIME
Corsages/Bouts
Garters/NewBracelets
PLUS
WEHAVE
Gourmet&
Fruit Baskets
JunkFood
Baskets
Balloons
Graduation