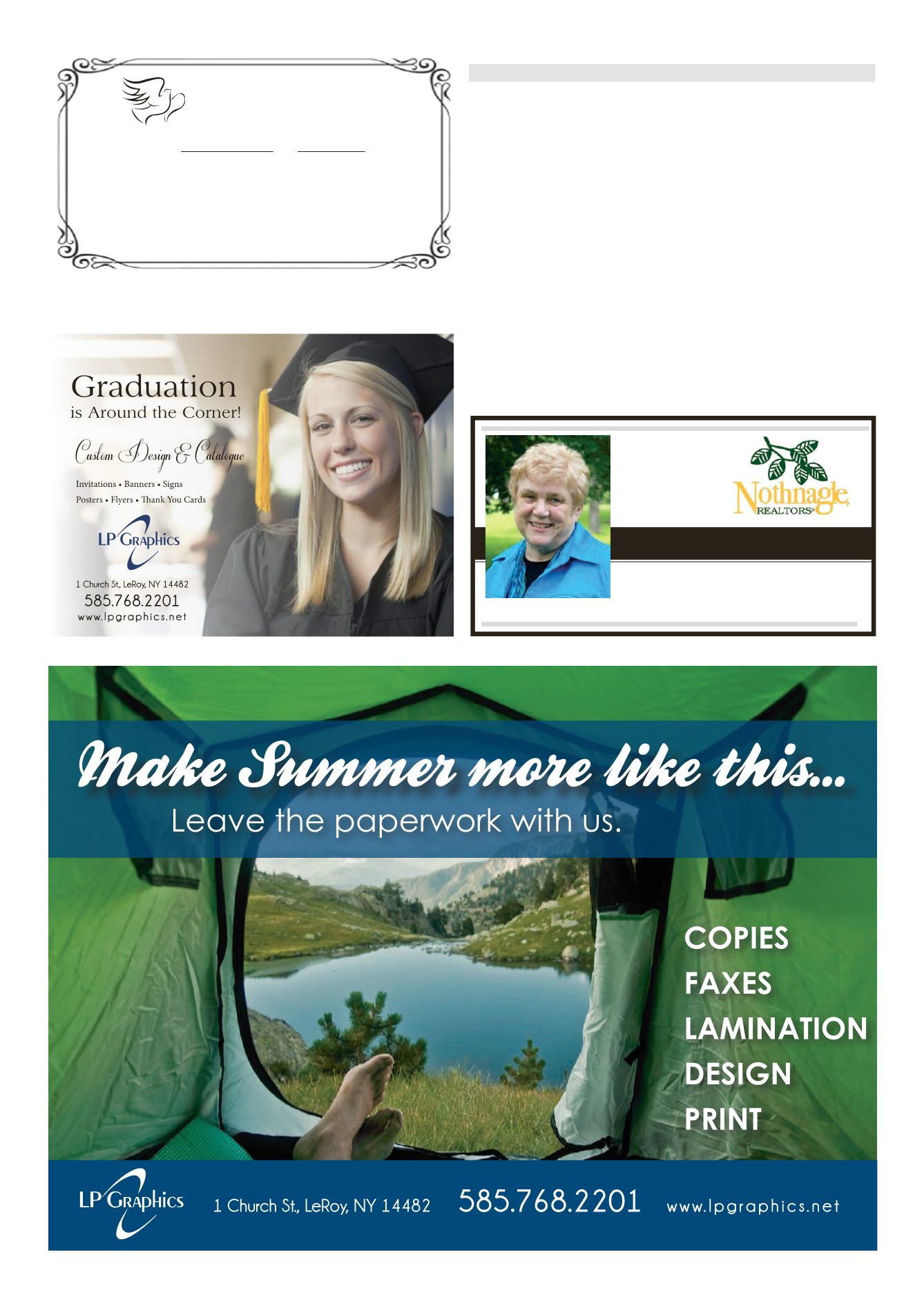 LEROYPENNYSAVER&NEWS -MAY 22, 2016
Director /Owner
FuneralDirector
F
ALCONE
F
AMILY
Funeral&Cremation Service, Inc.
Director/Owner
"ALOCALFAMILY
CARINGFORLOCALFAMILIES"
byGreg "Porp"Rogers,
Mayor
Summer should be here soon.
TheVillagehasmanyprojects to
undertake this summer, includ-
ingsidewalkworkbeingdoneon
Main St. now.Wewould like to
address the alleywalls, cleanup
the creek shore line, even more
side walk work, street oil and
stone treatments. We also have
e everydaywork that needs to
TheLittleLeague season is in
full swing, take time to visit the
field,whichhasasenseofhistory
and nostalgia you can feel when
you walk in. This year's first
week home run hitters are; Cole
Rauscher, Ben Pocock, Ryan
Higgins, Robbie Newmark and
KennySaunders, these five guys
get amilk shake for their homer.
Congratulations to Denise
Duthe on being re-elected to the
School Board and newly elected
Pete Loftus who is a lifelong
friend of mine and I couldn't
think of a better choice.
Try to get out and enjoy the
summer,we live inagreat place.
You can't start baseball season
"If you don't knowwhere you
aregoing,youmightendupsome
Notes From TheMayor's Office
NANCYCROCKER
LicensedReal EstateSalesperson
570EastMainStreet •Batavia, NewYork 14020
Cell: 585.314.7982 • Fax 585.343.8502
Multi-MillionDollar
Producer