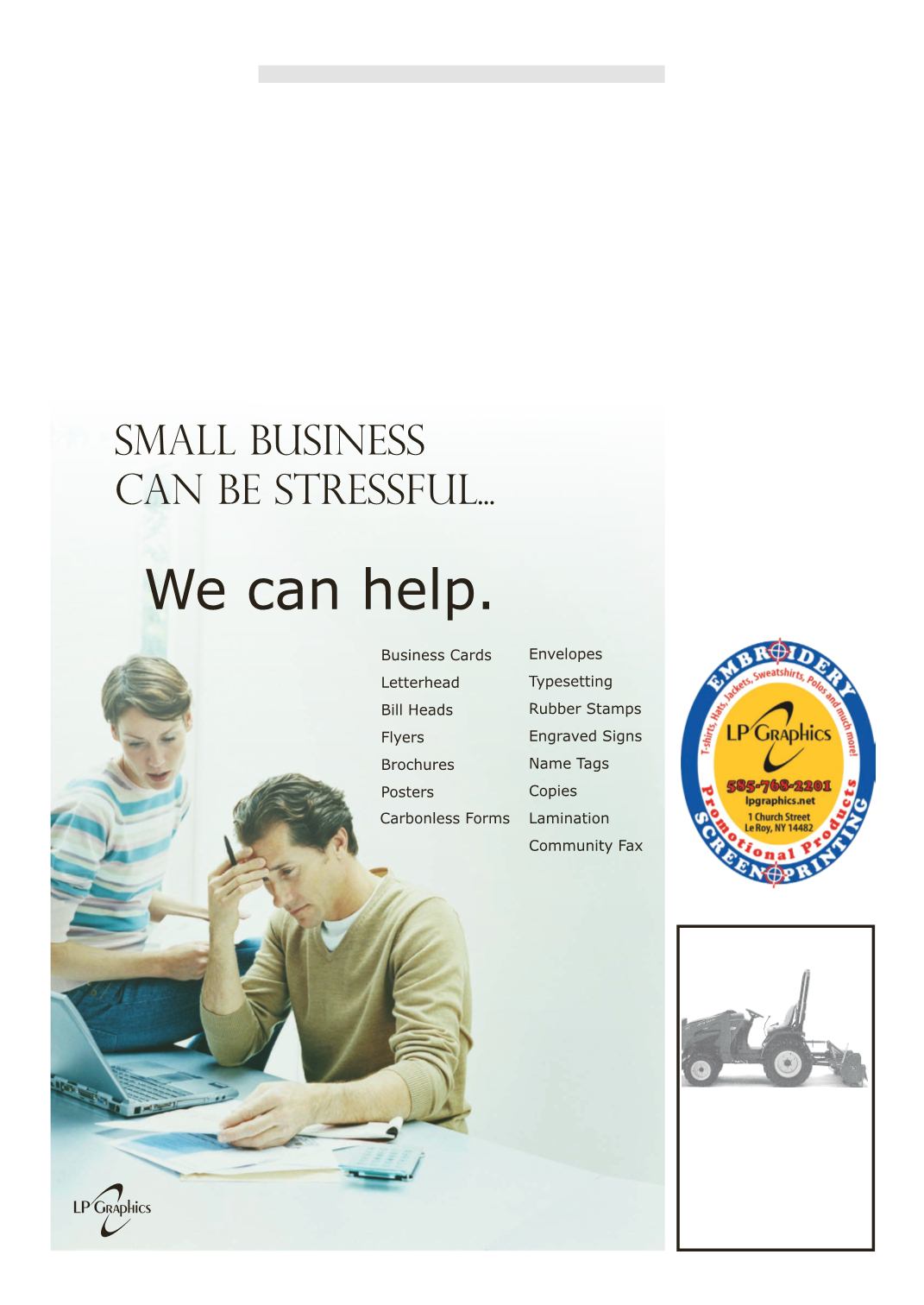 LEROYPENNYSAVER&NEWS -MAY 22, 2016
NoTexting
Either new or
existinggardens
rototilled.
48" rototiller.
Call Don
At 356-4089
LEROYPENNYSAVER -OCTOBER 24, 2005
1ChurchSt., LeRoy, NY14482
585.768.2201
raphics.net
byKimM. Cox
Superintendent of Schools
LeRoyCentral SchoolDistrict
Iwant tobeginby thanking the
communityfor theendorsementof
theLeRoyCentralSchoolDistrict
2016-17 Budget. The Board of
Educationand theAdministration
team, with input from many
others, worked diligently to
create a budget that allows for
important programs to thrive,
while being fiscally responsible
to the community. I want thank
all those that contributed to
this process, and all of you that
to the Board of Education. Mr.
Peter Loftus will be joining us,
formally beginning his term on
July 12, 2016.We alsowelcome
backMrs.DeniseDuthe.We are
delighted to have both of these
individuals as members of the
board.Theyaregoing tobegreat
contributors to theLeRoy team.
I also want to take this time
to recognize the contributions
of Mr. Tom Dambra. Tom has
proudlyserved theLeRoyBoard
of Education for six years. His
dedicationandcommitmenthave
truly been appreciated. Thank
Speaking of dedication and
commitment, on Monday, May
30thwewill all takeamoment to
honor thosewhohave servedour
country at the annual Memorial
Day Parade. The sacrifices of
thesemenandwomenhaveguar-
anteed the rights and freedoms
for all Americans. The Le Roy
Marching Band will proudly be
part of this celebration onMon-
dayat10:30.Save thedate!Also,
as a reminder, thedistrictwill be
closed on Friday, May 27th and
Monday, May 30th to recognize
The R.I.T.E. Project is in full
swing. It is amazing to see the
transformation that has already
occurred. I want to thank you
again foryourpatienceandunder-
standing aswework through the
technicaldifficulties thataproject
of thismagnitude canproduce.
I can't believe we are nearing
the end of the 2016 school year.
Another change that Iwould like
tobring toyourattention is toour
Gradua-
tion will be held on Saturday,
June25,2016at11:00am in the
Jr.Sr.HighSchoolAuditorium.
This is a change from what is
printed on the district calendar.
Inaddition, thereareaplethora
ofeventsandactivitieshappening
at our schools over the course of
thenext fewweeks. Pleasemake
sure tocheck thewebsitefor these
Thank you again for your on-