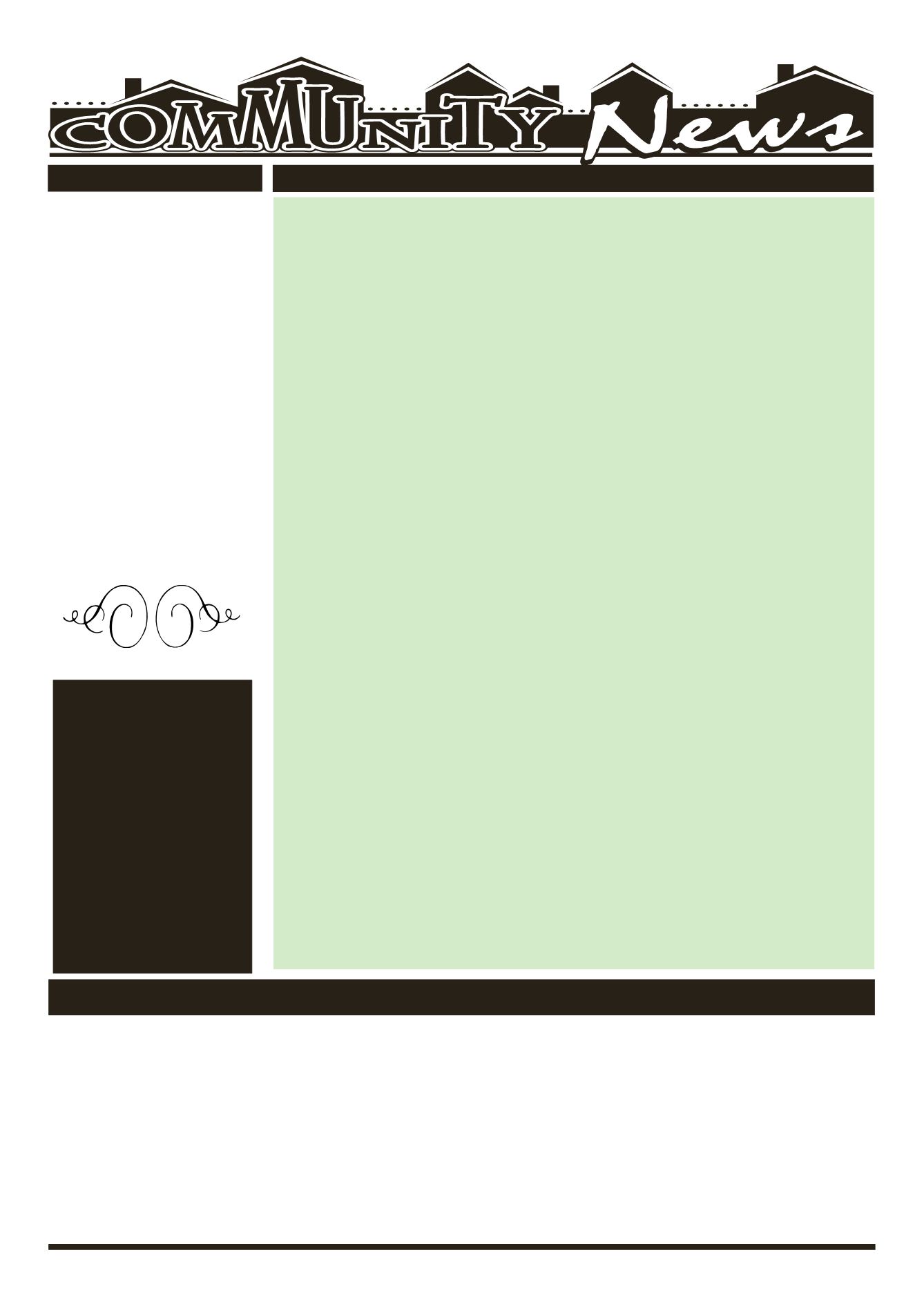 LEROYPENNYSAVER&NEWS -MAY 22, 2016
All GeneseeCounty residents, 60andolder, can takepart in thisweek'sactivitiesat theBataviaSenior Center, 2BankSt., Batavia. Formore information, call 343-1611.
SENIORCITIZENSACTIVITIES (May 23rd -May 27th)
WEEKLYEVENTS
OBITUARIES
ArthritisExercise
isscheduled tobeginat9:30a.m.;
Bridge
isscheduled tobeginat11:30a.m.;
DefensiveDriving
TaiChi
isscheduled tobeginat1:30a.m.
NewsletterAssembly
is scheduled tobeginat8:45a.m.;
Cribbage
is scheduled tobeginat1:00p.m.
Quilter'sGroup
isscheduled tobeginat9:00a.m.;
MarshallFundPlanningTeamMeeting
isscheduled tobeginat11:00a.m.;
Euchre
is scheduled tobeginat1:00p.m.
TaiChi
is scheduled tobeginat9:30a.m.;
LifespanMeeting
is scheduled tobeginat 10:00a.m.;
GentleFitness
Cribbage
isscheduled tobeginat1:00p.m.;
Bridge
isscheduled tobeginat1:00p.m.
ArtClass
is scheduled tobeginat 10:00a.m.;
LineDancing
is scheduled tobeginat 10:00a.m.;
ARepresentative fromUnivera
Insurance
will beavailablebetween10:00a.m. and12:00p.m.;
Euchre
is scheduled tobeginat1:00p.m.
SUNDAY,MAY22
MONDAY,MAY23
TOPS(TakeOffPoundsSensibly)
meetsMondayeveningsattheLeRoyPresby-
terianChurch, cornerof Clay&MainStreets.Doorsopenat6:00pmandmeeting
is from 6:30-7:15 pm. Visitors are alwayswelcome. Call 585-768-7103 formore
TUESDAY,MAY24
PreschoolStorytime :
EveryTuesdayat11am featuringstories,craftandsongs
atPavilionPublicLibrary, 5WoodrowDr., Pavilion. For info: 584-8843.
LCCP's GRACE'S KITCHEN:
A FREE dinner every Tuesday evening, 5-6:30 pm
at theMasonic Community Center on 12 Bank St. Plenty of parking. Takeout &
delivery are available. For more info. contact Selby Davis at 585-738-8882 or
GRACE'S CLOSET: A clothinggiveawayprogram
Methodist Church, 10 Trigon Park, Le Roy, 9:30 am to 11:30 am every Thursday.
We have clothing for all ages. We need bedding of all kinds especially blankets.
Donations canbedroppedoffat thehousenext to the church. Pleaseput all bags
INSIDE on the back porch. NO ELECTRONICS, COMPUTERS,DISHES, etc.
Open
Tuesdays5-6:30pm.
Anyquestions call theoffice768-8980.
AXISStudentMinistryatLivingWatersChurch
,onMainSt. LeRoy. Sundays
from 6:30 to 8:30 p.m. for 7th to 12th grade. Our goal is for teens' lives to be
impacted, and radically changed. Formore information, checkusout at:
LeRoyZoningBoardOfAppealsMeeting
(asnecessary)7:30pmattheTown
Hall, 48MainSt. For further info. call 768-6910, Ext. 223.
Pan -MovieShowingattheWoodwardMemorialLibrary
gradesK-6 from3:30–5:15p.m.Registration isappreciated! Call768-8300or
WEDNESDAY,MAY25
Paper BlockProgramat theWoodwardMemorial Library
in grades K-2 from 3:20 – 4:15 p.m. Build amazing structures using paper.
THURSDAY,MAY26
Catapults and Exploding Boomerangs at theWoodwardMemorial
Library
for children ingrades3-6 from3:20–4:15p.m. Createacatapultand
put togetheraboomerang! Registration is required! Call768-8300or register
TownOf LeRoy BoardMeeting
, 7:00 pm at the Town Hall Board Room, 48
FRIDAY,MAY27
PenuelChristianFellowship,
OneSteptoFreedomaddictionsministry,aChrist
CenteredAddictions program, aweeklymeeting every Friday at 7pm. Call the
Church formore informationat768-6901or594-9575.
PenuelChristianFellowship
isorganizingayoungadult fellowshipandBible
study. Ages: 12andup, Time: Fridays from7-9pm, Study: thebookof Romans
(a16week course), taughtby JosiahGariboldi.Place: 7115WestMainStreet.
SATURDAY,MAY28
UPCOMINGEVENTS
Memorial DayParadeDate: Monday,May30, 2016 -
9:45amand"stepsoff"SHARPLYat10:30am from theLegionPostHome, 53
WestMainStreet toTrigonPark.
Foodlink FreeMobile FoodPantry:
MorganvilleUnited Church of Christ
is partneringwith Foodlink of Rochester to host a freemobile food pantry,
Tuesday,May31, 4:00-6:00pmatMorganvilleUnitedChurchof Christ, 8466
MorganvilleRoad (offRt237, 1milenorthof Stafford). Theexact food items
andquantityavailablearenotknown,butfreshproducewillbeavailable. Must
be18yearsof age, no income requirementor ID required. Mustprovideown
bags/vehicle to transport items toyourhome. Foodprovidedonafirst come,
first servebasiswhile supplies last.
FirstBaptistChurchofPavilion iscelebratingtheir200thAnniversary
thisyear, 2016.Oneofour special eventswillbeaconcert,'50YearsOfSacred
Music'presentedbyDanWoodard.The concert ison theeveningof Saturday,
June 4th from 6:30pm - 8:15pm. All are welcome. Call 585-584-3179, ext.
TheStaffordUnitedMethodist Church ishavingaFREEgiveaway
June10th from11AM to5PMand June11th from11AM to2PM.Therewill
beassorted clothing, household items, books, holidaydecorationsandmuch
more. The church is located at 6134Main Rd., Stafford. And remember.....
TheByronBergenPublicwillbehostingtheKelly'sHeroesMarching
Band
at theBergenPark Festival on June11, 2016. Thebandwill be in the
parade and in the park afterward. This free program ismade possiblewith
funds from theDecentralizationprogram, a regrantprogramof theNewYork
state Council on the Arts with support of Governor Andrew Cuomo and the
NewYorkStateLegislatureandadministeredbytheGenesee-OrleansRegional
CommunityCalendarSubmissions shouldbe sent to:
LEROY~DonaldW. "Ben"Wright
died peacefully Friday morning
(May 13, 2016) at the Le Roy Vil-
lageGreen, after a long battlewith
COPD and chronic heart failure.
Memorial contributions may be
made to the COPD Foundation
LEROY~JohnE. "Jack"Konarski,
age 81, of Randall Road, passed
awayathomeonTuesdayafternoon
(May 17, 2016) in the loving pres-
ence of his family. Memorial con-
tributions are suggested to either
LivingWatersChurchorHomecare
Le Roy
Pennysaver