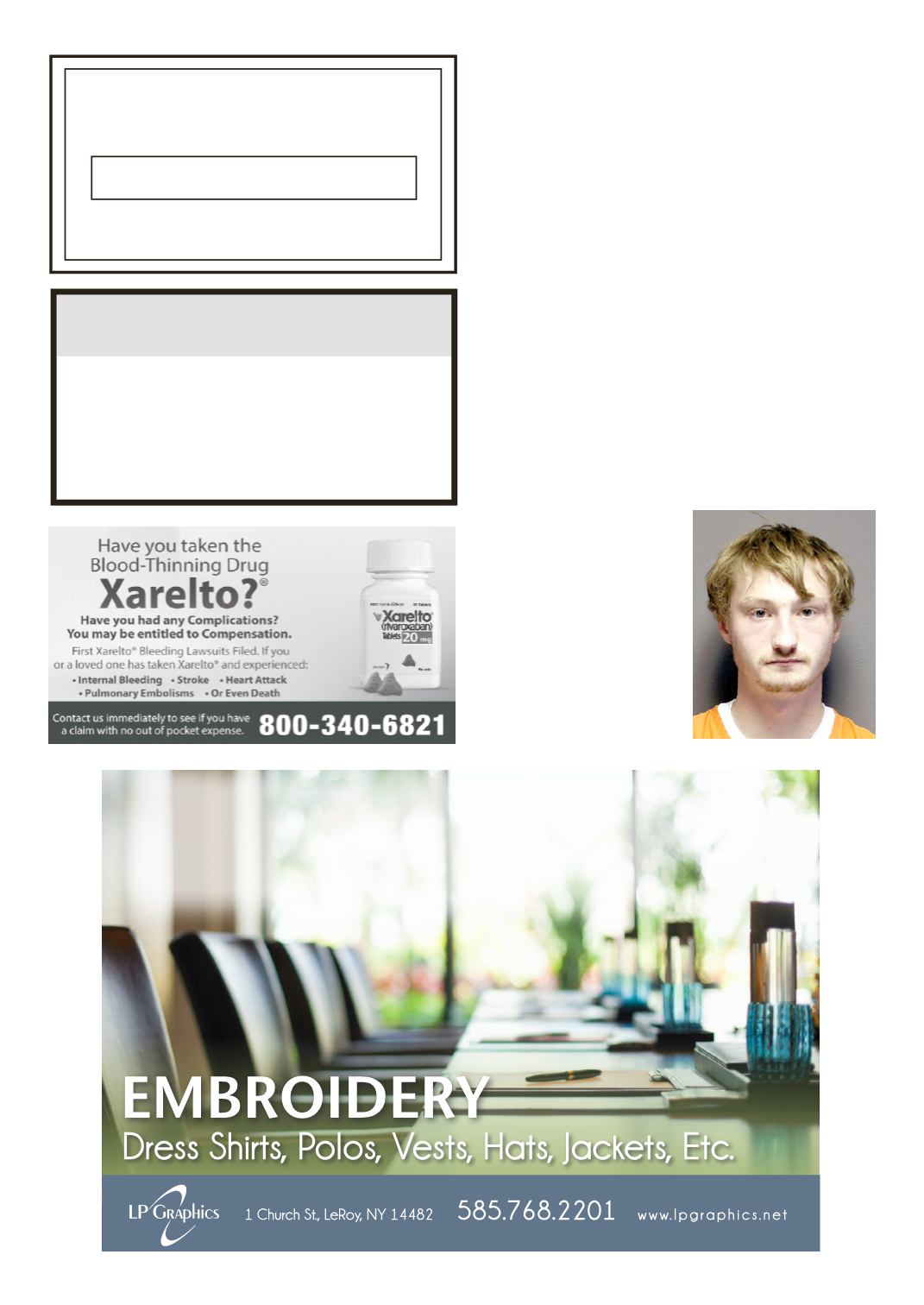 LEROYPENNYSAVER&NEWS -MAY 22, 2016
05/13/2016 - 58 year old Susan A. Colton of Vernal Rd, Attica,
was arrested by the LeRoy Police Department on May 13, 2016,
and chargedwith the following,DrivingWhileAbility Impairedby
Drugs, a Class AMisdemeanor, and DroveWrongWay (one-way
Coltonwasarrested followingan investigationofanerraticoperator
travelingNorthboundonWarsawRoad.Thevehicle inwhichColton
wasallegedlyoperatingwas locatedashort time laterat theFiveStar
Bank located at 124West Main Street. After a brief investigation
Coltonwas allegedly found to be impaired by drugs.
Coltonwas issued traffic tickets for the chargeswith a returndate
of 6/20/16 at 1:00PM at the LeRoy Town Court. Genesee County
Deputies assistedwith the arrest and aDRE evaluation.
05/16/2016 -18yearoldVernonRonaldHillofOhsweken,Ontario,
was chargedwithCriminalTrespass in the2ndDegreeonMay16th
after hewas allegedly foundnaked in a residence by the homeown-
er. The defendant was arraigned in the Town of LeRoy Court and
was remanded to theGeneseeCounty Jail in lieu of $1,000 cash or
$2,000bond. Hill is due to reappear in theStaffordTownCourt on
May 17th, 2016 at 9:00 am.
05/16/2016 - 21year oldWilliamB.Gortonof 8410EastMainRd
LeRoywasarrestedon5/16/16and
charged with one count of Crimi-
nal Mischief in the 3rd degree, an
E-Felony. It is alleged that on or
about 4/17/2016, Gorton damaged
an electric door lock at an address
on Lake Street in LeRoy when
he intentionally struck the door
numerous times. Thecost to repair
the lockingmechanism is inexcess
of$250.00. GortonwasArraigned
in the LeRoy Town Court and
ALLWORKMANSHIP GUARANTEED • INSURED
297-9097 • 768-7737
• InteriorPainting
• Plaster/LathRestoration
•Drywall&DrywallRepair
•TextureRemoval
• Floors Stripped
&Refinished
•OldCeilings&Walls
MadeLikeNew!
MikeDarby'sPatch&Paint
Plumbing • Heating
Installation&Repair Service
For All Residential &Commercial Work
MissingSomething?