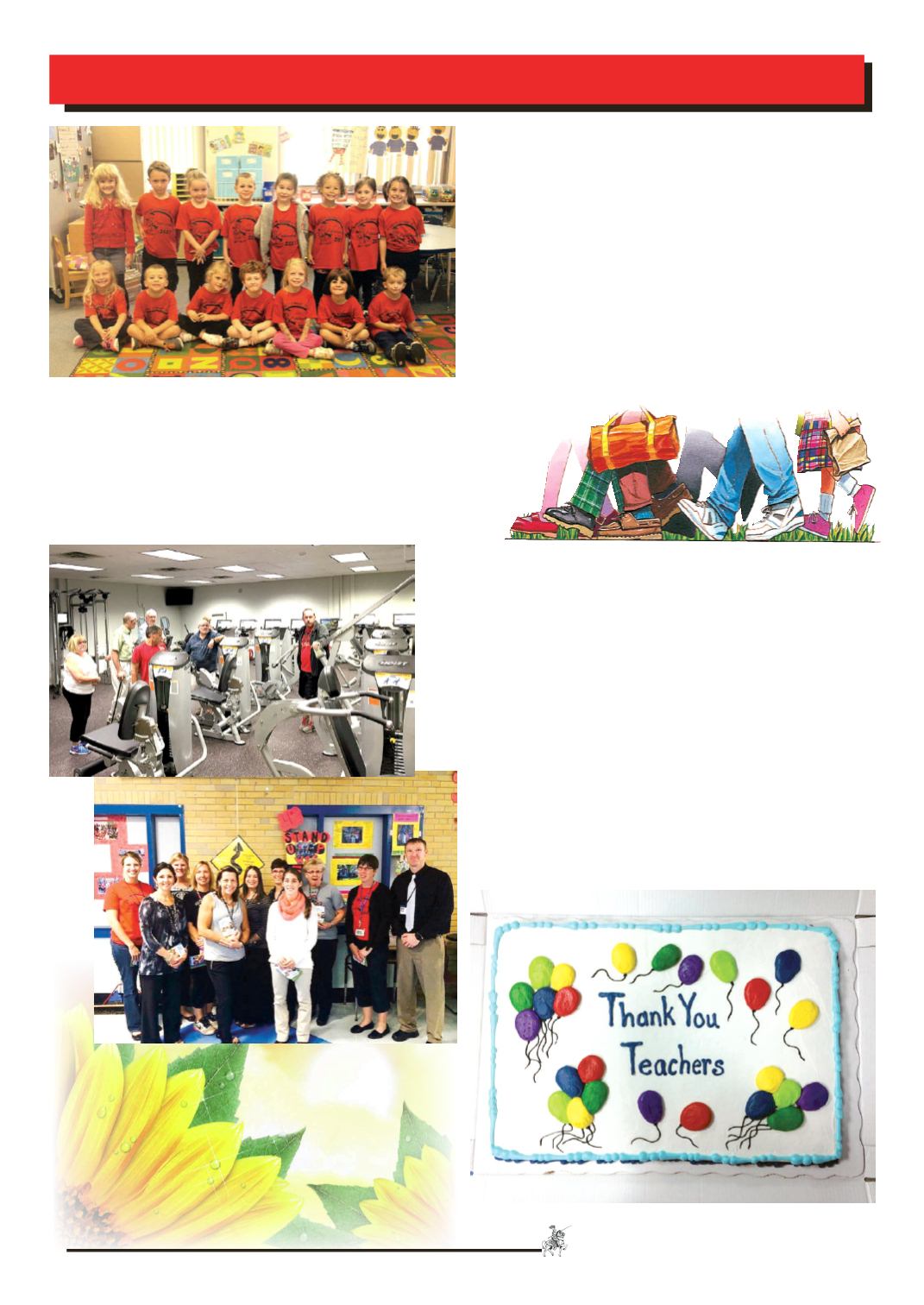 LEROYPENNYSAVER&NEWS -NOVEMBER 2, 2014
WolcottStreetNews!
The last week of September,WSS dedicated 5 days to celebrating
goodcharacter.Webegan theweekwithanassembly that includeda
reviewof our rules, our procedures, a formal introductionof trusted
adults, and a culminating video entitled, "StandUp." On Tuesday,
"TeamApparel Day" signified that together we can combat bully-
ing.WednesdaywasourSpiritDay!Thursdaywas "Hat'sOn to the
Bystander" andFriday concludedourweek as "FriendshipFriday."
We renteda"photobooth"andduring lunches, studentshadpictures
takenwith classmates holding a class poster representing their un-
derstandingof "StandUp" tobullying.OurPTSOpurchaseda spirit
shirt for all Kindergartners atWSS towearwhenwe have "Wear it
Wednesdays" in support of Good Character! Come join the PTSO
at one of ourmeetings and seewhatwe do for kids!
Ournewstateof theartfitnesscenter isclose tocompletion.Teachers,
buildingandgroundsworkers, and the technology teamhaveworked
tirelessly installing equipment. A random group of students are
wearingfitnessbracelets to trackprograms and thenumber of hours
they aremoving. A registeredDietitianwill be visiting classrooms
thismonth to teach our students about eating properly!
At our last facultymeeting, representatives from the BataviaWal-
Mart surprised our staff! Names of teachers, grades Pre-K-8, were
entered in a drawing for twenty $50.00 gift cards to be used to
purchase items for the classroom. ThirteenWSS staffmembers re-
ceived the gift cards. Cakewas also served to celebrate! Learning
2 KnightlyNewsQuarterlyNewsletter
AWellnessTraditionContinues
Wednesday, Oct. 8th, we had over 320 participants for our 2nd annual wellness
initiative!We kicked off the event at the K of C at 8:30 a.m. where participants
receivedwater, apples, andgraham crackers. ChiefHayward addressed the crowd
about safehabitswhenwalking toschool.With thehelpof themarchingband,we
proceeded towalk toWSS! The event ended inour cafeteriawhere hand-sani-
tizer and stress footballswere givenout! Itwas a greatway to start our day!