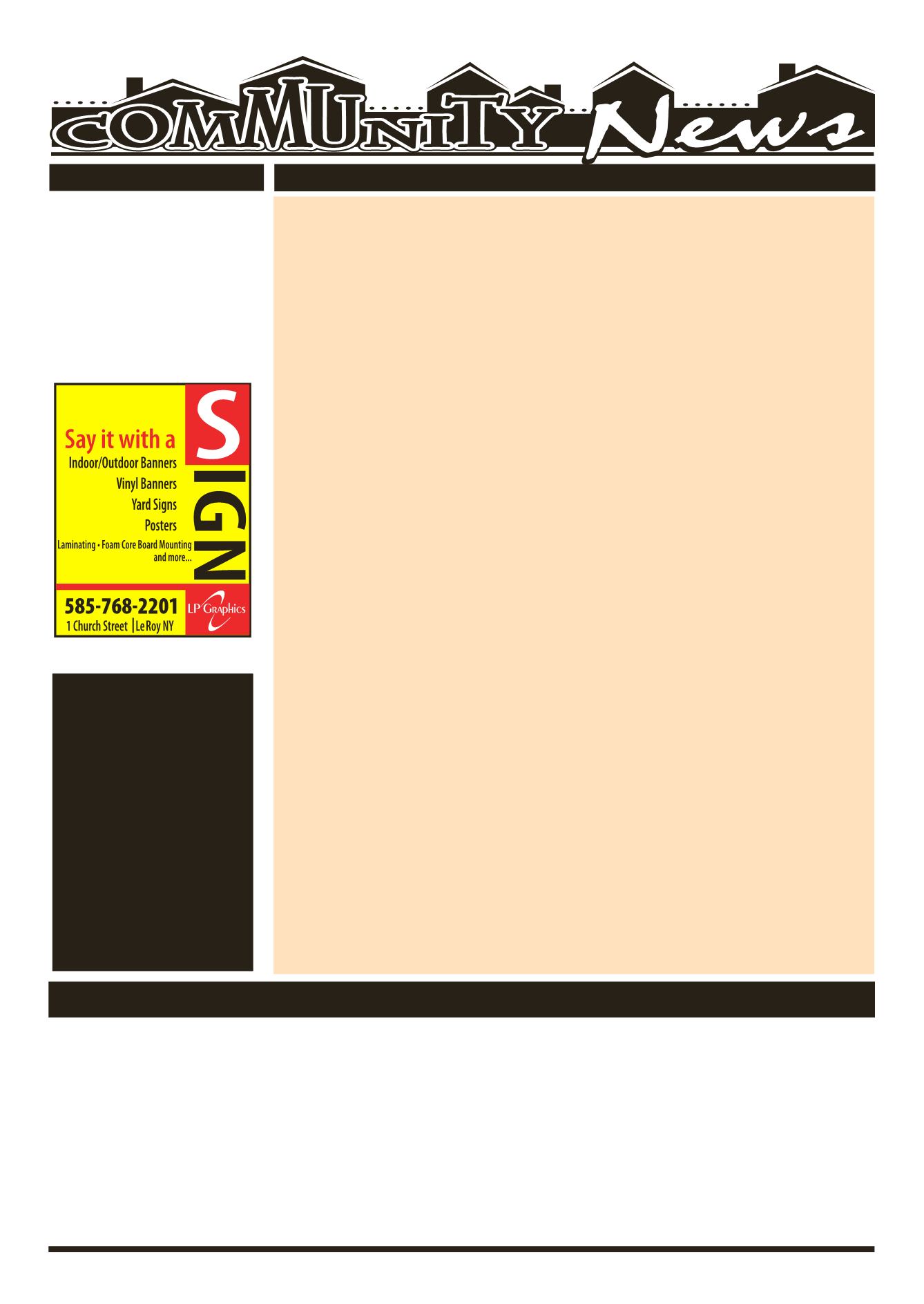 LEROYPENNYSAVER&NEWS -NOVEMBER 2, 2014
Le Roy
Pennysaver
All GeneseeCounty residents, 60andolder, can takepart in thisweek'sactivitiesat theBataviaSenior Center, 2BankSt., Batavia. Formore information, call 343-1611.
WEEKLYEVENTS
OBITUARIES
CountyFlexMeeting
is scheduled for 9:00a.m.;
ArthritisExercise
is scheduled tobeginat 9:30a.m.;
Bridge
RSVPMeeting
is set tobeginat 12:30p.m.
Cribbage
FoodStampOutreach
is scheduledbetween2:00pm to4:00pm.
Quilters
are scheduled tomeet at 9:00a.m.;
YogaDemo
is scheduled for 10:45am;
Euchregame
ElderAbuseMeeting
OPENEnrollmentVendor Fair
is set for 10:00 am to4:00pm;
CribbageandBridge
is scheduled for 1:00pm.;
Musical Key-
boardingLessons
GeneseeCountyPublicHearing
isscheduled for thisevening.
MaureenMeeting
is scheduled to takeplaceat9:00am;
LineDancingandArtClass
is set tobeginat10:00am. ;
Euchre
SUNDAY,NOVEMBER2
AWANAProgramatPenuelChristianFellowship.
12:15 to1:45pm.Ages5-17broken intogroups.Developing friendships.Having
fun. LearningaboutGod. Safeenvironment.
KonnectYouthGroupatLivingWatersChurch,
from6:30 to8:30pm for ages 12-18. "BringDownall theWalls! Connectwith
God and Connect with others." For more information, check us out online at:
livingwatersleroy.org/konnect-youth-ministry/
MONDAY,NOVEMBER3
TOPS (TakeOffPoundsSensibly)
meetsMondayevenings from6:30-7:15pm
at the LeRoy Presbyterian Church, corner of Clay&Main Streets. Visitors always
welcome. Call 768-2933 formore info.
TUESDAY,NOVEMBER4
PreschoolStorytime:
EveryTuesdayat11am featuringstories,craftandsongs
atPavilionPublicLibrary, 5WoodrowDr., Pavilion. For info: 584-8843.
LCCP'sGRACE'SKITCHEN:
A FREEdinner everyTuesdayevening, 5-6:30pmat
theLeRoyUnitedMethodist Church, 10TrigonPark. ParkingavailableonTrigon
Park& the lots to the left andbackof theChurch. HandicappedEntrance in the
backof theChurch.Takeout&deliveryareavailable.Formore info. contactSelby
ElectionNight Pancake Supper: LPSKiwanis
will be serving a hotmeal
from4pm to7pmat theStafford FireHall. Cost is $7per adult and$4.50per
child.Take-outsareavailable. Proceedsbenefit theChildAdvocacyCenter and
other youth services inour area.
ElectionDay Beef/Weck atWyomingHook& Ladder
WEDNESDAY,NOVEMBER5
THURSDAY,NOVEMBER6
Genesee Veterans Support Network
(GVSN) supports the development
of Veterans focused AA meetings every Thursday, 6-7 pm at the First Bap-
tist Church, 306 E. Main St., Batavia. Meetings led by MikeW. & are open to
non-veterans aswell. Handicapaccessible. For additional information call 585-
GRACE'SCLOSET:
Aclothinggiveawayprogram
Methodist Church, 10TrigonPark, LeRoy 9:30 am to11:30 am everyThursday.
Wehave clothing for all ages. FALL&WINTER clothingnowbeingput inplace.
Weare inneedofWARMERclothingespeciallycoats, jacketsboots, pajamas. We
needbeddingofallkindsespeciallyblankets.Weacceptdonationsbedroppedoff
at thehousenext to thechurch.Pleaseputallbags INSIDEon thebackporch. NO
ELECTRONICS, COMPUTERS,DISHES, etc. Anyquestions call theoffice768-8980.
FRIDAY,NOVEMBER7
PenuelChristianFellowship,
OneSteptoFreedomaddictionsministry,aChrist
CenteredAddictions program, aweeklymeeting every Friday at 7pm. Call the
Church formore informationat768-6901or406-3863.
Fish FryatN. BergenPresbyterian Church,
Rd.,Bergen.Themenu includes friedhaddock,roastedpotatoes,cabbagesalad,
rolls, beverage andhomemadedesserts. Servingwill be from4:30pm - 6:30
pm.Takeoutsareavailable. Call 494-1815 formore information.
"FallforLeRoy"
willtakeplace from6:00pmto8:30pm!Come
out foranightof shopping, foodandentertainmentbrought toyouby the local
main street businesses. Explorewhat LeRoyhas toofferwitha varietyof open
houses and demonstrations! Contact JimDeLooze formore information:(585)
SATURDAY,NOVEMBER8
HOLIDAYHAPPENINGS-
EastBethanyPresbyterian
Church
,5735EllicottSt.Rd.,EastBethany,NY.TwoBigFloorsofCraftandProduct
vendors, BakedSale, Basket (Chinese) Auction, Breakfast and LunchAvailable.
Come to the country toget in theHolidaySpirit!!
Annual Turkey Trot 5K Run/Walk
to be held at the Summit St. Courts in
LeRoy.Walkers start at 9amand runnersat 9:30am, if youare registering that
day please arrive by 8:30 am. Register at
Turkeysareawarded to thewinners ineachdivisionand refreshmentsanddoor
prizes will be available after the race. All proceeds to benefit the children of
HugeRummageSale -
First Congregational Church of Riga (33a@36), 7057
Chili-RigaCntr.Rd.,Churchville- 7am-2pm-Contents from2estates,plusmore
arriving. Antiques, tools, furniture, craft items, curiosity items, Christmas and
muchmore! Items checkedat set-up, no junk. Sensiblepricing-seeyou there !
Veterans Only Social Club -
GeneseeVeterans Support Network announces
anewmeeting locationat Scooter's FamilyRestaurant, 3711WestMainStreet
Road, Batavia, NY - for the once amonthVeterans Only Social Club. Meetings
areheld the secondSaturdayof eachmonth from7:00 to8:30PM.Veterans of
all eras are invited to attend. GVSN is located at 3837WestMain Street Road,
Batavia, NY. For more information, contact GVSN, PO Box 541, Batavia, NY
UPCOMINGEVENTS
LCCP'sMommy&MePlaygroup: Every2nd&4thFriday,
Le Roy Physical Therapy (in the back gym). Anymoms and their birth-kin-
dergarten children arewelcome to come enjoy socialization, lunch, coffee,
structuredgames& freeplay.
November 9, 2014: OpenHouse to honor Jim&BarbDourie
celebrating60yearsof servingWyomingatDourie'sShopWise. 2-5pm.
Novembermeetingof theLeRoyTown&CountryGardenClub
meet onWed., November 12th at 7 pm at LeRoy Presbyterian Church. The
businessmeetingwill includeadiscussionofnextyear'sofficers. Memberswho
aremakingscarvesshouldcomeby6:30. Remember tobringanon-perishable
item for the LeRoy Pantry. Contact AnnWalters at 737-9481 or 768-8130 for
CommunityCalendar Submissions shouldbe sent to:
BYRON—Chester W. Lew of Byron died
Monday (Oct. 27, 2014) at 9:30 a.m. at
UnityHospital,Rochester. In lieuof flowers
memorialsmay bemade to Volunteers for
Animals, POBox1621Batavia,NY14020.
BYRON –William P. Liles, 76, of Braden-
ton, Fla., diedSept. 27, 2014, at theBlake
MedicalCenter inBradenton.Serviceswith
full military honors will be held at 11 a.m.
Saturday at ByronCemetery, Byron.
lpgraphics.net