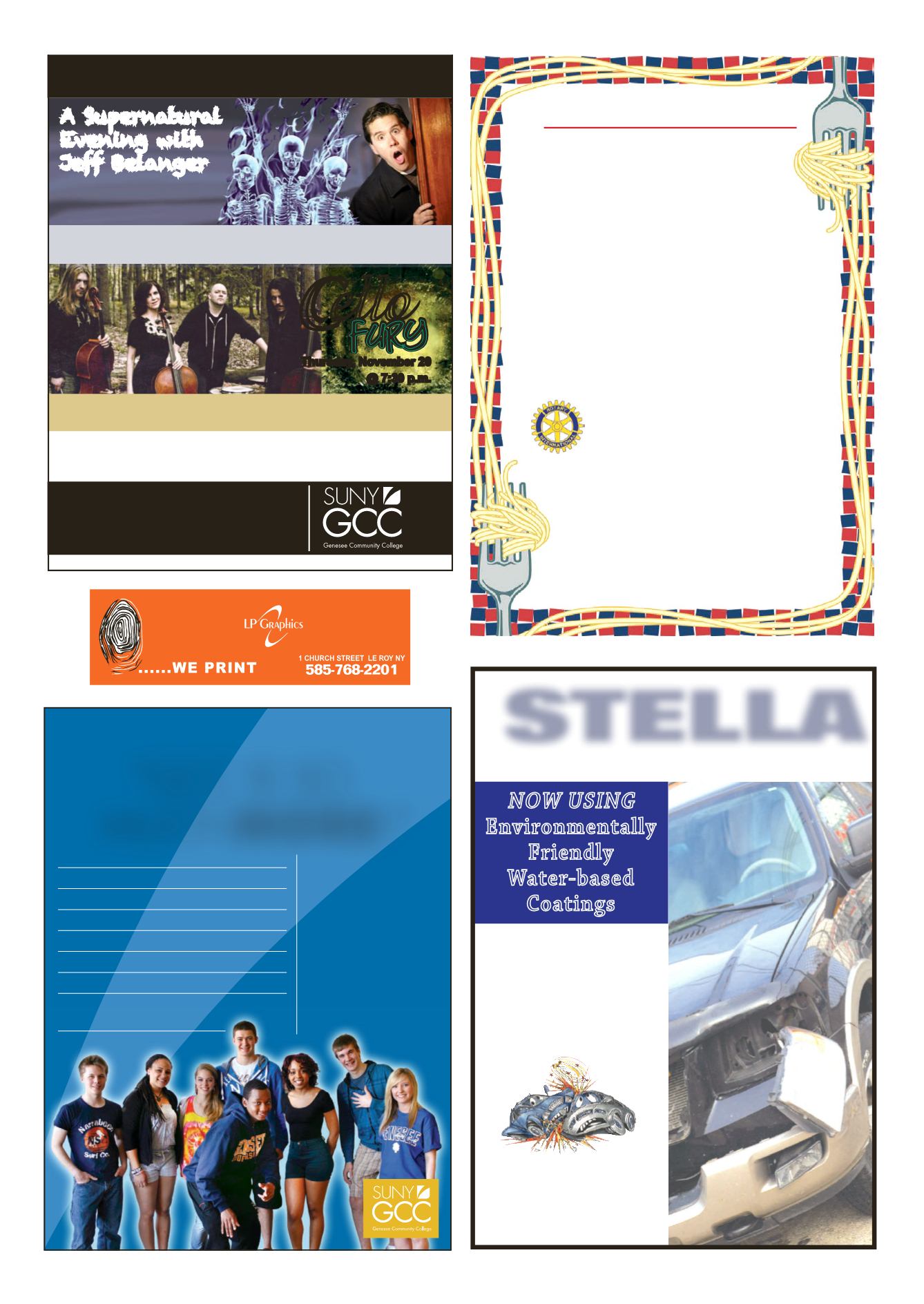 LEROYPENNYSAVER&NEWS -NOVEMBER 2, 2014
Stuart Steiner Theatre
OneCollegeRoad •Batavia, NY
Ticket prices range$3 - $8
GeneseeCommunityCollege isan equal opportunity/affirmative action institution.
Friday, November 7
@ 7:30p.m.
Thursday, November 20
@7:30p.m.
Spend the eveningwith one of theworld'smost visibleandprolific
paranormal investigators. (Asign language interpreter will beprovided.)
TWOGREATSHOWS at GCC inNovember
Feel the vitality and rhythmic driveas thisPittsburgh-based group
performs its high energy and original, cross-genre compositions.
genesee.edu/
openhouse
VisitGCConVeteransDayandfindoutwhy…
MORE
More than 60 degrees or certificates
Financial Aid / Scholarships
FREEGCC Student Services / Tutoring
College Village Student Housing offers
Genesee Community College
is an affirmative action/
equal opportunity institution
Collision Service, Inc.
STELLA
Complete
AutoBodyRepair
GlassReplacement
24HourTowing
DowndraftPaintBooth
ComputerEstimating
8375EastMainRd.
LeRoy,NY
768-7370
NOWUSING
Environmentally
Friendly
Water-based
Coatings
ELECTIONDAY
Tuesday,Nov. 4th,
2014
SPAGHETTI
DINNER
AllYouCanEat!
$10.00PerAdult •TakeoutsAvailable
AMERICANLEGION
ChildrenUnder 12 - $5.00 •ChildrenUnder 3FREE
ForAdvance SaleTicketsCall:
MaryMargaret Ripley at 297-2441OR
lpgraphics.net