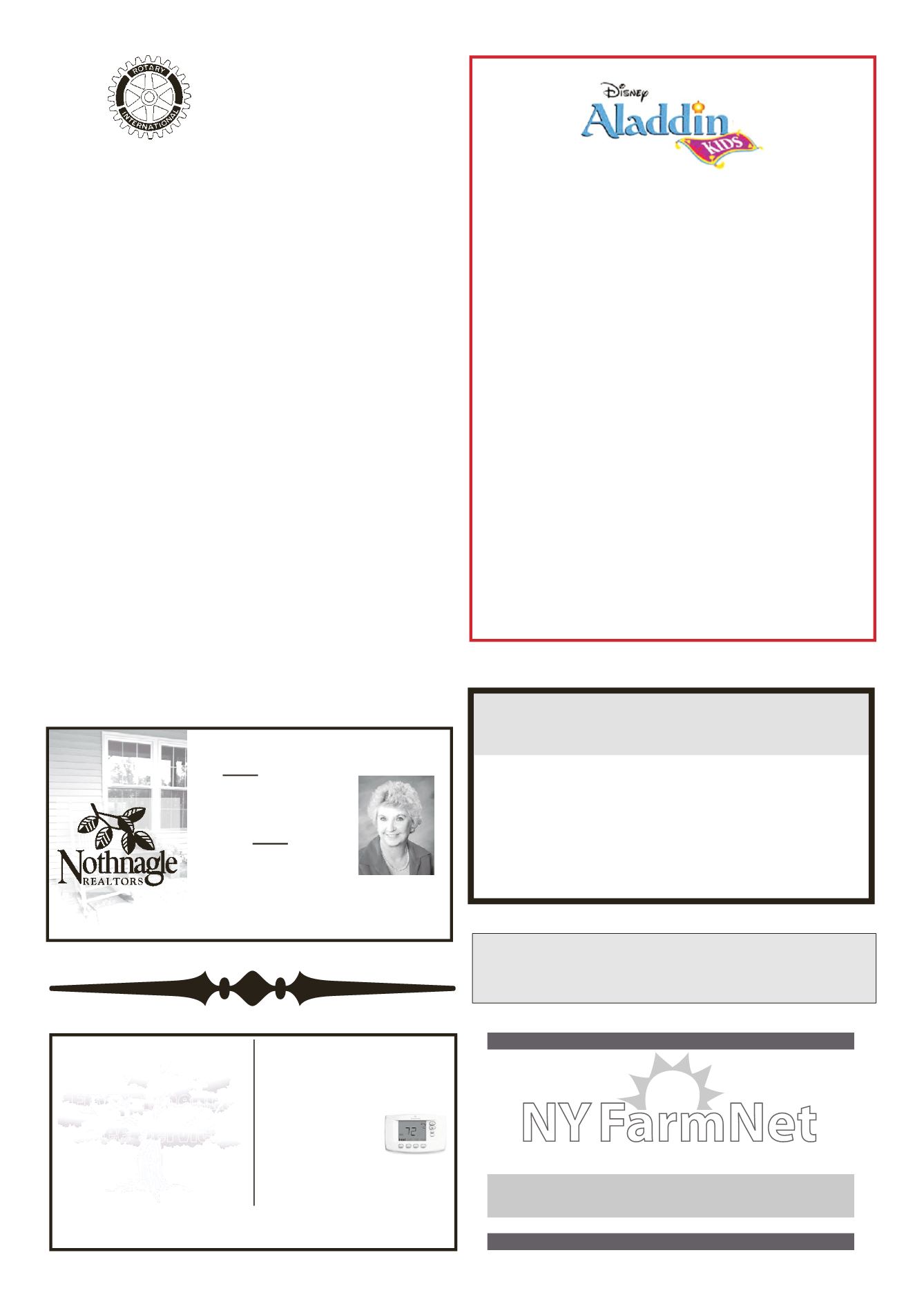 LEROYPENNYSAVER&NEWS -NOVEMBER 2, 2014
ALLWORKMANSHIP GUARANTEED • INSURED
297-9097 • 768-7737
• InteriorPainting
• Plaster/LathRestoration
•Drywall&Drywall Repair
•TextureRemoval
• Floors Stripped
&Refinished
•OldCeilings&Walls
MadeLikeNew!
MikeDarby'sPatch&Paint
Batavia
585-343-6750
NOW is theBEST time
toBUYwith the interest rates
at their lowest!
Don't wait
toBUY -
call
LindaBeaumont
for all your real
estateneeds.
LindaBeaumont
Home (585) 768-6315
LicensedReal Estate
Salesperson
Multi-MillionDollar Producer
Malovich
Environmental
Tree Service
•TreeTrimming
•TreeRemoval
•StumpGrinding
FreeEstimates • Fully Insured
24Hour Service
• Residential
•MobileHomes
• ServiceRepairs
•New Installations
•ChimneyCleaning/Repairs
•ChimneyLiners
• Plumbing&Electrical
585-409-6509
WSS 6thGradePresentsDisney's
Aladdin
KIDS
Thursday,November 6th,
students from theWolcott Street School
6thgradeclasswill performDisney's
AladdinKIDS
in theMemorialAuditorium.
DirectorMs. JessaDechantandAssistantDirectorMrs.LindsayBuckelauditioned
interested 6th grade students inmid September and the ensemble has rehearsed
everyweekup to theperformance.Thestudentshaveworkedhard toprepare their
lines, memorize songs and learn dancemoves as well as create props and stage
decorations from scratch!
Aladdin KIDS
school at
10:00AM
communityat 7:00PM
. In lieuof a ticket, the cast is askingpatrons
tobringonecannedgoodor non-perishable food item todonate to local charities.
Inparticular, thecast is collectingcereal, juiceboxes, soup,macaroni andcheese,
pudding cups and healthy snack items such as trailmix, fruit snacks, raisins, and
snackcrackers, althoughallnon-perishabledonationswillbeaccepted. Boxeswill
beplacedat thedoorways aspatrons enter theauditorium, and thenon-perishable
food itemsmay be placed at these stations.
You are invited to come see how hard these 6th grade students have worked!
The cast is very talented, and the showwillmake for a fun, free, familynight out.
Thursday, November 6th at 7:00 PM
forget to bring a non-perishable food itemwith you!
AladdinKIDS
is presented through special
arrangementwith and all authorizedmaterials are supplied by
MusicTheatre International,
Script,music and all othermaterials©2009DisneyEnterprises, Inc.
AladdinKIDS
AladdinKIDS
are trademarks of DisneyEnterprises, Inc.
TheKIDSCollections andMTI'sKIDSCollections are trademarks ofMusic
Theatre International. All rights reserved.
Ringing the meeting to order
President RandyVinkwelcomed
fellowRotariansandguests to this
week's assembly. Today's guest
include: Brian Foeller from the
LeRoy Central School business
office, LeRoy High School se-
niors Jake Henry, Mike Shepard
andTylerPrinzand from theBank
ofCastileCharlesHellmich.
TheLeRoyFallFestwasanother
great success. Bob Boyce re-
mindedusof the importanceand
status of theLeRoyAmbulance.
Bob Bennett gave a brief report
on the upcoming annual Appli-
anceRaffle"Sunday,November
2nd, all hands will be needed
on deck. President Randy also
reminded us of the upcoming
WorldPolioDay,Fridayand that
ourworkon thewaragainstpolio
Missed meeting were squared
away with Rotarians: Marcia
McKenzie, LynneBellusio,Bob
Boyce, Bob Bennett and Anil
Sawhney. The stories and ad-
ventureswere, as always greatly
The fining session was very
lively and entertaining. Marcia
McKenzie was fined for her big
trip toBranson,MO. AnilSawh-
ney brought back a gift from In-
dia,PresidentRandy thankedhim
and still fined him. DaveBoyce,
(son of Bob Boyce) write up in
Rochester Business Journal
costhim,butonlyhalfof theorig-
inal fine. Christine Gephart was
ticketed $7.00 for the photo of
her at theFall Fest inher "good"
witch costume. $25.00 was the
small price Tracy Ford had to
pay for her new appointment as
The week's program featured
the "R.I.T.E" Project at LeRoy
Central School (LCSD) and
was presented by Kim Cox and
Brian Foeller. It is a capital im-
provement project aimed at the
ongoing work of the District to
maintain and improve the build-
ing and grounds of the LCSD.
The demonstration was very
comprehensive and provided
insightbefore theupcomingvote
LeRotary
Notes
NYFarm
Net
Brightening the futureofNYagriculture since1986
BusinessPlanning •Retirement&EstatePlanning
FinancialAnalysis •StressManagement
PersonalWellbeing •BusinessTransfers
1.800.547.FARM • NYFarmNet.org
100% FREE&CONFIDENTIAL
SUPPORTYOUR LOCALADVERTISERS!
They help sponsor the local news section of the Le Roy Pennysaver.
THANKS FORYOUR SUPPORT!