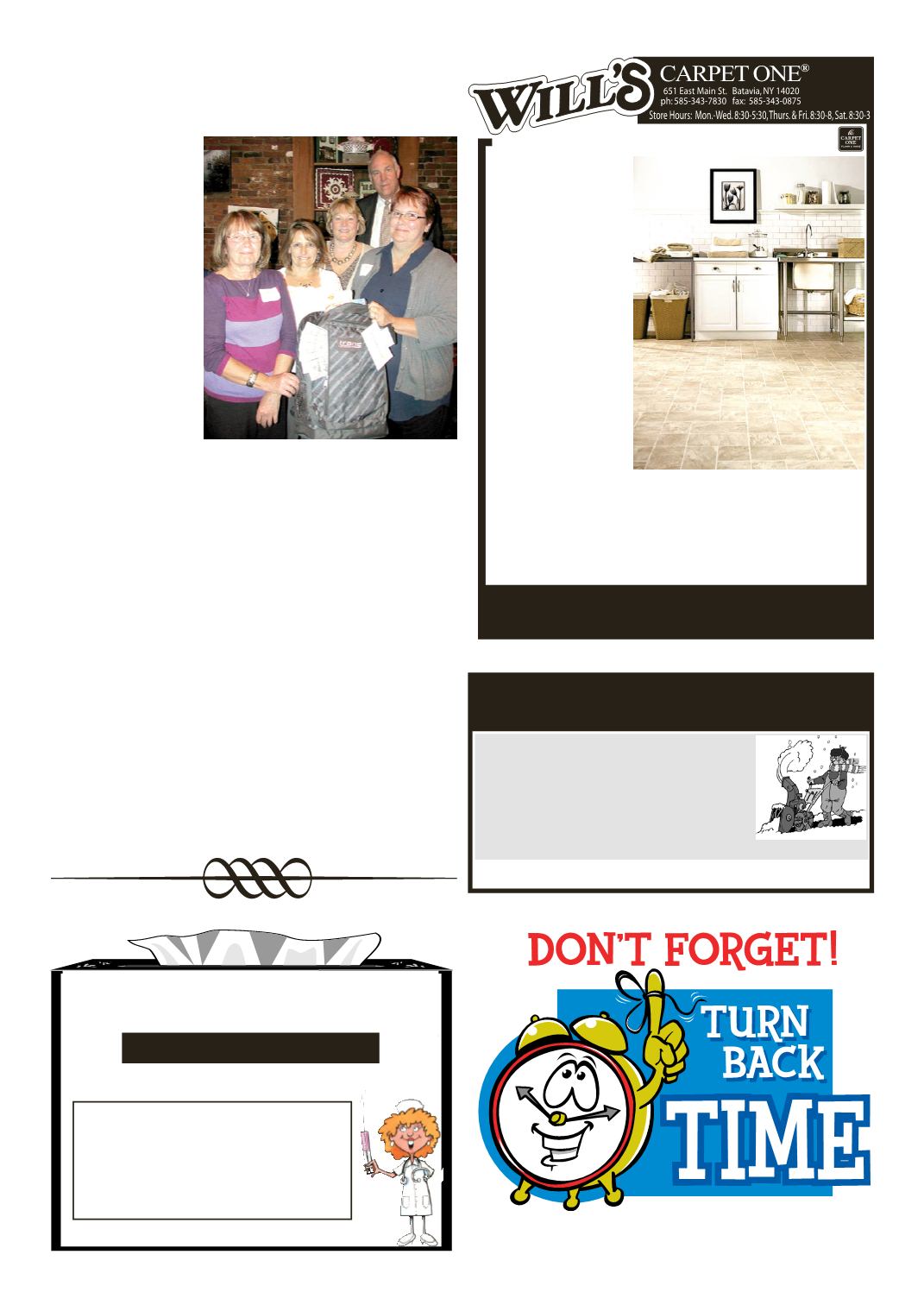 LEROYPENNYSAVER&NEWS -NOVEMBER 2, 2014
FLOOR
&HOME
TheONE store for your perfect floor.
Sunday, November 2nd
asset for local families,
are delivered to the school to
be distributed on a confidential
basis. During the last academic
year, over 40 students received
support from thisprogram.Over
this past summer, 16 students
"Thebackpackprogram ishelp-
ingfamiliesrighthere inourcom-
munity," saidKim Isaac, branch
manager. "There isnobetterway
to celebrateour anniversary than
to give back to the people who
support us each and every day."
CaledoniaBranch
20thAnniversary
Jim Fulmer, President and CEO of
Tompkins Bank of Castile, and Kim
Isaac,BranchManager, present aback-
packand$500 to theCal-mumbackpack
program.From left:SandyHilderbrant,
backpack program volunteer; Wendy
Bolter, Cal-Mum Elementary School
andbackpackschool liaison;KimIsaac,
BranchManager of Caledonia branch;
Jim Fulmer, President and CEO of
Tompkins Bank of Castile; SueWood,
UP Stone Church representative and
coordinator of program.
• Engine andTransmissionRebuilds
• Lawn andGardenEquipment
•ATV's, Dirt Bikes • Light Equipment
• PickUp andDeliveryAvailable
• Snowblowers • Snowmobiles •Generators
ATTENTIONPATIENTSOF
LeRoy FamilyMedical Care
FLU SHOTCLINICS
Pleasecall 768-4400 to scheduleyour appt.
Fiber
Floor
99
¢
Materials
Only
• Professional Installation
Available
• FinancingAvailableTo
QualifiedCustomers
• FreeEstimates