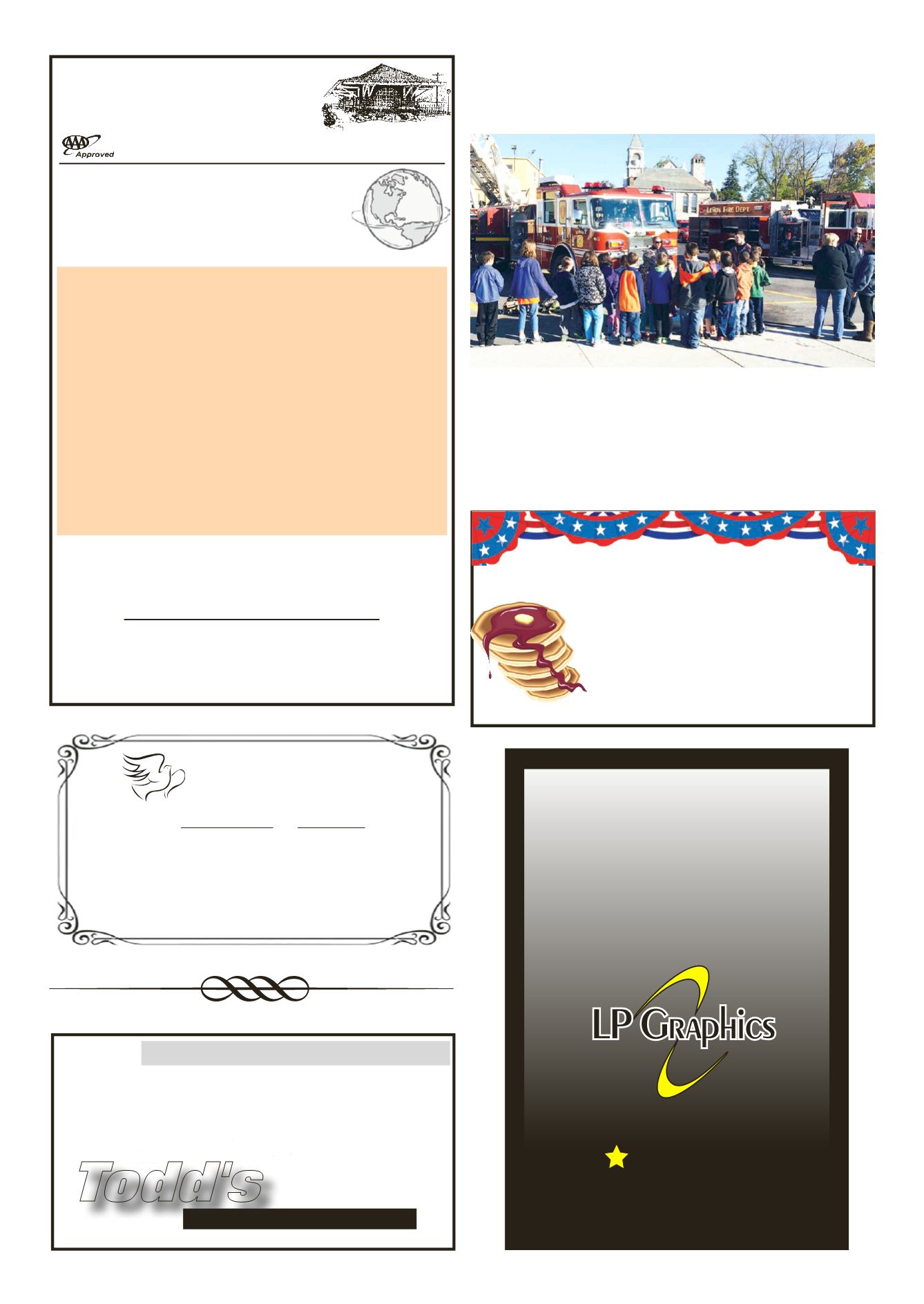 LEROYPENNYSAVER&NEWS -NOVEMBER 2, 2014
D&RDepot
63LakeSt. (Rt. 19), LeRoy• 768-6270
Let'sMeetAt The ...
OpenForBreakfast, Lunch&Dinner - 7DaysAWeek 7am-9pm
Oneof thebest partsof traveling iseating the
local Fare. In case youdidn't get a chance to
globe trot thispast summer, we'regoing tohelp
you to take aculinaryvacation. Our upcoming
all inclusiveSunday specialswill featuredishes
from around theworld! –And all for 17.99or less!
SUNDAY, NOVEMBER 2ndAround theWorlddinner special
Sunday, November 2nd–We visit Poland
TheCatholic rituals brought toPoland aroundA.D. 900have had a strong
influence onPolish foods. (Sean's favorite)!
HomemadePierogies&Glomkis, mushroom barley soup,
with homemade pumpkin cheesecake for dessert -
SUNDAY, NOVEMBER 9th–We're off toDenmark for theday!
Danish food culture is shaped and created to protect against the coldweather.
HomemadeFrikadellers (a flat meatball)withbrowngravy, boiledpotatoes&
gerkenpickles. For dessert, Rodgrod, which is aberries& creamdish.
SUNDAY, NOVEMBER 16th –Brazil is next on our itinerary
ThePortuguese brought tastes& styles of cookingwith them, including sugar,
citrus fruits, and sweets.
We'll bemakingFeijoada (a beef stew) servedwithorange salad.
For dessert we'll be featuringBananaFrita (fried bananas)
TheDepot is taking reservations for THANKSGIVINGDAYDINNER
serving from 11 am – 7pm, serving a slightly limited dinnermenu,
featuringRoast Turkey, ChickenPot Pie, HamSteak, Broiled Scallops,
PrimeRibs of Beef, PorkChops, andmore –muchmore!!
We encourage you tomake your dinner reservations soon for this special day.
TheDepot's new sister company, DoubleLRentals - offering tables, chairs,
heaters, bars, linens, dishes& catering supplies for your special occasions!
10%Discount
when youuseboth the
D&RCateringServices andDoubleLRental for your event.
Visit doublelrental.com or call us at (585) 344-0023
Director /Owner
FuneralDirector
F
ALCONE
F
AMILY
Funeral&Cremation Service, Inc.
Director/Owner
"ALOCALFAMILY
CARINGFORLOCALFAMILIES"
Last Friday,Wolcott Street School's Pre-K-6th grade students
participated in "Fire Prevention andSafetyDay". TheLeRoy
andStaffordFireDepartments led students throughavarietyof
activities inorder to educate themabout thedangers of fireand
smoke.Theseactivities includeddemonstrations,discussionsand
evena tour of theNewYorkStateOffice of FirePreventionand
Control'sFireSafetyHouse.
FirePreventionDay at
Wolcott Street School
Pancake Supper/Bake Food Sale
Tuesday,Nov. 4th
(ElectionDay)
5:00 to 7:00pm
1701CraigRd., Pavilion,NY
$7Adults, $4ChildrenAges 5-12,Under 5Free
CovingtonUnitedPresbyterianChurch
NewHomes •Additions •Garages •PoleBarns
ToddCarli • Phone 703-0964
Todd's
Decks •Windows •Doors
Kitchens •Baths
CeramicTile
Basement Finishing
CustomShelves/Built-Ins
Siding •Remodeling
Roofing • SnowPlowing
FULLY INSURED
1CHURCHST, • LEROY, NY • lpgraphics.net
WEHANDLEALLASPECTSOFPRINTING...
PROGRAMS
LETTERHEADS
BILLHEADS
FLYERS
BROCHURES
POSTERS
CARBONLESSFORMS
ENVELOPES
RAFFLETICKETS
NEWSLETTERS
RESUMES
TYPESETTING
RUBBERSTAMPS
ENGRAVEDSIGNS
NAMETAGS
COPIES
LAMINATION
COMMUNITYFAX
NEWSANDPICTURES
ADVERTISING
BUSINESSCARDS
HOURS: Monday thruFriday 8:00 to 5:00