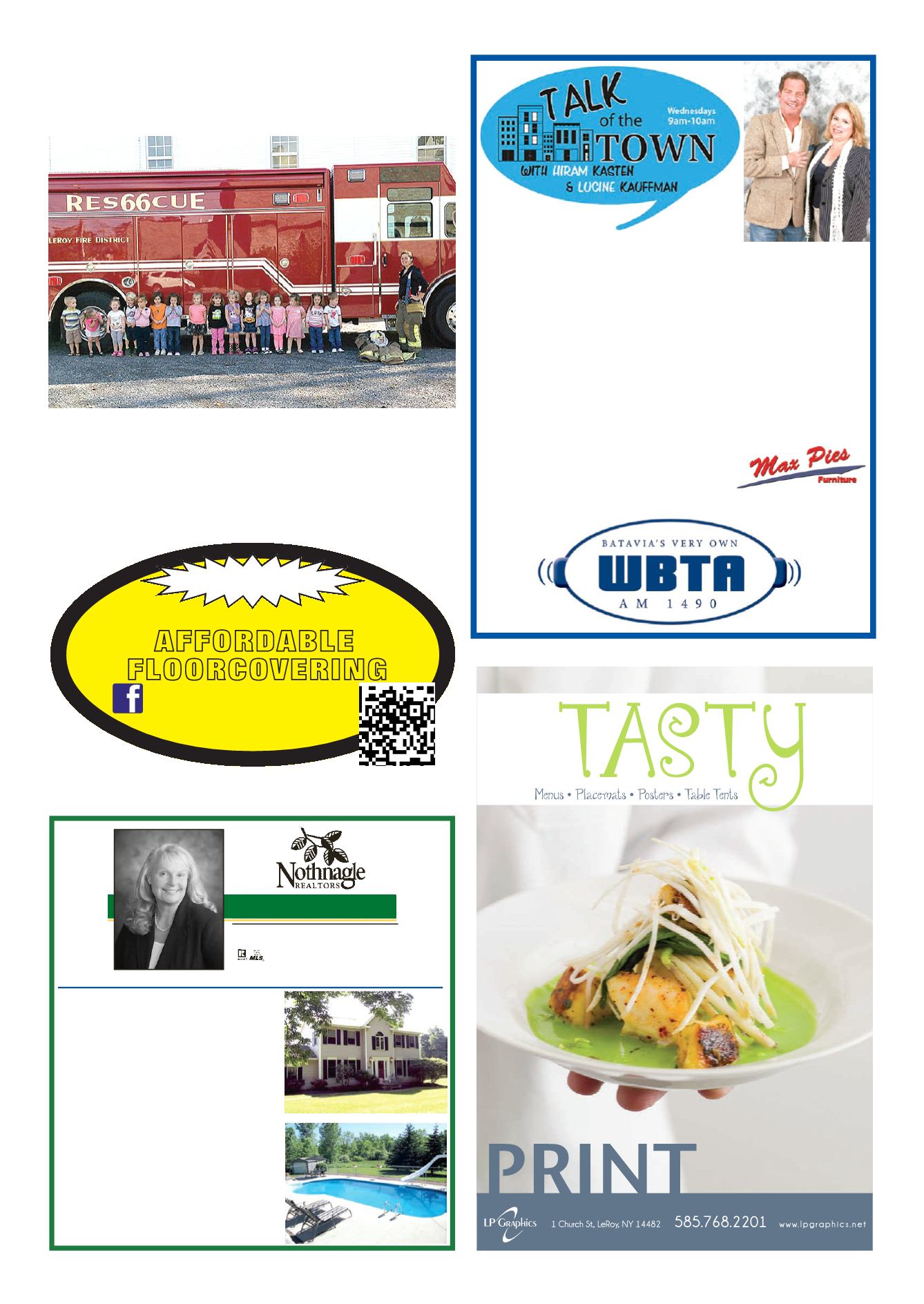 LEROYPENNYSAVER&NEWS -OCTOBER 19, 2014
Conversation about the arts and entertainment scene
inGeneseeCounty andWesternNewYork,
including high schoolmusicals, theatre andmore.
A fun filled hour of information and bantering between
HiramKasten andLucineKauffman
Listen on theWBTA ap,
streamed on theweb or on
your radio atWBTAAM 1490
EveryWednesday at 9am – 10am
BataviaOffice: 570EastMainSt., Batavia
Direct Line: (585) 409-2112
CAROLDIFRANCISCO
LicensedSalesperson, REALTOR
This3bedroom,21/2bathhomehas
it all! Over 2 acres, in ground pool,
central air, glass block windows,
Villageamenitieswithout theVillage
taxes and a very shortwalk for your
children to the jr/sr high school. No
more waiting in the parking lot for
practice to end!This beautiful home
sits on a quiet, park-like setting.
Formore information
call 297-0809
Firefighters&
FireTrucksAt SNS!
VALU HOME PLAZA • WEST MAIN • BATAVIA
AFFORDABLE
FLOORCOVERING
AFFORDABLEFC.COM
585-345-1108
Tuesday-Friday 9-6
10
%
OFF
CASH&
CARRY
Sunshine Nursery School welcomed special visitors to their
nurseryclassroom.Firefighters from theLeRoyFireDepartment
joined circle time to talk about fire safety. The children were
excited to seeafire truckwaiting for them in the school parking
lot.Climbingaboard thefiretruckwas thehighlightof theirday!