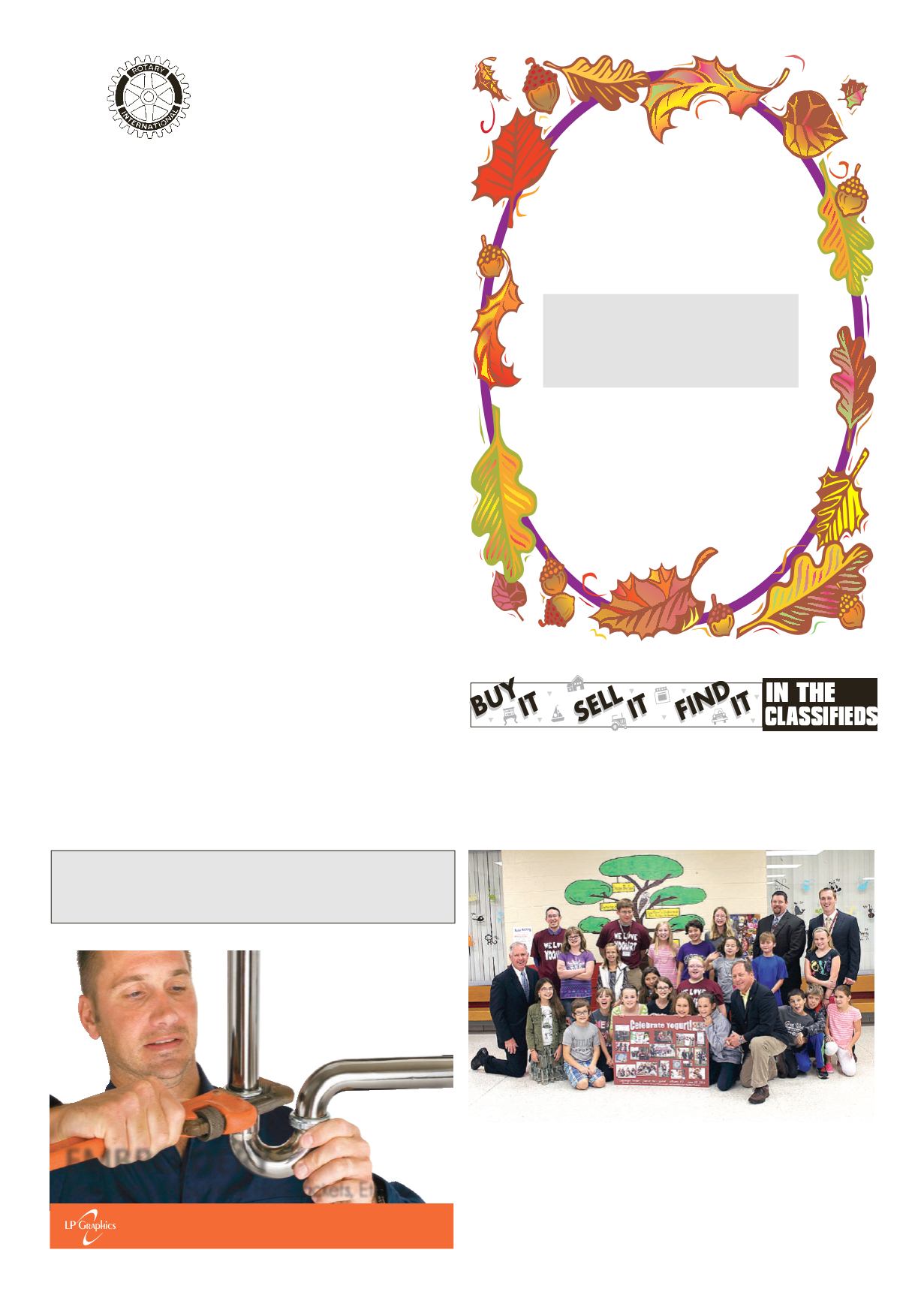 LEROYPENNYSAVER&NEWS -OCTOBER 19, 2014
LeRotary
Notes
It was a beautiful sunny day
for our Wednesday lunch meet-
ing at the Greens as President
RandyVink brought themeeting
Guests today included: LeRoy
High School seniors; Cole Sher-
man,MatthewPrivitera,andCon-
ner Gricius. Our program guest
wasJoyceDavis,ForensicSuper-
visor forGeneseeCountyMental
HealthServices inBatavia.
Pledge of Alle-
giance
Four-WayTest
theannouncements included:Ro-
tary Interact Fall Fest isOctober
19th, Rotary Election Day Spa-
ghetti Dinner will beNovember
4th,ApplianceRaffle,November
2nd, Fall for LeRoyMainStreet
Businesses on November 7th,
LeRoyHistorical SocietyGhost
Tour is this weekend Saturday
the18thandSunday the19thand
theRotaryEarlyActKidswill be
tying beautiful large red ribbons
around the treesonMainStreet in
honor of Drug PreventionWeek
Missed Meetings went fast,
Martha Bailey, Cindy Bishop,
were all prepared with stories,
Fines were heavy today. Cin-
dy Bishop and Carol Wolfe
were tagged for their Rotary
Anniversaries ... 6 and 16 years
respectively. Bob Boyce was
recognized forhisAnniversaryas
well and it seems there is a dis-
crepancy in theactualnumbersof
years he has served. Stay tuned.
Speaking of Bob Boyce, he just
returned fromawellearnedvaca-
tionwhere he drove an amazing
number of miles! That cost him
Bob Sullivan played "this day
inhistory"withPresidentRandy
and although Bob's memory is
A not-so-new newspaper clip-
pingoffered asfiningmaterial to
LynneBellusciobackfiredandal-
thoughLynne paid up, President
Randy facedRotary's version of
Mary Young introduced our
guest speaker for the day, Joyce
Davis from Genesee County
Mental Health Services, where
she is Forensic Supervisor. She
and her office work specifically
with inmates and people on pro-
bationwho suffer fromon-going
additionandmentalhealth issues.
Ms. Davis is also a member
of Leadership Genesee's 2014
Class. Thank you for a very in-
Then the bell was rung and
our meeting was over until next
week. Don't forget to "Like" us
on Facebook at "Rotary Club of
Ranzenhofer and Assemblyman
StephenHawleymade a surprise
visit to Byron-Bergen School
District today to deliver good
GoodNewsDeliveredTo
Byron-BergenClass
earlier today that thebillhadbeen
signed the into law. Byron-Ber-
gen teacherCraigSchrothandhis
fourth-grade class developed the
idea while studying the history
and government of New York
1ChurchSt., LeRoy, NY14482
585.768.2201
Dress Shirts, Polos, Vests, Hats, Jackets, Etc.
SUPPORTYOUR LOCALADVERTISERS!
They help sponsor the local news section of the Le Roy Pennysaver.
THANKS FORYOUR SUPPORT!
10 TrigonPark, LeRoy, NewYork
Children6-12 - $5.50, 5&Under Free
(Wearehandicappedaccessible!)
TicketsAvailableat theDoor
For homedeliveries call: 768-8980Monday-Friday
(leaveamessage& your phonenumber please)
Roast Beef,Gravy, RealMashed
Potatoes, SaladBar, Squash, Desserts,
LeRoyUnitedMethodist Church