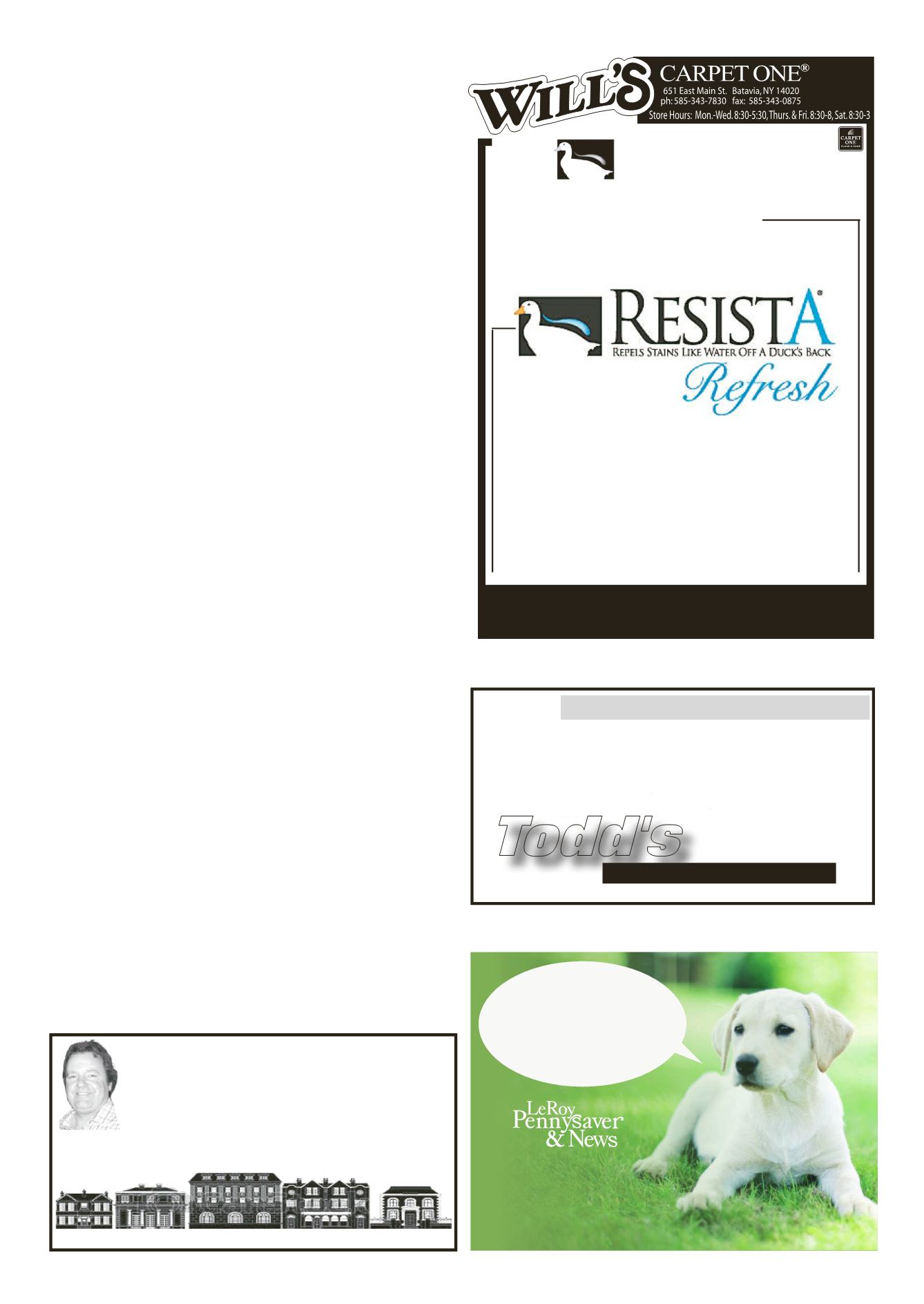 LEROYPENNYSAVER&NEWS -OCTOBER 19, 2014
FLOOR
&HOME
TheONE store for your perfect floor.
NewHomes •Additions •Garages •PoleBarns
ToddCarli • Phone 703-0964
Todd's
Decks •Windows •Doors
Kitchens •Baths
CeramicTile
Basement Finishing
CustomShelves/Built-Ins
Siding •Remodeling
Roofing • SnowPlowing
FULLY INSURED
Rider Real Estate
"Not TheBiggest, Just TheBest"
Howard E. Hotze, Jr.
Sales Associate
20YearsOf Appraisal&MortgageFinancing
Specializing InAssistingSeniors SellingTheirHomes
Cell Phone: 690-7811
"PeopleYouKnow&Trust"
bySenatorRanzenhofer
October 2014
We all know that great schools
and a high quality education are
the keys that can open the door
to a brighter future for our chil-
dren. Although there isstillmuch
unfinished business to attend to,
this year's Legislative Session
will help every child learn, grow
Aquick lookat the factsmakes
clear that this year's sessionpro-
ducedgoodnews for our schools
Reducing theDamage
of theGEA
The Gap Elimination Adjust-
ment (GEA) was imposed in
2010 as a result of one-party
rule in Albany. I voted against
this draconian measure because
it resulted in billions of dollars
being unfairly taken away from
Since that time, I have been
leading the fight to abolish the
GEA, and to deliver funding
restoration to reduce its negative
impact. This year's final budget
included$602million (86%more
thanwhat theGovernorproposed,
$43 million more than the State
Assembly) to help schools over-
While my effort will help to
reduce thedamage causedby the
GEA, I will continue to lead the
charge to eliminate it once and
SchoolAid Increase
The State Budget approved a
$1.1 billion boost in education
funding. This increase has been
good for our local schools, and
it has also helped to lessen and
mitigate property tax increases
passed by school districts.
School districts across the 61st
Senate District have received
an $18.3 million increase since
2011, representinga riseof $609
per student. This major funding
increase will support important
programs and services that help
CommonCoreReforms
The State Education Depart-
menthascreateda lotofproblems
in the classroomwith its flawed
implementation of the Common
Core Learning Standards. Until
we can repeal it, we approved
some major reforms to mitigate
CommonCore-relatedproblems.
•Prohibiting standardized tests
inPre-K through grade two;
• Limiting the amount of time
that canbe spent on state assess-
ment tests, locally-developed
standardized testing and test
• Allowing districts to "opt-
out" of putting student personal
information on state data dash-
• Creating a "Parents' Bill of
Overall, these reforms are
aimed at holding students harm-
less from high-stakes testing,
eliminating unnecessary testing
and protecting student data and
Ensuring our children succeed
in school will remain a priority
for me, since much more work
still needs to be done. A high
quality public education will
guarantee that our students are
prepared for the challenges they
will face in the future, helping
them toachieve theirdreams. As
yourStateSenator,youcancount
onme to stand up for our kids!
HelpingEveryChild
Learn,Grow andSucceed
Installedwith a 6#pad
• FreeEstimates
• FinancingAvailableToQualifiedBuyers
Advertise•Classifieds•News
HelpWanted•CommunityCalendar
1ChurchSt., LeRoy, NY14482
585.768.2201