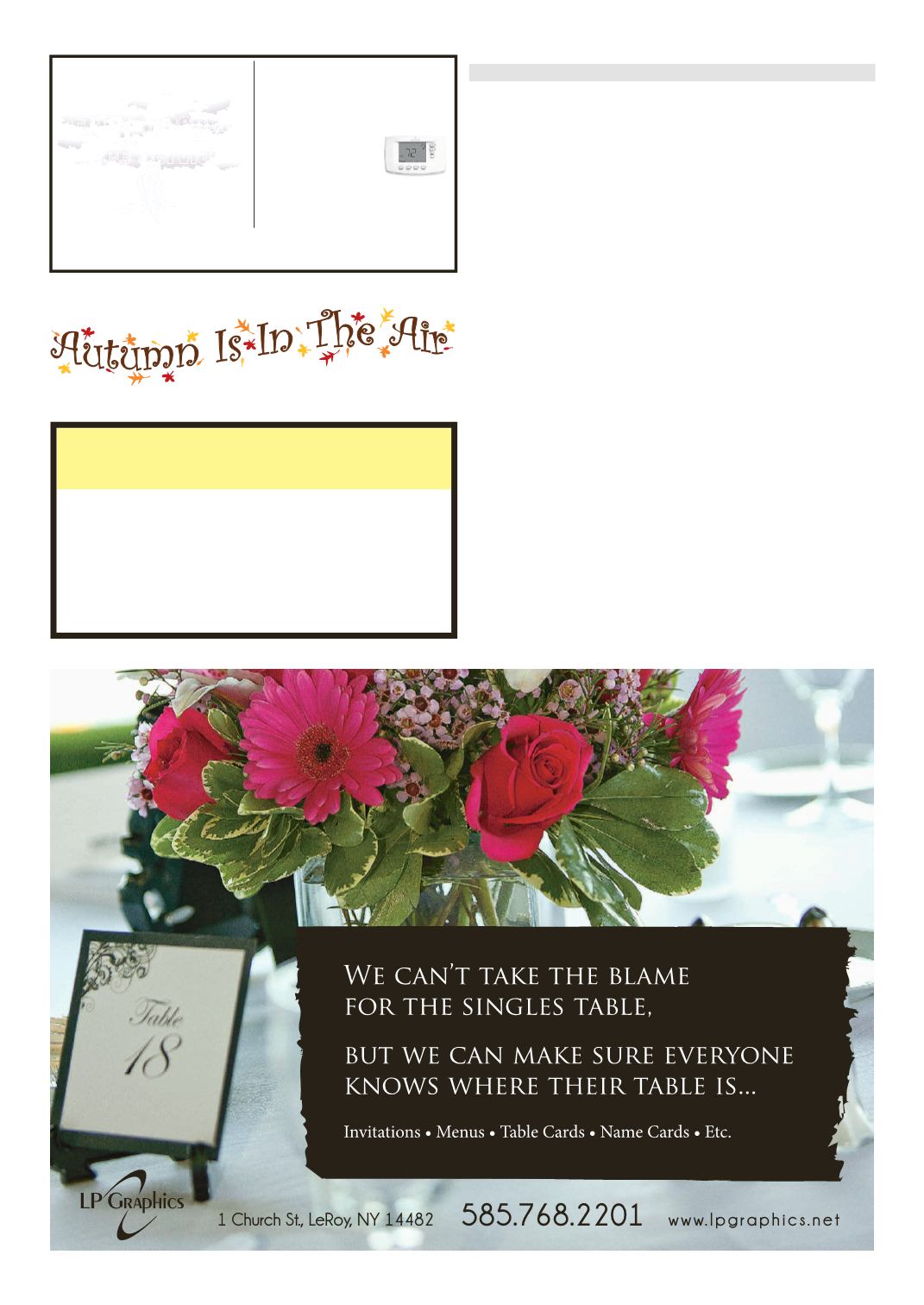 LEROYPENNYSAVER&NEWS -OCTOBER 19, 2014
ALLWORKMANSHIP GUARANTEED • INSURED
297-9097 • 768-7737
• InteriorPainting
• Plaster/LathRestoration
•Drywall&DrywallRepair
•TextureRemoval
• Floors Stripped
&Refinished
•OldCeilings&Walls
MadeLikeNew!
MikeDarby'sPatch&Paint
Malovich
Environmental
Tree Service
•TreeTrimming
•TreeRemoval
•StumpGrinding
FreeEstimates • Fully Insured
24Hour Service
• Residential
•MobileHomes
• ServiceRepairs
•New Installations
•ChimneyCleaning/Repairs
•ChimneyLiners
• Plumbing&Electrical
585-409-6509
byKimCox
Superintendent of Schools
weekend! There was a lot of ac-
tion in Le Roy. I hope youwere
able to check out "FridayMorn-
ingLights"on13WhamNews. It
wasagreat testament toourwon-
derfulcommunityandspectacular
students. Ifyoumissed the show,
you can capture the highlights at
Manypeople have asked about
the Rochester Gas and Electric
project at the corner of Wolcott
and Trigon. This is a safety and
compliance repair theyaredoing
onVillage property. RG&E had
hoped to complete the project
this summer, but was held up
by roadwork. Originally they
were thinking that this would
take about 2-3weeks, but as you
can see it has gone a bit longer.
Theyexpect completionwithina
week or so. Thank you for your
patience. Ourstudentshavedone
a wonderful job following the
detour signs and being mindful
AtTuesdaynight'sBoardmeet-
ing, theLeRoyBoardof Educa-
tion approved the resolution for
theCapital ImprovementProject,
"R.I.T.E." Project
We will ask the community to
vote on this 12.7 million dollar
projectonWednesday,December
3, 2014, 7 am-9pm at theTrigon
Gymnasium hallway. A project
informationOpenHousewill be
Wednesday,October29,
2014, 6pm-8pm
StreetSchoolCafeteria.Thiswill
feature a visual display of the
areasproposed for improvement.
Architects, engineers, adminis-
trators, and Board of Education
members will be available to
answer questions. We hope that
youwill stopbyandseefirsthand
the scopeof thisexcitingproject.
Remember to visit our website
R.I.T.E. Project
Fall Fest,
Sunday,October19th
Park! Hope to see you there!