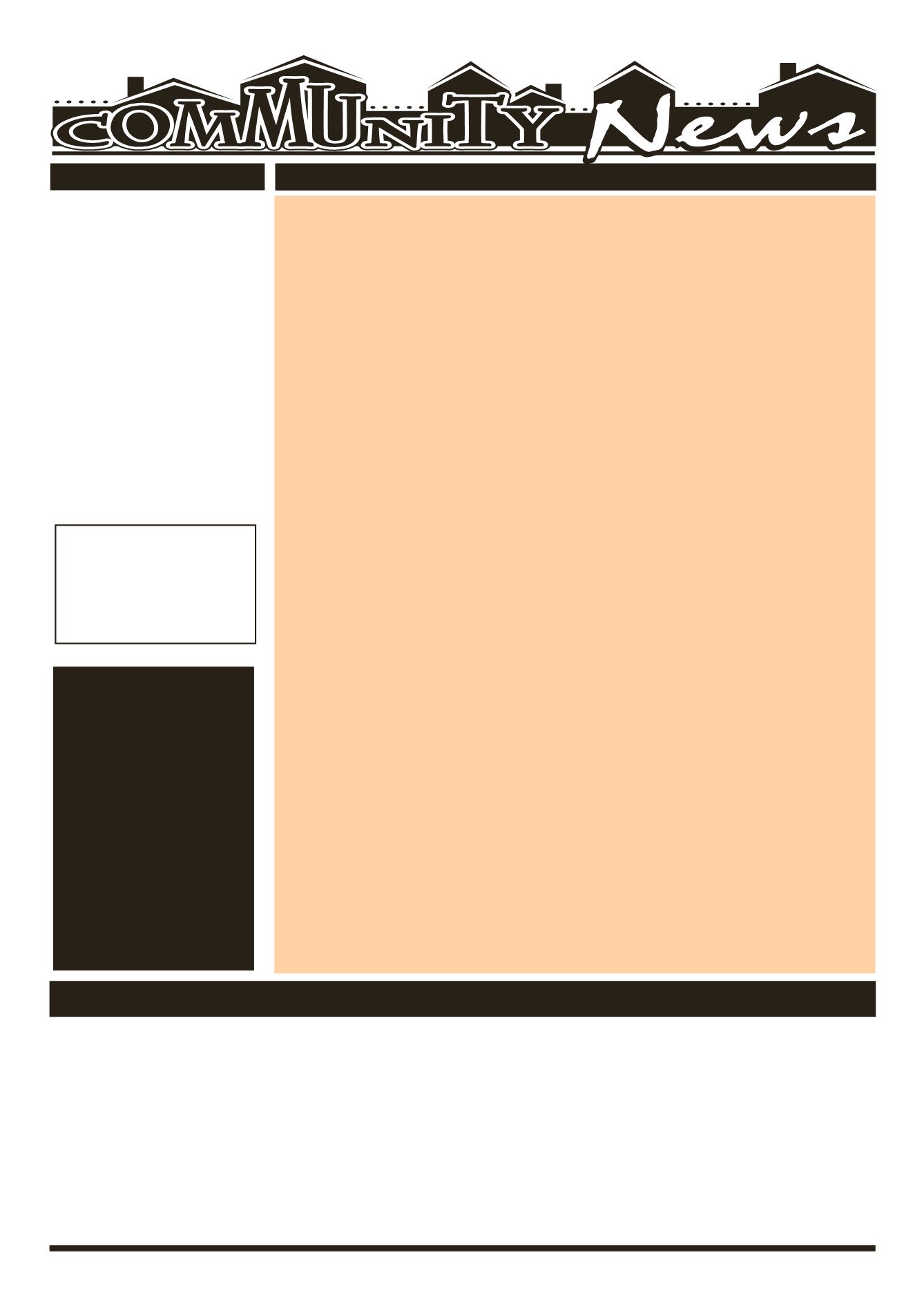 LEROYPENNYSAVER&NEWS -OCTOBER 19, 2014
Le Roy
Pennysaver
All GeneseeCounty residents, 60andolder, can takepart in thisweek'sactivitiesat theBataviaSenior Center, 2BankSt., Batavia. Formore information, call 343-1611.
WEEKLYEVENTS
OBITUARIES
ArthritisExercise
is scheduled tobeginat9:30a.m.;
Bridge
is set tobeginat 11:30a.m.;
LifespanMeeting
NewsletterAssembly
is scheduled tobeginat 8:45a.m.;
Cribbage
Quilters
are scheduled tomeetat9:00a.m.;
Arepresentative from ICMADeferredCompensation
isscheduled tobeherebegin-
Euchregame
is scheduled tobeginat 1:00p.m.
TaiChiClass
GentleFitness
CribbageandBridge
MusicalKeyboarding
Lessons
Medicare101Seminar
isscheduled tobeginat6:00p.m.
LineDancingandArtClass
is set tobeginat 10:00am. ;
Euchre
is set tobeginat 12:00p.m.
SUNDAY,OCTOBER19
AWANAProgramat Penuel Christian Fellowship.
days12:15 to1:45pm.Ages5-17broken intogroups.Developing friendships.
Having fun. LearningaboutGod. Safeenvironment.
KonnectYouthGroupat LivingWatersChurch,
days from6:30 to8:30pm forages12-18. "BringDownall theWalls! Connect
withGodandConnectwithothers." Formore information, checkusoutonline
at: livingwatersleroy.org/konnect-youth-ministry/
MONDAY,OCTOBER20
TOPS (TakeOffPounds Sensibly)
meetsMonday evenings from 6:30-7:15
pm at the LeRoy Presbyterian Church, corner of Clay &Main Streets. Visitors
alwayswelcome. Call 768-2933 formore info.
Make a trick or treatmask towear.
Listen to Halloween stories at the
WoodwardMemorial Library. Age: children ingrades K-2, from 3:15– 4:15
p.m. Call 768-8300or registeronlineat
TUESDAY,OCTOBER21
Preschool Storytime:
Every Tuesday at 11 am featuring stories, craft and
songsatPavilionPublicLibrary, 5WoodrowDr., Pavilion. For info: 584-8843.
LCCP'sGRACE'SKITCHEN:
AFREEdinnereveryTuesdayevening,5-6:30pmat
theLeRoyUnitedMethodistChurch,10TrigonPark.ParkingavailableonTrigon
Park& the lots to the leftandbackof theChurch.HandicappedEntrance in the
back of the Church. Takeout & delivery are available. For more info. contact
SelbyDavisat585-738-8882or
TownofLeRoyPlanningBoardMeeting
(asnecessary)7:30pmattheTown
Hall, 48MainSt. For further info. call 768-6910, Ext. 223.
Makemonsterthemedbookmarks
and listentosomespookystoriesatthe
WoodwardMemorial Library, Age: children in grades 3-6, from 3:15– 4:15
p.m. Call 768-8300or registeronlineat
WEDNESDAY,OCTOBER 22
TheStaffordHistorical Society
Annual FallHarvestAuc-
tion
at7:00P.M. in thecourt room in theTownHall,8903Route237, Stafford,
NY. Please contact Sue at 344-0834 if youwish to contributeusable-sellable
LEGO&Game Club at theWoodwardMemorial Library
grades K-6, from 3:15 - 4:15 p.m. Buildwith Legos, play board games with
your friends, or jam out on Guitar Hero. There is something for everyone.
Registration isNOT required.
Craftprogram foradultsattheWoodwardMemorial Library.
colorsof clay to createa swirl patternanddecorateapen. Penswill bebaked
and ready to takehomeby theendof theprogram, from6:30–7:30p.m. Call
768-8300or registeronlineat
THURSDAY,OCTOBER23
Genesee Veterans Support Network
(GVSN) supports the development
of Veterans focused AAmeetings every Thursday, 6-7 pm at the First Bap-
tist Church, 306 E. Main St., Batavia. Meetings led byMikeW. & are open to
non-veterans as well. Handicap accessible. For additional information call
GRACE'S CLOSET:
A clothing giveaway program
UnitedMethodist Church, 10TrigonPark, LeRoy 9:30 am to11:30 am every
Thursday. Wehave clothing for all ages. FALL&WINTER clothingnowbeing
put inplace.Weare inneedofWARMERclothingespeciallycoats, jacketsboots,
pajamas.Weneedbeddingofallkindsespeciallyblankets.Weacceptdonations
bedroppedoffat thehousenext to the church. Pleaseput all bags INSIDEon
the back porch. NO ELECTRONICS, COMPUTERS,DISHES, etc. Any questions
Town of LeRoy BoardMeeting,
7 pm at the Town Hall Board Room, 48
FRIDAY,OCTOBER24
Penuel ChristianFellowship,
One Step to Freedom addictionsministry, a
Christ CenteredAddictions program, aweeklymeetingeveryFridayat 7pm.
Call theChurch formore informationat768-6901or406-3863.
SATURDAY,OCTOBER25
Playeatandtrick-or-treat
GeneseeCommunityCollege
an indoortrick-or-treatandHalloweenpartyforkidsfeaturingbouncehouses,
facepainting,crafts,games,candy,moviesonthebigscreen,andaspecialvisit
fromQueenElsa.Also,hugebasketraffleand food.Ticketsarethreedollarsper
trick-or-treater, all proceedsbenefitWGCC90.7FM
UPCOMINGEVENTS
LCCP'sMommy&MePlaygroup: Every2nd&4thFriday,
Le Roy Physical Therapy (in the back gym). Anymoms and their birth-kin-
dergarten children arewelcome to come enjoy socialization, lunch, coffee,
structuredgames& freeplay.
FoodlinkFreeMobileFoodPantry:
MorganvilleUnitedChurchof Christ
is partneringwith Foodlinkof Rochester tohost a freemobile foodpantry,
Tuesday, October 28, 4:30-6:30pm atMorganvilleUnited Churchof Christ,
8466MorganvilleRoad (offRt237,1milenorthofStafford). Theexact food
itemsandquantityavailablearenotknown,but freshproducewillbeavail-
able. Mustbe18yearsof age, no income requirementor ID required. Must
provideownbags/vehicle to transport items to your home. Foodprovided
onafirst come, first servebasiswhile supplies last.
HOLIDAYHAPPENINGS -
Saturday, November 8th from9am till 3pm, The
EastBethanyPresbyterianChurch, 5735EllicottSt.Rd., EastBethany,NY.Two
BigFloorsofCraftandProductvendors,BakedSale,Basket (Chinese)Auction,
BreakfastandLunchAvailable.Cometothecountrytoget intheHolidaySpirit!!
FaithCommunityChurch
, 8419EastMainRoad, LeRoywill be sponsoring
CommunityCalendar Submissions shouldbe sent to:
PAVILION - Henry I. Janes, 78, of
West Park Street passed away early
Thursdaymorning (Oct. 9, 2014) at the
BataviaHealthCareCenter inBatavia.
Thecourtesyof no flowers is requested
withmemorialssuggested to thePavilion
BETHANY - Donald L. Ford, 70, of
Loveland,Colo.,passedawaysuddenly
onJuly1,2014.Donaldgrewup inBeth-
any, began a career with Kodak which
LE ROY - Mary Reynolds of South St.
Rd.,LeRoypassedawayonSeptember
30. Memorials may be made to charity
Don't waste precious time