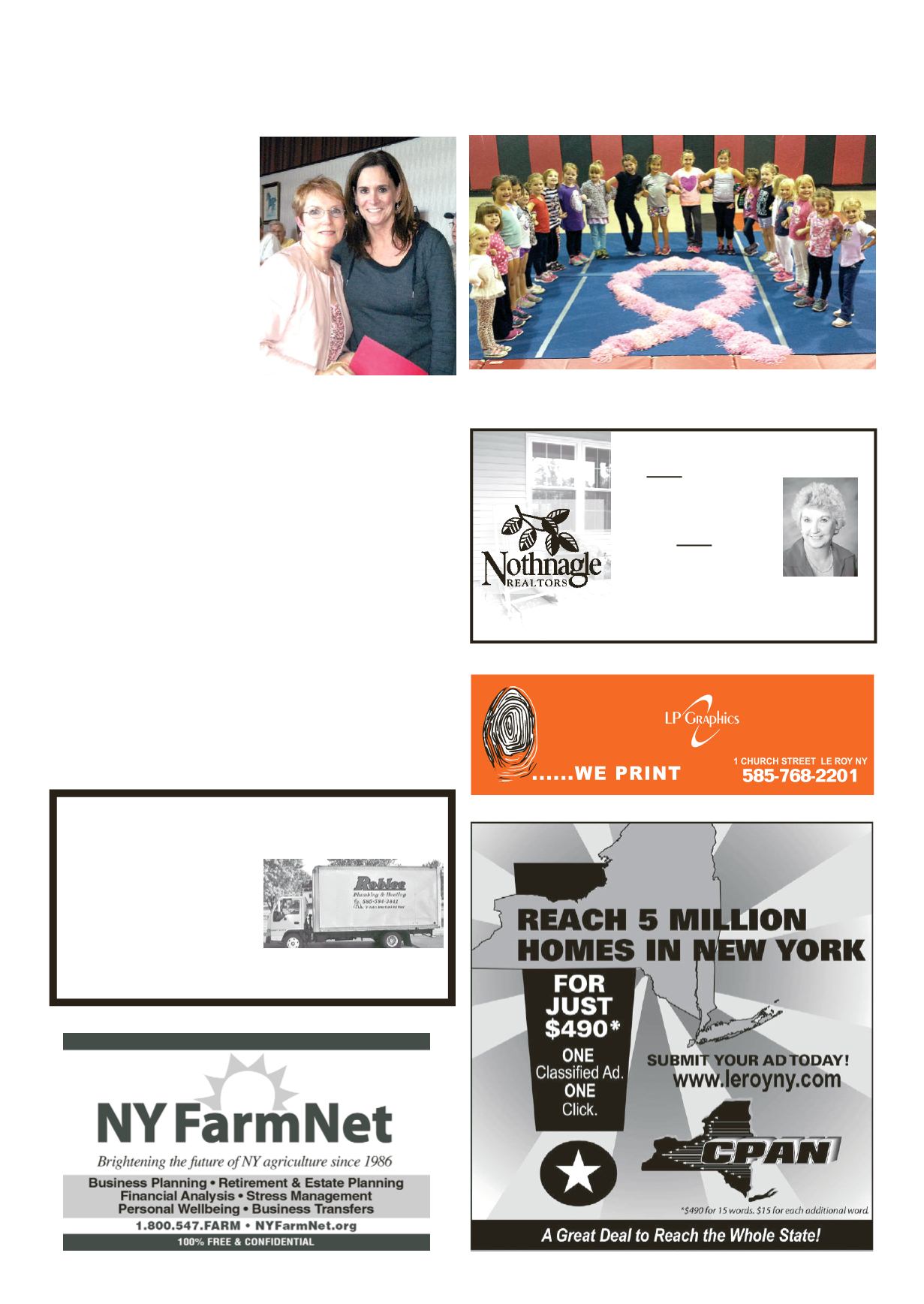 LEROYPENNYSAVER&NEWS -OCTOBER 19, 2014
ROBLEE
Plumbing&Heating, LLC
1
0991LakeRd., Pavilion • (585) 584-3841
Full Insured
LUXAIRE
GOULD
NYSCertifiedBackflowTester
Water&Sewer Lines •Water Treatment&ConditioningSystems
Center, 6966West BergenRoad
inBergen, hosted an event cele-
brating its abundant volunteers
at a Recognition Celebration at
BataviaDownsWednesday, Oc-
tober 8th. Peggy Swapceinski,
executive director, thanked the
fantastic volunteers that have
contributed to Gillam-Grant's
ability to serve the area for 40
yearswith interesting programs,
Center opened its doors in1974,
by local resident Grant Gillam
to provide a place providing
social, cultural and educational
programs for the entire commu-
nity. Today the facility includes
a Preschool program, Kid Zone
AfterSchoolChildcare,Learning
Center, Youth Recreation pro-
grams, day trips andmuchmore.
Special recognition was giv-
en to Marilyn Pocock of Ber-
gen, who has volunteered every
Wednesdaymorningat10:30am
for thepast 4years to coordinate
andhostGillam-Grant'sToddler
StoryTime.Peggysaid,"Marilyn
is a great example of the great
relationship Gillam-Grant has
The leadership and staff of
the Gillam-Grant have worked
veryhard toprovidequalitypro-
grams, services and recreation.
The executive director, Peggy
Swapceinski says,wearestriving
to become the "the place to be"
and to reallymake an impact on
the quality of life of individuals
and families.We aregrateful for
all thewonderful volunteers that
make toddler programs, youth
recreation aswell asmanyother
programs happen at the Center.
Anyone interested in becoming
involved at the Gillam-Grant
Community Center can call the
Gillam-GrantCelebrated
Volunteers
Marilyn Pocock- highlighted
volunteer with Peggy Swap-
ceinski, executivedirector.
Batavia
585-343-6750
NOW is theBEST time
toBUYwith the interest rates
at their lowest!
Don't wait
toBUY -
call
LindaBeaumont
for all your real
estateneeds.
LindaBeaumont
Home (585) 768-6315
LicensedReal Estate
Salesperson
Multi-MillionDollar Producer
The LeRoyYouth Flag Cheerleaders showed their support for
BreastCancerAwarenessMonth onThursday,October 8th.
Cheerleaders Support
BreastCancerAwareness
lpgraphics.net