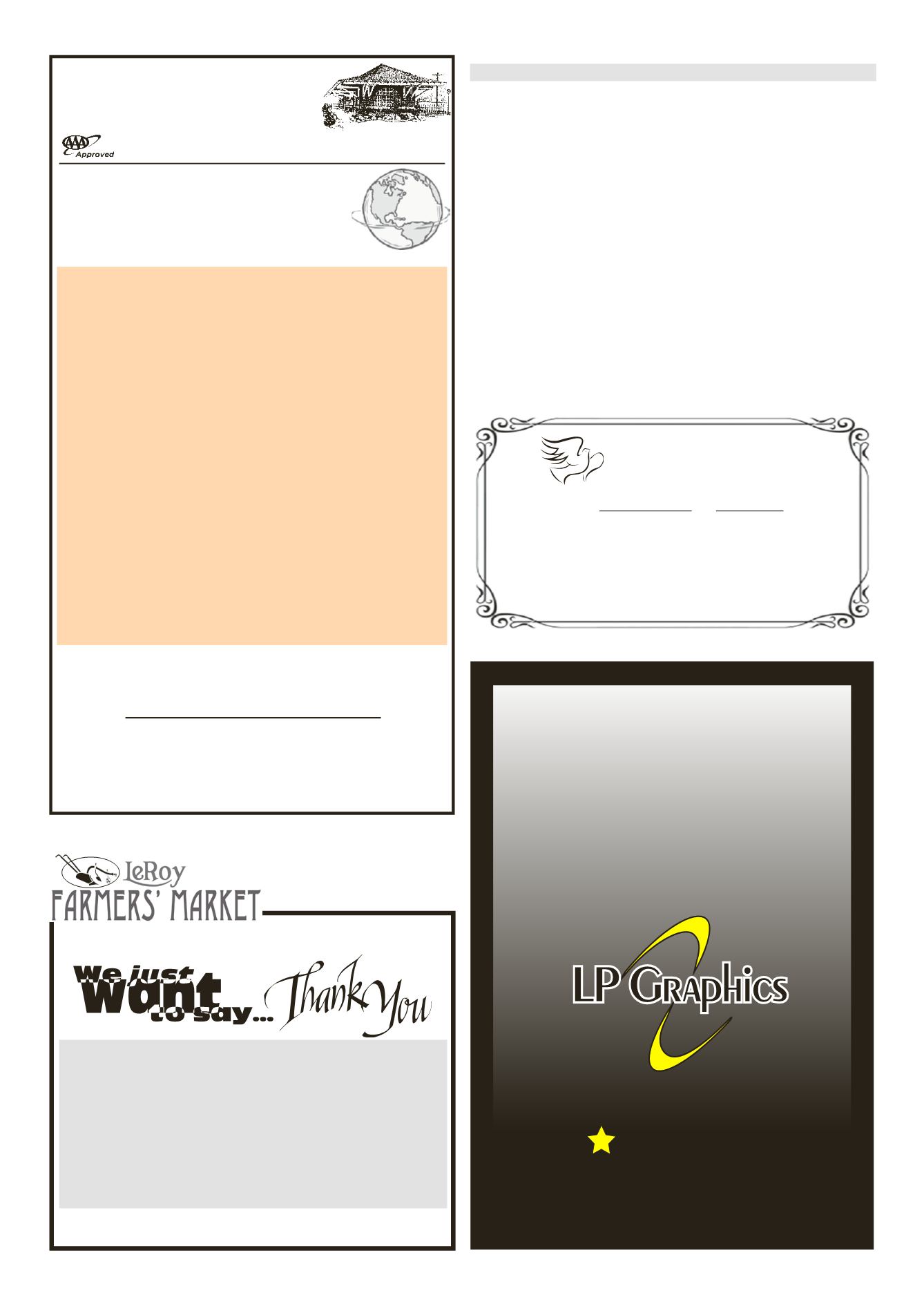 LEROYPENNYSAVER&NEWS -OCTOBER 19, 2014
D&RDepot
63LakeSt. (Rt. 19), LeRoy• 768-6270
Let'sMeetAt The ...
OpenForBreakfast, Lunch&Dinner - 7DaysAWeek 7am-9pm
Oneof thebest partsof traveling iseating the
local Fare. In case youdidn't get a chance to
globe trot thispast summer, we'regoing tohelp
you to take aculinaryvacation. Our upcoming
all inclusiveSunday specialswill featuredishes
from around theworld! –And all for 17.99or less!
SUNDAY,OCTOBER 19th, DEPOTOKTOBERFESTBUFFET
Food has always been amajor part ofGerman culture. Even thewell-
knownGerman fairy tale, Hansel andGretel,makes reference to food.
Oktoberfest buffet includes sausage& cabbage soup,
sauerbraten& ginger snap gravy, bratwurst& sauerkraut,
spaetzel& greenbeans, potatopancakes, applekuchen,
German chocolate cake, breadpudding andmore!
SUNDAY,OCTOBER 26thAROUNDTHEWORLDDINNERSPECIAL
Sunday,October 26h – Joinus inEgypt
ancient Egyptians left evidence of their love for food. Paintings&
carvings have been discovered depicting large feasts.
We're servingFatta –ANubian dishwith tender stewedmeat,
deep-fried poached eggs& rice.
IncludesFulMedames as a salad andAtaif (fried pancakes)
for dessert -
SUNDAY, NOVEMBER 2ndAround theWorlddinner special
Sunday, November 2nd –We visit Poland
TheCatholic rituals brought toPoland aroundA.D. 900 have had a
strong influence onPolish foods.My favorite!
HomemadePierogies&Glomkis, mushroom barley soup,
with homemade pumpkin cheesecake for dessert -
It's not too early tomake yourThanksgivingDay dinner reservations
at theDepot. Serving dinner from 11 am – 7 pm- (a limited dinner
menu), including roast turkey, and anumber of other entrees -
And – yes –wewill be offering our famous 'Leftovers to go'
TheDepot's new sister company, DoubleLRentals - offering tables, chairs,
heaters, bars, linens, dishes& catering supplies for your special occasions!
10%Discount
when youuseboth the
D&RCateringServices andDoubleLRental for your event.
Visit doublelrental.com or call us at (585) 344-0023
eRoyFarmer'sMarket onFacebook
TRIGON PARK
LOCAL • FRESH•DELICIOUS •NUTRITIOUS
Support your neighbor! Buy Local!
AroundTown
byStephenR. Barbeau
Supervisor,Town ofLeRoy
Just wanted to give you a sec-
ond monthly quick update on
First, Ihavebeen informedby
theRR that thework to repair the
crossing onCircular Hill Rd. is
scheduled to begin on October
29 and conclude the next day.
Look for thedetoursigns.Hope-
fully, they will be able to keep
to this schedule so the transfer
station traffic on Saturday will
Second, the PreliminaryBud-
get the Board adopted keeps all
service levels at 2014 standards,
implementsaschedule for future
highway equipment purchas-
es, and maintains a tax rate of
90 cents per thousand (fourth
straight year). The Public Hear-
ing is set forOctober 23, at 7pm
and copies of the Preliminary
Budget areavailable in theTown
As always, thank you and see
Director /Owner
FuneralDirector
F
ALCONE
F
AMILY
Funeral&Cremation Service, Inc.
Director/Owner
"ALOCALFAMILY
CARINGFORLOCALFAMILIES"
TheLeRoyFarmers'Market would like to thank the community, musicians,
and community organizations for supporting theMarket.
Wewould also like to thank Sherry'sGlutenFreeBakery,
Phillip'sOrganicFarm,Mellander'sMaple, BigDawgCatering, ScratchBakery,
DuncanMcKenzie, It's aNatural Farm, Nice's Farm, and J&WFarm.
TheMarket also appreciates the time and support of our volunteers,
JenniferKeys,MaryMargaret Ripley, Rick and SaraKent, AmyLambert,
KatieRhoads, BrucePlatek, AmyParker,MelissaCampbell, Pat Fussell,
andMaryAnnWhite.
If you are interested in volunteeringwith theMarket, please speak to one of
our volunteers, contact theMarket throughFacebook
or email Katie at
We look forward to seeing everyone in June 2015!
1CHURCHST, • LEROY, NY • lpgraphics.net
WEHANDLEALLASPECTSOFPRINTING...
PROGRAMS
LETTERHEADS
BILLHEADS
FLYERS
BROCHURES
POSTERS
CARBONLESSFORMS
ENVELOPES
RAFFLETICKETS
NEWSLETTERS
RESUMES
TYPESETTING
RUBBERSTAMPS
ENGRAVEDSIGNS
NAMETAGS
COPIES
LAMINATION
COMMUNITYFAX
NEWSANDPICTURES
ADVERTISING
BUSINESSCARDS
HOURS: Monday thruFriday 8:00 to5:00