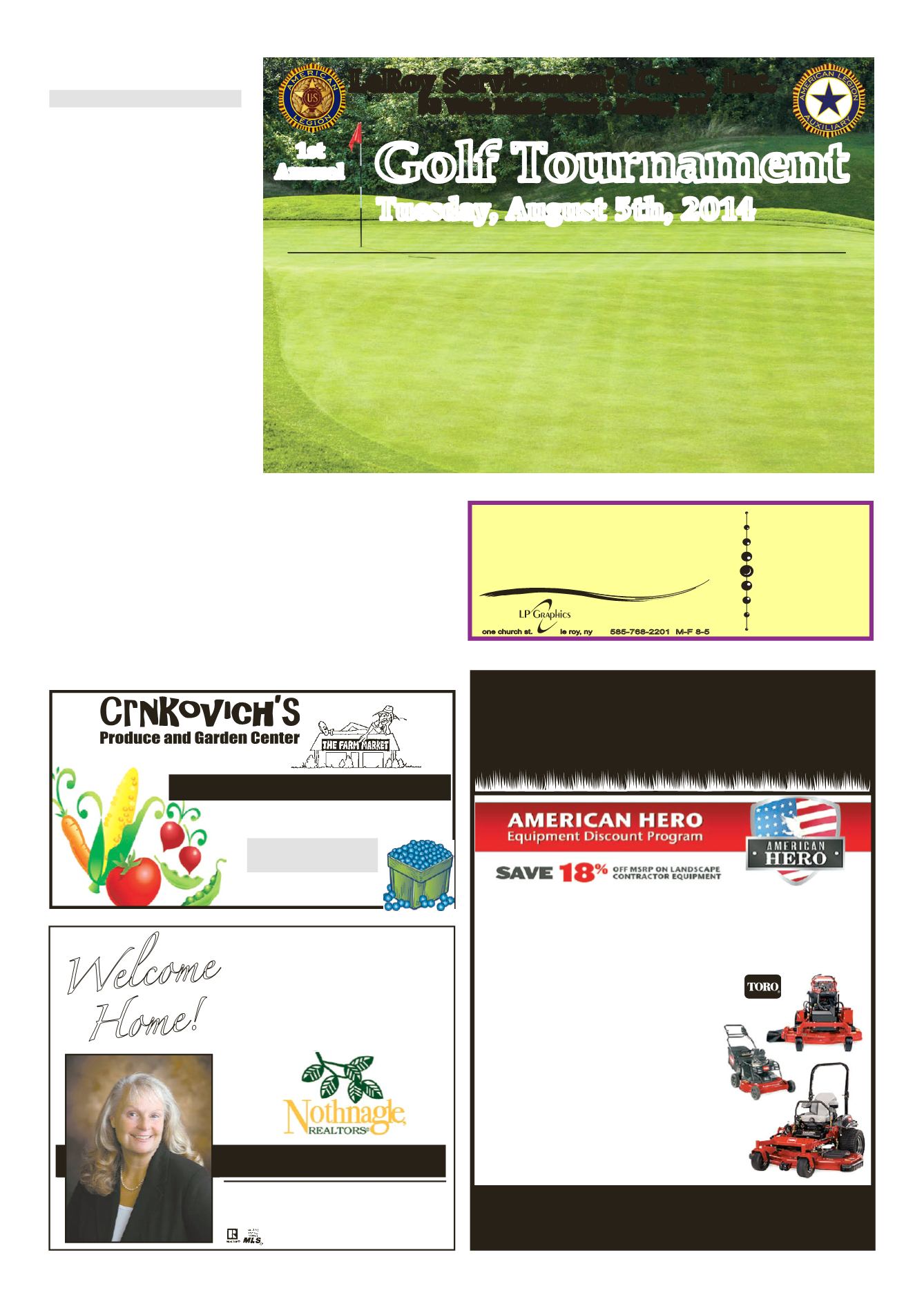 LEROYPENNYSAVER&NEWS - JULY 20, 2014
LeRoy Servicemen'sClub, Inc.
53WestMain Street • LeRoy,NY
GolfTournament
Tuesday, August 5th, 2014
LEROYCOUNTRYCLUB •
7759E.MainRd., LeRoy,NY
REGISTRATION
11:00 am- noon
4Person Scramble,
with Shotgun Start atNoon
STEAKDINNER
at
Botts-FioritoAmericanLegion
Door Prizes, 50/50Raffle
Closest to Pin, Closest to Line, Skins,
BlindBogey,Mulligans& Finnegans
$55.00/person -
18 holes of golf, golf cart,
sandwich & soft drink at turn, prizes &
$35.00/person
$20.00/person
CashBar
Entry Forms&Payments by Fri., July 25th
1st
Annual
Toro's new equipment discount program recognizes thosewho serve in
theUnitedStatesmilitary, aswell as thoughwhoserve theircommunities
across thecountry.Under theprogram, current or formermembersof the
military and current or formerEMT's, firefighters andpoliceofficers are
eligible for special pricing onToroLandscapeContractor Equipment.
EligibleProducts
•ZMasterZero-TurnMowers
•GrandStandMowers
•Mid-SizeWalk-BehindMowers
•Heavy-Duty 21"Walk-BehindMowers
• 30"TurfMasterWalk-BehindMower
• SelectAttachments
Program runs now through
October 31, 2014
at participating dealers only.
See participating dealer for full program details.
1818 LinwoodRd., Linwood, NY
HOURS:Mon.-Fri. 8am-5:00pm, Sat. 8am-12:00noon
LINWOOD
570EastMainStreet, Batavia, NY 14020
CAROLDIFRANCISCO
Real EstateSalesperson, REALTOR
To all our friends
and family returning to
LeRoy thisweekend
for the festival,
WelcomeHome!
8041 E.MainRd. (Rt. 5) 1Mile East of LeRoy
OpenDaily •768-7259•768-7813
BLUEBERRIES
&MUCHMORE!
TryOurFamous Sauces
Jams • Jellies&Dressings!
byGreg "Porp"Rogers
Mayor
Oatka Fest is finally here, it is
the time to experience the charm
ofUpstateNewYork living. For
20years thiseventhasshowcased
our community and the quality
of lifehere. It'swhenweput our
best foot forward and show the
worldhow tohave funatanyage.
Thiswillbe the lastyear for two
icons on theOatka Fest commit-
tee; LynneBelluscio andShelley
Stein are calling it quits after 20
yearsof running theevent.Words
cannot saywhat thiseventmeans
toourcommunityandall thehard
work that has gone into it by ev-
Iwould like tosendout aheart-
felt "THANKYOU" from all of
us to the whole committee and
especiallyLynne and Shelly, for
a jobwell done. If you see these
ladies at the festival, take time
to say thank you. Newmembers
to the committee are StacieMa-
jor, Samantha Vagg and Lauren
Humphrey; these ladies have
some very big shoes to fill. I'm
The rest of the summer will
bring the restriping of Main St.
and thebeginningof thesidewalk
project; another project is the
fixing of thewater infiltration to
Get out, enjoy theweekend.
"Life isn't about waiting for
the storm to pass… it's about
learning to dance in the rain"
one church st. le roy, ny
one church st. le roy, ny