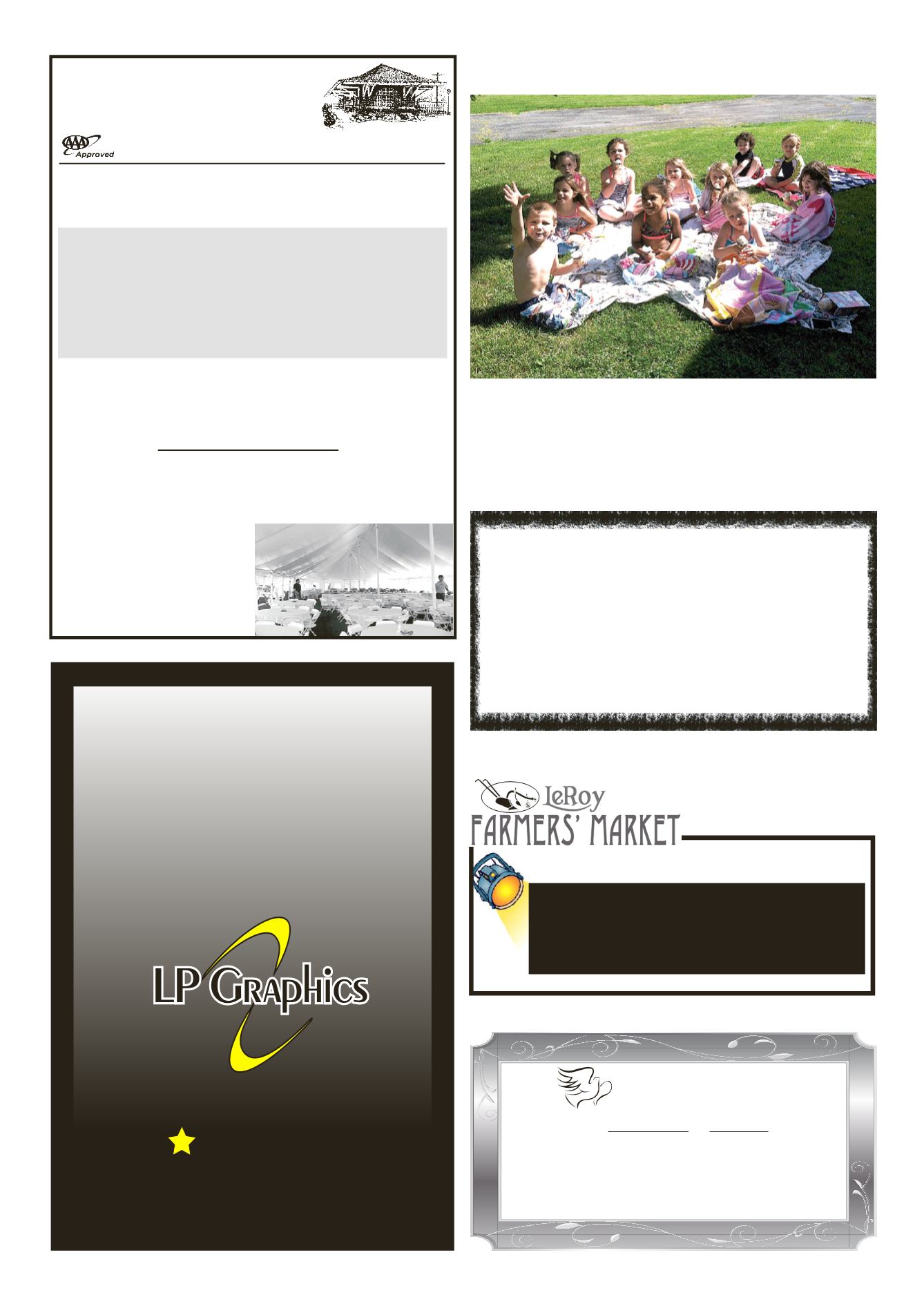 LEROYPENNYSAVER&NEWS - JULY 20, 2014
D&RDepot
63LakeSt. (Rt. 19), LeRoy• 768-6270
Let'sMeetAt The ...
OpenForBreakfast, Lunch&Dinner - 7DaysAWeek 7am-9pm
F
ALCONE
F
AMILY
Funeral&Cremation Service, Inc.
Director/Owner
Director /Owner
FuneralDirector
SUNDAYJULY20thDINNERSPECIAL
BEEFn'SEAFOODKABOB'SDINNER - $16.99
includes soup or salad, beverage, and a banana split dessert)
Joinus July 19/20 for
LeRoy'sOATKAFESTWeekend
on the creekbank at the JELL-OMuseum
and at all thedowntown stores.
(Have you visited thenew coffee shop/ArtGallery –
BARISTA's at 58Main)
SUNDAYJULY27thDINNERSPECIAL
HomemadeGLOMKIS in a red sauce - $15.99
(includesChickenKluskie noodle soup, mashed potatoes,
beverage, and a glazed fruitedGingerbread roll for dessert)
TheDepot's new sister company, DoubleLRentals - offering tables, chairs,
heaters, bars, linens, dishes& catering supplies for your special occasions!
10%Discount
when youuseboth the
D&RCateringServices
andDoubleLRental
foryour event.Visit dou-
blelrental.com
or call us at
(585) 344-0023
eRoyFarmer'sMarket onFacebook
TRIGON PARK
Saturday, July 26th
9:00 am-12:30 pm
LOCAL • FRESH•DELICIOUS •NUTRITIOUS
Seasonal Fruits andVegetablesWill BeArrivingWeekly!
MELLANDER'SMAPLE-DonnaandDennisMellanderhavebeenmakingmaple
syrup for eight years tapping about 400 trees at their cabin inAlleganyCounty.
Theirwoodfiredevaporatorandsugarhouseweremadeby localAmishcraftsmen.
Mostof thesap iscollectedusing tubing,but therearealsosomepails.Theirsyrup
hasanaturalhintof"vanilla"making forauniqueanddeliciousflavor.Thesyrup
iscompletelynaturalwithboiledsapbeing theonly ingredient. Inaddition to their
maple syrup, theyalso carryproducts fromOnceAgainNutButters andNunda
Mustard.LeRoyFarmers'Market - Saturdays 9 a.m. to12:30p.m.
"Jamies"
The Pre-K children at Love Bugs Preschool spent one of their
last days of the school year having an outside water day! The
children came to school in theirbathing suits ready foradayof
fun!Theyplayedwatergames, navigatedacrazy sprinkler then
relaxed with some refreshing ice cream. What a great way to
end theiryear!
HappySummer
1CHURCHST, • LEROY, NY • lpgraphics.net
WEHANDLEALLASPECTSOFPRINTING...
PROGRAMS
LETTERHEADS
BILLHEADS
FLYERS
BROCHURES
POSTERS
CARBONLESSFORMS
ENVELOPES
RAFFLETICKETS
NEWSLETTERS
RESUMES
TYPESETTING
RUBBERSTAMPS
ENGRAVEDSIGNS
NAMETAGS
COPIES
LAMINATION
COMMUNITYFAX
NEWSANDPICTURES
ADVERTISING
BUSINESSCARDS
HOURS: Monday thruFriday 8:00 to 5:00