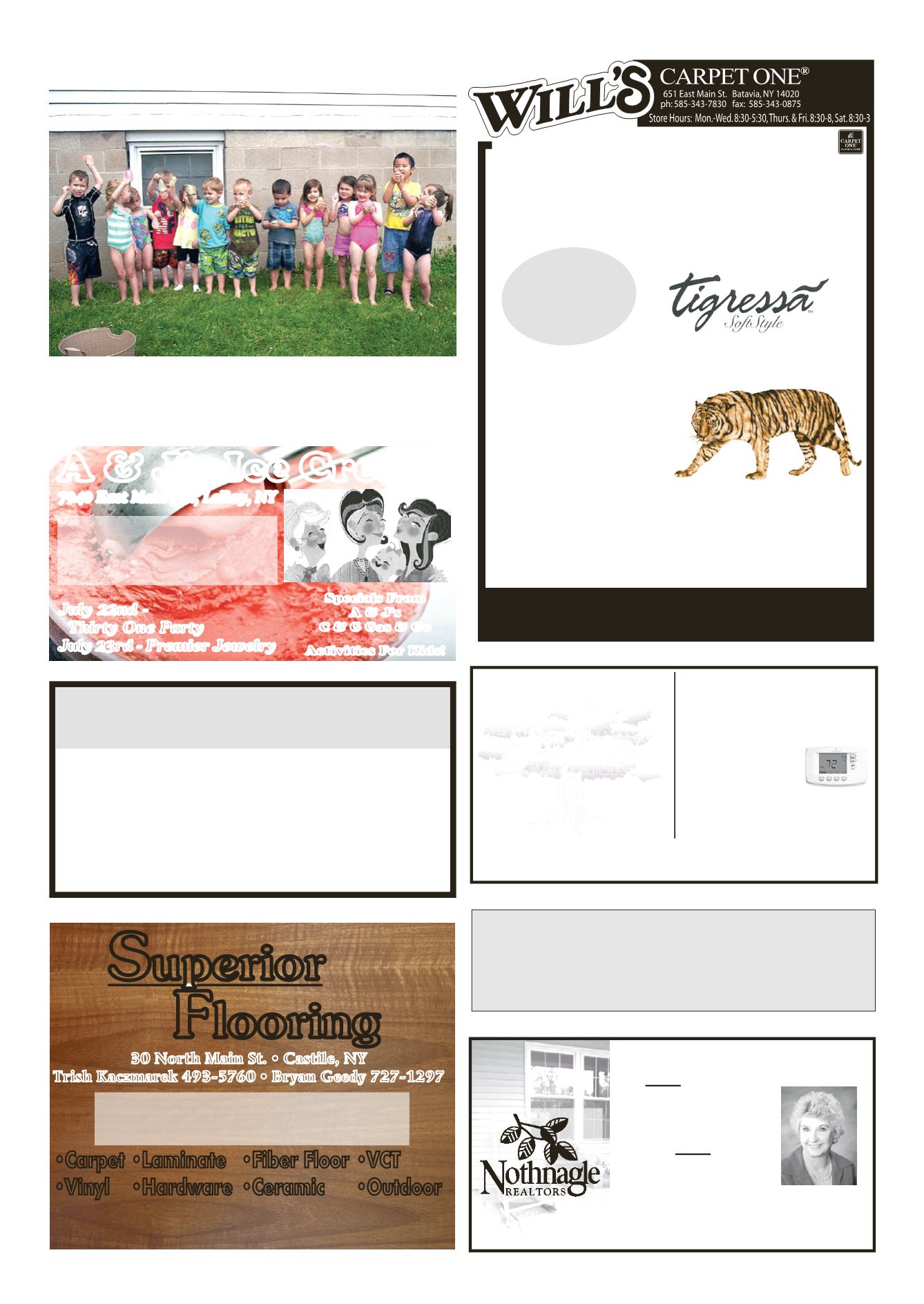 LEROYPENNYSAVER&NEWS - JULY 20, 2014
30NorthMain St. •Castile,NY
TrishKaczmarek493-5760 •BryanGeedy727-1297
We have it all!
WBECertified FREEESTIMATES
•Carpet •Laminate •Fiber Floor •VCT
•Vinyl •Hardware •Ceramic •Outdoor
Serving you the best
Price •Quality& Flooring around!
Batavia
585-343-6750
NOW is theBEST time
toBUYwith the interest rates
at their lowest!
Don't wait
toBUY -
call
LindaBeaumont
for all your real
estateneeds.
LindaBeaumont
Home (585) 768-6315
LicensedReal Estate
Salesperson
Multi-MillionDollar Producer
SUPPORTYOUR LOCALADVERTISERS!
They help sponsor the local news section of the
Le Roy Pennysaver
THANKS FORYOUR SUPPORT!
FLOOR
&HOME
TheONE store for your perfect floor.
• InstalledByOur TrainedProfessionals
With a 6#Pad
• FreeEstimates
• FinancingAvailableToQualifiedCustomers
ALLWORKMANSHIP GUARANTEED • INSURED
297-9097 • 768-7737
• InteriorPainting
• Plaster/LathRestoration
•Drywall&DrywallRepair
•TextureRemoval
• Floors Stripped
&Refinished
•OldCeilings&Walls
MadeLikeNew!
MikeDarby'sPatch&Paint
Malovich
Environmental
Tree Service
•TreeTrimming
•TreeRemoval
•StumpGrinding
FreeEstimates • Fully Insured
24Hour Service
•Residential
•MobileHomes
•ServiceRepairs
•New Installations
•ChimneyCleaning/Repairs
•ChimneyLiners
585-409-6509
7940EastMainRd., LeRoy, NY
LeRoy Nursery enjoyed outside fun! The children playedwith
waterballoons,bubbles, sidewalkchalkandevenwent inasmall
pool.Aday they pretended to be at the beach. Pictured here is
the 2DayClass having funplaying outside.
Let'sPlay
Hurry
In!
CARPET