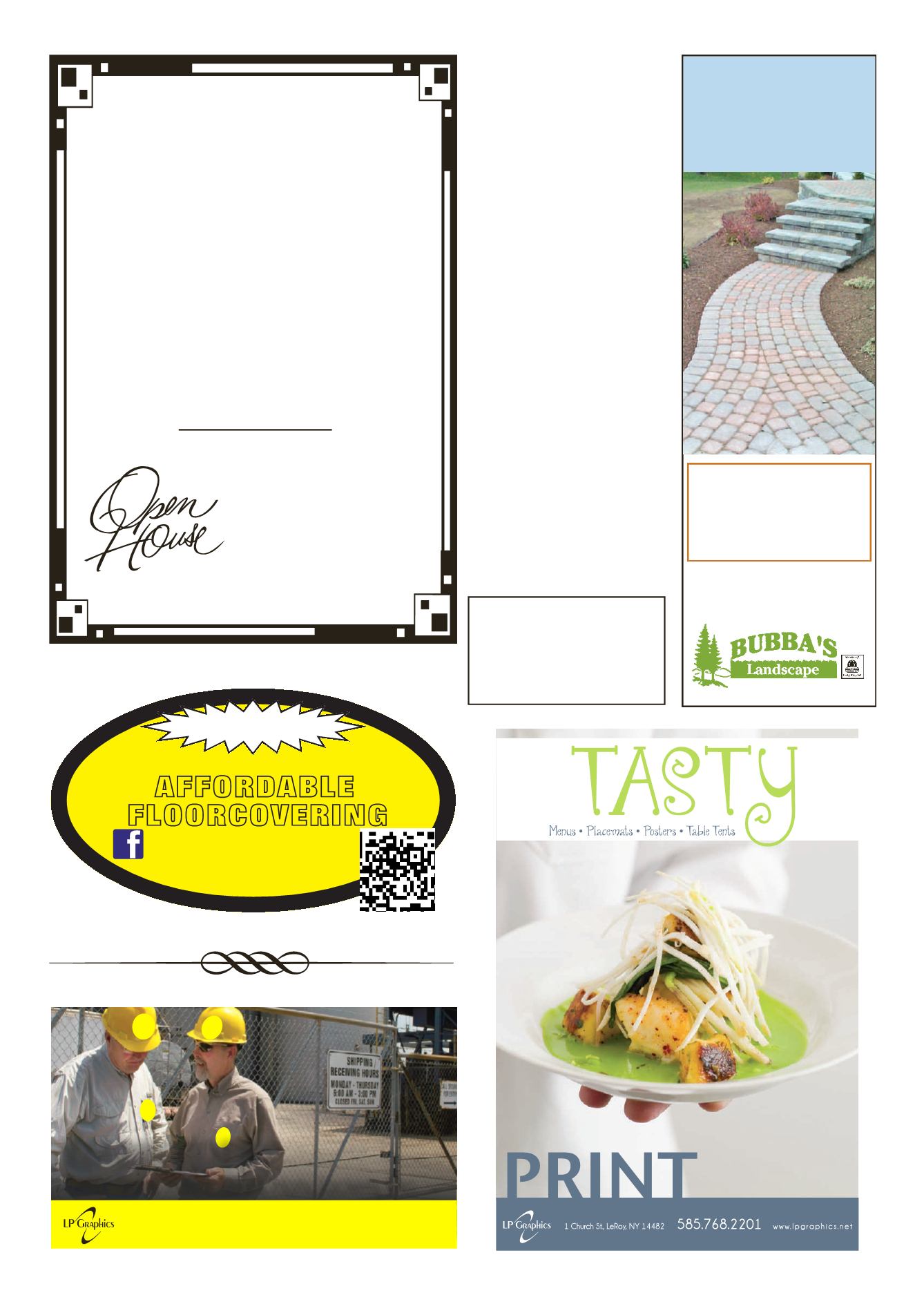 LEROYPENNYSAVER&NEWS - JULY 20, 2014
VALU HOME PLAZA • WEST MAIN • BATAVIA
AFFORDABLE
FLOORCOVERING
AFFORDABLEFC.COM
585-345-1108
Tuesday-Friday 9-6
10
%
OFF
CASH&
CARRY
FusionDanceCenter
768-8350
2014SummerCamps
"LookatMe, I'mDancing" (ages 3-5)
ABallet basedcampperfect for the first timedancer!
July 21, 22& 23 from9:00 - 10:30am
"Rock-a-Hula Luau" (ages 5-6)
AnAcro& Jazz basedcamp set toa tropical theme!
July 21, 22&23 from 11:00 - 12:30
"HipHopBeach Party" (ages 7-10)
AHipHopbaseddancecampperfect for all levels!
July 21, 22& 23 from 1:00 - 2:30
Fall OpenHouse&RegistrationDates:
Youmayalso register on-lineat
Nowacceptingnewbrickworkor
landscape jobs.Mulchavailable for
deliveryor pickup. Call now to set
up your appointment.
GeneseeCommunityCollege's
BoardofTrusteesyesterdayeve-
ning elected Diane D. Torcello
asChair for the 2014-2015 year.
Mrs. Torcello, of Pavilion, is a
Bank ofCastile executive.
BoardofTrusteeswereappoint-
ed.RobertL.BoyceandJacalyn
F.Whiting, both of LeRoy. Mr.
Boyce was appointed by the
Genesee County Legislature
andMs.Whitingwas appointed
Both members will serve sev-
en-year terms. The ten-member
volunteer Board of Trustees is
the governing body of Genesee
TorcelloElected
Genesee
Community
CollegeBoard
Chair
Don't waste precious time
Dress Shirts, Polos, Vests, Hats, Jackets, Etc.
1ChurchSt.
LeRoy, NY14482
585.768.2201