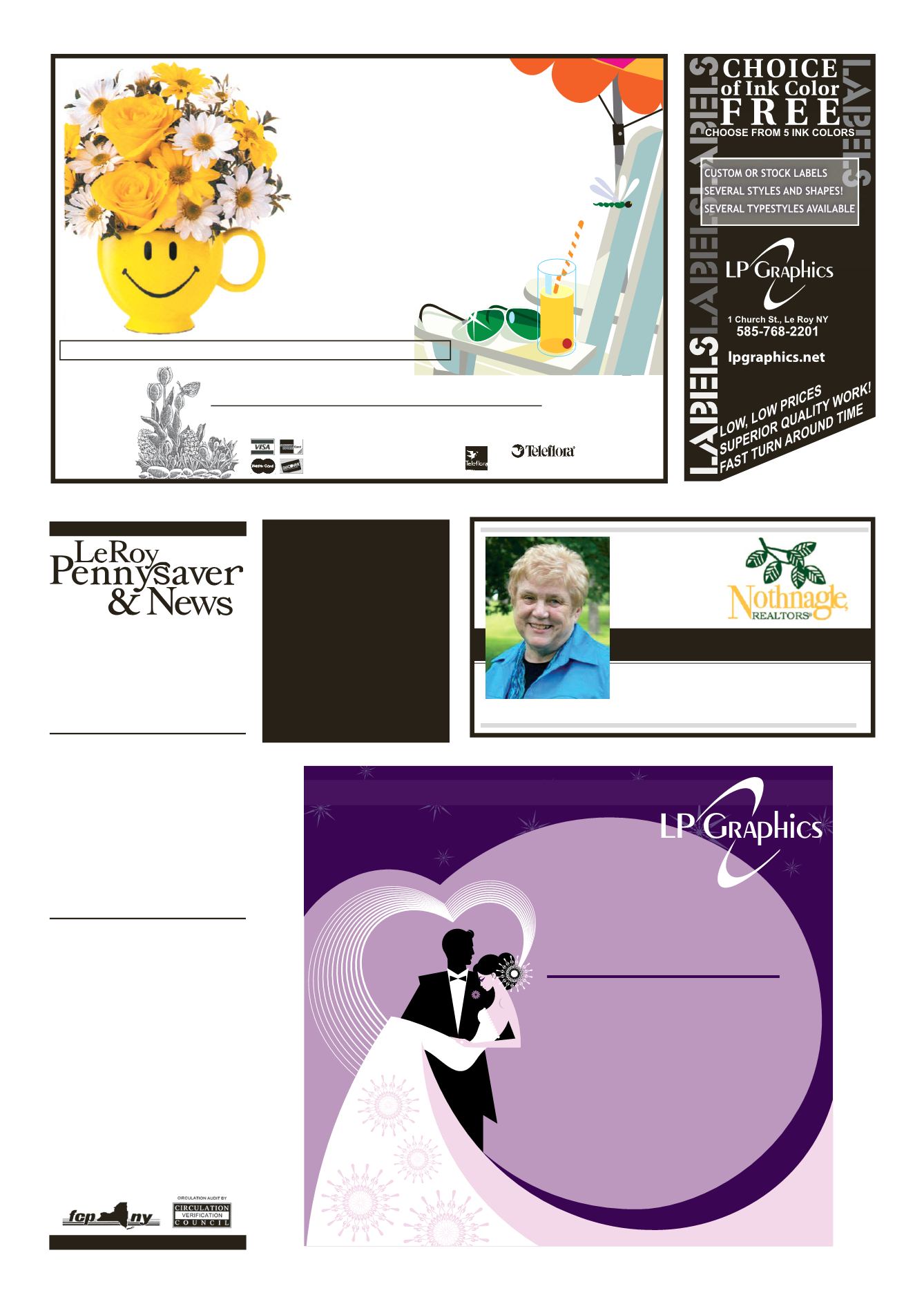 LEROYPENNYSAVER&NEWS - JULY 20, 2014
Lakestreet Florist&Gift Shoppe
WeDeliver To: LEROY, Byron, Bergen, Caledonia,Mumford, Pavilion,Wyoming, Stafford&Batavia
TelefloraWireServiceForFamily&FriendsOut of Town
768-7720
110LakeSt., LeRoy
HOURS:
M-T 9-5:30
F9-6:00
Sat. 9-4:00
LeRoy'sBestAdvertisingMedium
The Le Roy Pennysaver will not knowingly accept or
publish advertising which is fraudulent or misleading
in nature. The publisher reserves the right to reject or
cancel anyadvertising.TheLeRoyPennysaverassumes
no financial responsibility for typographical errors in
advertisements, but if at fault, will reprint the portion of
the ad in which the error appears. Style, size of type
and locationof advertisement are left to thediscretionof
the publisher. The opinions expressed in this publication
are not necessarily those of the publisher. We cannot
guarantee the returnof photographs.
CALL
768-2201
NANCYCROCKER
LicensedReal EstateSalesperson
570EastMainStreet •Batavia, NewYork 14020
Cell: 585.314.7982 • Fax 585.343.8502
Multi-MillionDollar
Producer
LookatourWEBSITE for lotsof ideas!
It's
all
You
about
1ChurchSt., LeRoy, NY •OpenM-F8-5
585.768.2201
Andwe are proud to be a part of
these important occasions and
celebrations inyour life.
Wehave themost complete
Wedding Invitations&
Announcements plus
Accessories suitable for all
social occasions.
lpgraphics.net • Fax 585.768.6334