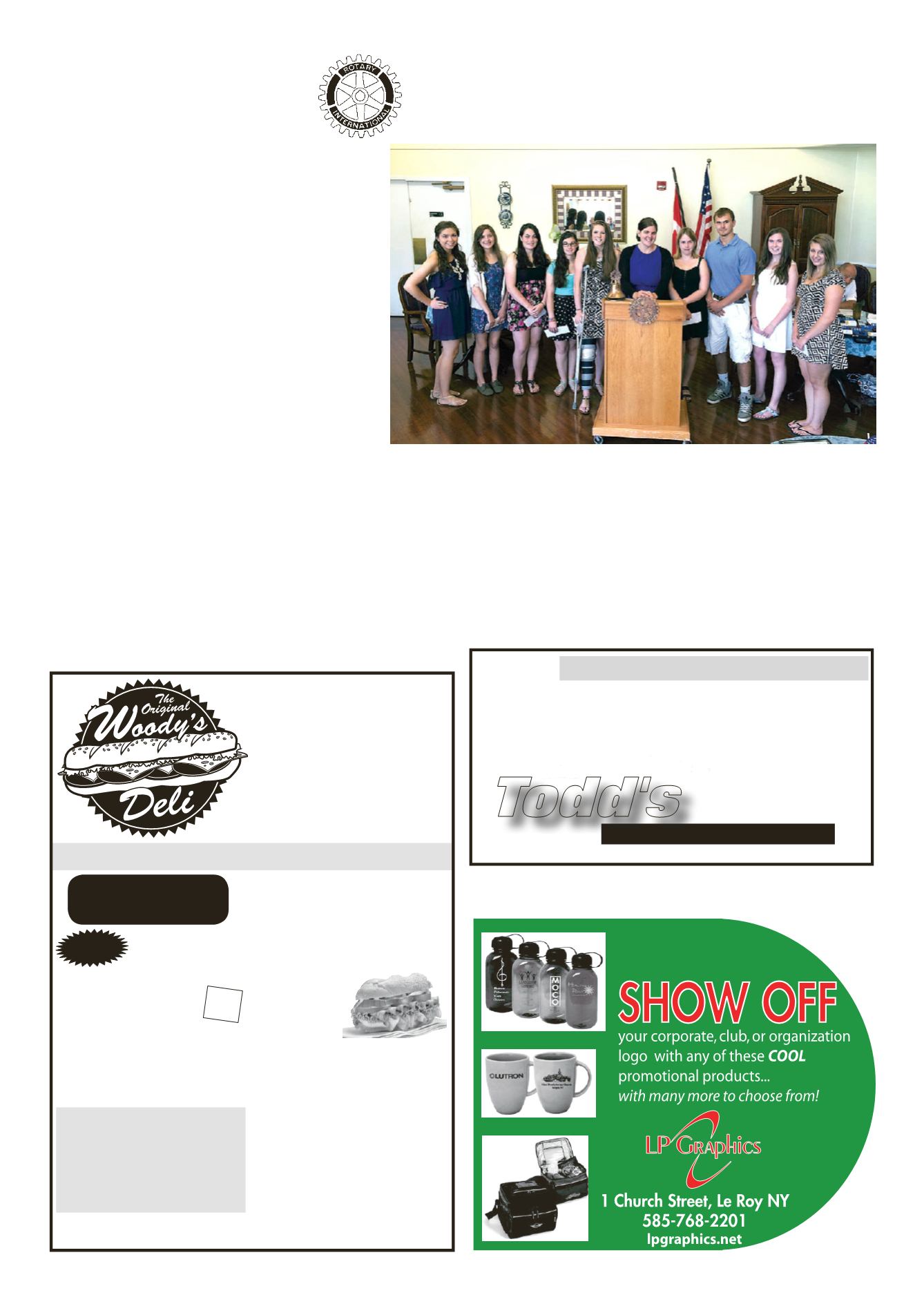 LEROYPENNYSAVER&NEWS - JULY 20, 2014
LeRotary
Notes
NewHomes •Additions •Garages •PoleBarns
ToddCarli • Phone 703-0964
Todd's
Decks •Windows •Doors
Kitchens •Baths
CeramicTile
Basement Finishing
CustomShelves/Built-Ins
Siding •Remodeling
Roofing • SnowPlowing
FULLY INSURED
as President Randy called the
Wednesday meeting to order at
the Green's of LeRoy. After the
Pledge
Blessing
comed our guests—the Milne
In theway of announcements,
we were reminded to sign up to
work the hot dog booth at this
year's Oatka Festival—always
the best Zweigle PremiumHots
in town; the District Governor
will be visiting us next week
(7/16); and to be sure it gets on
our calendars, President Ran-
dy reminded us of the District
Christmas Party on January 2nd
President Randy then recog-
nized our members with perfect
attendance: Ron Pangrazio, 12
years;BobSullivan, 7years; and
BobCarlsenwhohas notmissed
In order to get to the day's
program, President Randy con-
ducted a brief fining session by
dinating this year's installation
The program for the day was
the introduction of this year's
Monroe Community College,
Stephen Cappotelli, Genesee
Community College, Criminal
Alanna Driscoll, SUNYCort-
RayleighStaba,SUNYAlbany,
University, Teacher of the Blind
Rachel Glucksman, Nazareth
College, Physical Therapy
Savannah Gill, Nazareth Col-
In addition, the Rotary Board
awarded the2014Rotary Interact
HannaTillson,Rochester Insti-
tute ofTechnology,Marketing.
Hamburgers,
Cheeseburgers,
ChickenFingersOr Hot Dogs!
NEW! GrilledCheese
OR ItalianSausage
GarbagePlates
ComesWithAny 2Of TheFollowing ...
Macaroni Salad • FrenchFries
BakedBeans
ToppedWithASpicyMeat Sauce .
............................................ $8.49
NEW!!
1/2Plate.................. $5.49
YOURONESTOPSHOPPINGPLACE!
AND
3Slices
of French
Bread
LARGEPIZZA
UnlimitedToppings
24Wings, 2LiterOf Soda
ComeOnDownTo 47NorthSt. or
Call Early&Often 768-8585, Delivery IsAvailable
(unlimited toppings)