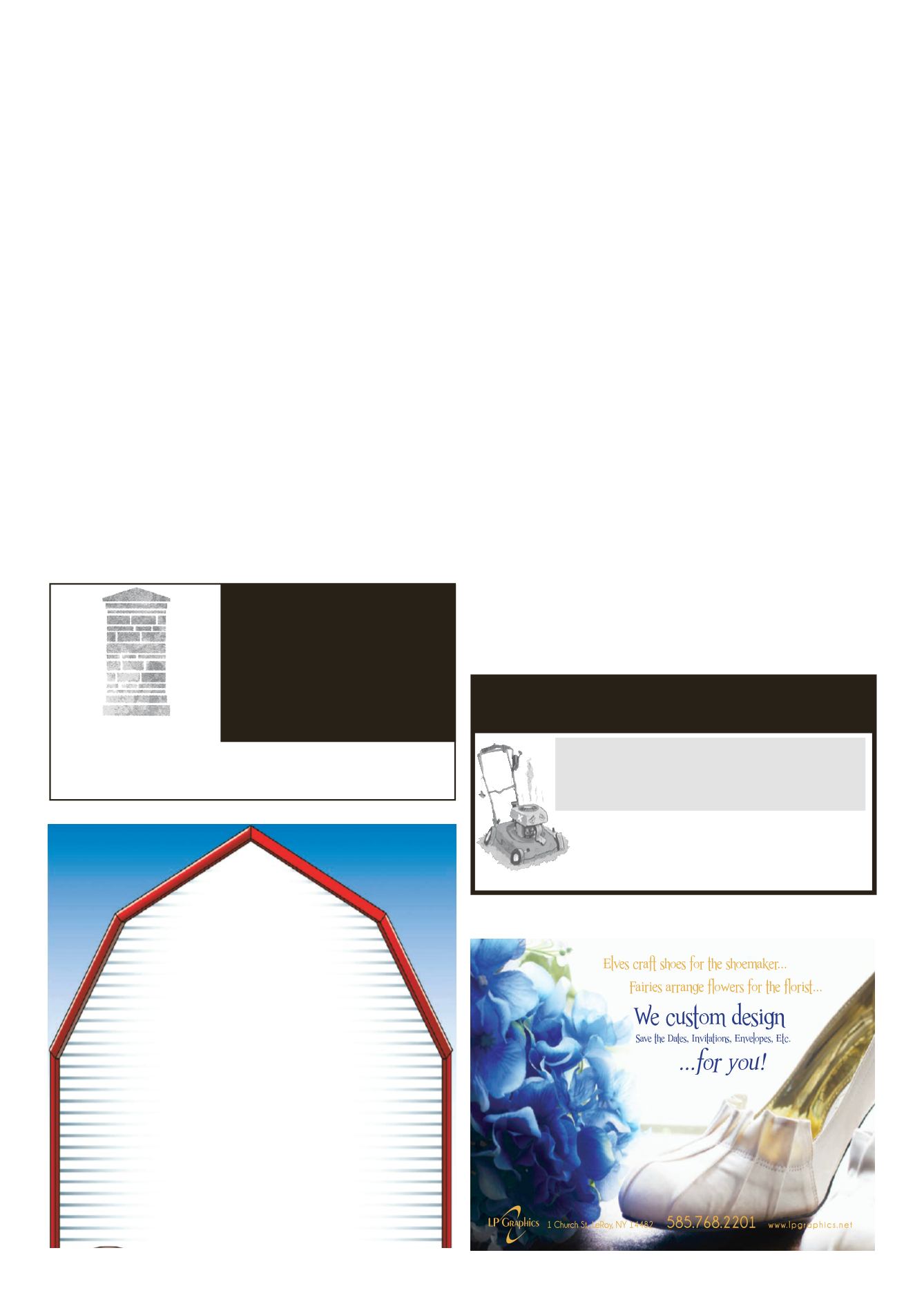 LEROYPENNYSAVER&NEWS - JULY 20, 2014
9/10All Stars -District 3Champs
•Engine andTransmissionRebuilds
•Lawn andGardenEquipment •ATV's, Dirt Bikes
•PickUp andDeliveryAvailable
Hours: Tues.,Wed. 6 pm to 8 pm
Thurs., Fri., Sat. 9 am to 6 pm, Closed Sun.,Mon.
8525Rt. 237, Stafford,NY14143
LeRoy9 Batavia 5
TheLeRoy 9/10All Stars had
another great All Star run this
year. LeRoy went 3-1 in pool
playwhileBataviawouldgo4-0
earning themboth a place in the
Just four days earlier Batavia
beat LeRoy 12-2 in their final
pool playmatch up giving them
homefieldadvantage for the title
game. LeRoy came out focused
and ready to avenge their lone
loss in thepoolplay round.Colin
McCulley started thingsoffwith
LeRoy'sfirsthit.Hewould reach
second on a passed ball. Brady
Fix andZachVanderhoofwould
both draw walks for LeRoy.
Adam Risewick then drove in
McCulley and Fix with a base
hit to right center field. LeRoy
went on to score four runs in the
Unlike their first meeting Le-
Roy's ace was available to take
the mound. Colin McCulley
would turn in one of his best
pitchingperformancesof thesea-
son. He kept Batavia off balance
and unable to put big innings
together. McCulley went 4 2/3
innings striking out 4 and only
giving up 4 hits while picking
up the win. With LeRoy up 9-4
KennySaunderscame in toclose
thedoor and secure a9-5victory
overBatavia. Saunderswas very
strong in relief striking out three
strong behind their pitchers
making tough play after tough
play. Cole Rauscher made three
fantastic plays for outs from his
catcher position. With Batavia
threatening late,AdamRisewick
made a spectacular play at short
stop on awell hit ball. It looked
as if the ball might bounce over
hishead.Risewickmade thesnag
and came up firing to first. Zach
Vanderhoofdug theballoutof the
dirt toend the inning. Itwasafine
play on both ends and displayed
the focus and effort LeRoy pos-
sessed throughout this 2014 all
LeRoy hammered out eleven
hits in the game. Brady Fix had
a huge game at the plate. Fix
had three hits(2 singles,1 triple)
scored three runs and had two
RBIs. Zach Vanderhoof also
had a big game with a single
and a double. He scored twice
and drove in three runs. Adam
Risewickwasnot tobeout done.
He had three singles, threeRBIs
andarunscored.KennySaunders
had two singles and scoredonce.
ColinMcCulleyhada singleand
scored twice in the victory.
With thewin LeRoy advances
into sectional play. They will
face Victor in the quarterfinals.
The game will be played at the
Portville Little League field Sat-
9/10All StarsBowOut
InSectionals
Victor16LeRoy 7
against a game with Victor ball
club. After falling behind 3-0 in
the first inning LeRoy battled
back in the second to tie it up,
but Victor would eventually
pull away to get thewin. LeRoy
showedglimpses ofwhat helped
them capture another District 3
Rauscher hit deep shots over the
outfielders heads for stand up
doubles. Vanderhoof scored two
runswhileRauscher crossed the
plate once. Brady Fix had two
singles and aRBI. JohnnyPane-
pento and Maverick Mckenzie
each recorded singlesand scored
a run.TyStrolloandShawnMor-
ibito both had RBI singles for
LeRoy.ColinMcCulley chipped
inwithanRBI,andJoeyBrennan
with a run scored. LeRoy made
some very nice plays in the field
led by Kenny Saunders, Adam
Risewick andLukeCaccamise.
Hatsoff toanotheroutstanding
year of Little League All Star
July 25-26,
9-4pm
8130EastMainRd., LeRoy
A
B
C
D
E
F
G
H
I
J
K
L
M
N
O
P
R
S
T
U
V
W
X
Y
FULL BARN -MANY INTERESTING ITEMS!
QualityRestorationServices
Commercial Buildings, Churches, Historical Projects
Brick • Stone • ConcreteBlock • TuckPainting • Rebuilding
Angle IronReplacement • StainRemoval • Caulking • SpecialtyMortar Joints
BreathableSealants • Chimneys • Foundations