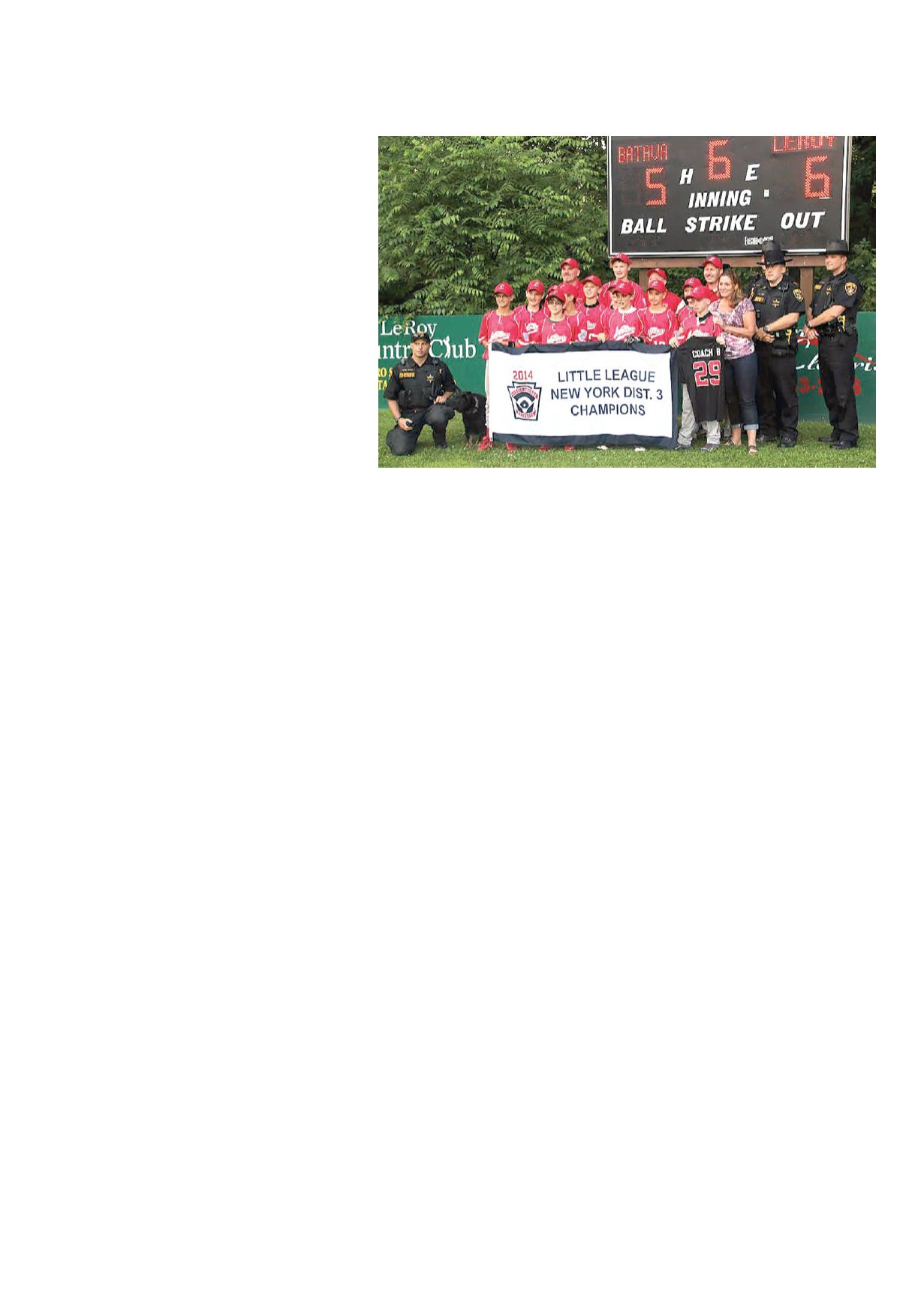 LEROYPENNYSAVER&NEWS - JULY 20, 2014
The members of the LeRoy 11-12 year
old all-star team started the District 3
Tournament on July 1 taking on teams
from Oakfield, Geneseo, Dansville and
Batavia.All the teams played eachother
once, with the top 2 teams advancing to
LeRoy 10 Oakfield 2
LeRoy traveled to Oakfiled for their
first game of the tournament. Oakfield
was able to put 1 run on the board in
thefirst, but thatwas answered as in the
2nd inning Cody Lytle belted a 2 run
home run toput LeRoyup2-1. Thebats
came alive for LeRoy in the 3rd inning,
highlighted by Lytle's 2nd home run of
thegameandGiavanniCaccamise'sfirst
LLhome run that smashed off the score
board putting LeRoy up 7-1. Oakfield
would add 1more run, but it would not
be enough as LeRoy would go on for
ReeceTresco startedon themound for
LeRoyanddidagreat jobshuttingdown
Oakfield batters going 5 1/3 innings,
strikingout 6and scattering4hits. Max
McKenzie came in to close the door
getting thefinal 2 outs, striking out 1.
Hitting forLeRoywereMaxMcKenzie
andTyler Slaven eachwith a single and
run scored. ReeceTrescowith a double,
run scored and 2RBI's.AndrewTygart
with 2 singles and scored 2 runs. Cody
Lytle with 2 HR's, 3 RBI's, scoring 3.
Giavanni Caccamise had aHR, double,
3 RBI's, scored 2. Jake Hill andAustin
Saeva each added a single, whileKyler
LaCarte added a single andRBI.
LeRoy 4 Geneseo 3
LeRoywouldnext travel toGeneseo for
game #2. Again LeRoy would give up
one run in the first inning, but it would
be answered in the bottom of the inning
asMaxMcKenzie was able to score on
awild pitch knotting the game 1-1. The
score would stay that way until the 3rd
whenTylerSlaven ledoff the inningwith
a single andwas then hit inwhenReece
Trescoblastedahome run,puttingLeRoy
up3-1. LeRoywent up4-1whenSlaven
singled inGiavanniCaccamise.Geneseo
scraped together 2 runs, butLeRoyhung
MaxMcKenzie sparkledon themound
and controlled theGeneseobatters.Max
pitched a complete game, striking out 6
At theplateMaxMcKenziehad adou-
ble and run scored. Tyler Slaven added
a single, RBI and run scored. Reece
Tresco had a single, HR, scored 1 and
had 2 RBI's. Giavanni Caccamise had
a single and run scored, while Jake Hill
LeRoy 12 Dansville 2
LeRoy was finally back on their home
fieldagainstDansville, andwouldnot dis-
appoint the fans. TheLeRoybats jumped
all overDansville pitching scoring 7 runs
in4 innings.Thebig inningwas the3rdas
Reece Tresco crushed a 3 runHR, which
was followed by Andrew Tygart belting
a solo HR. Dansville put up 2 runs, but
singlesandscored2,whileKylerLaCarte
doubledandscored1.RyanFriendscored
2 runs. Chase Bordonaro, Austin Saeva
andTyler Slaven each scored 1 run.
LeRoy 11 Batavia 6
3-0Bataviawould travel to3-0LeRoy
for thefinalgameof thepoolplay format,
knowing that thewinnerwould host the
rematch in the District Championship.
Bataviawould jump ahead in the top of
the1st scoring2 runs.The leadwouldbe
cut inhalf as in thebottomof the inning
whenReeceTresco smashedhis3rdHR
of the tournament. Batavia added 1 run
in the 2nd, but LeRoy would then put
4 on the board asAustin Saeva walked
andChase Bordonaro singled andwere
then driven byKyler LaCarte's first LL
home run, a3 run shot over the left field
fence. LeRoy would go up 10-3 after
5 as Max McKenzie and Tyler Slaven
had back to back singles, which were
followed by Reece Tresco's 4th HR of
the tournament. Batavia added 3 more
runs, but LeRoy went on to the 11-6
win andwill host Batavia in theDistrict
Andrew Loftus got the start on the
mound for LeRoy and did a great job
going 3 solid innings. Loftus struck
out 4 and allowed only 3 hits. Giavanni
Caccamisecame infor thefinal3 innings,
givingup4hitsandstrikingout2 toclose
At the plate Max McKenzie had a
double, single and scored 3 runs. Tyler
Slaven had a double, single, RBI and
scored 1. Reece Tresco had 2 HR's,
single, 4 RBI's and scored 2. Andrew
Tygart had a double, scored 1 andRyan
Friend added a single and RBI. Chase
Bordonarohada singleand1 run scored.
KylerLaCartehad aHR, single, 4RBI's
and scored 1.Austin Saeva added 2BB
DistrictChampionship
LeRoy6 Batavia 5
Afteranemotionalpre-gameceremony
andCoachBordonaro looking down on
the LeRoy team, they took the field vs
Batavia in theDistrict3 titlegame. Bata-
viawould jumpoutquicklyandscore2 in
thefirst inning. In the2nd inningLeRoy
was able to tie the game when Austin
Saeva hustled down the line to first
forcing a quick, low throw that skipped
by the first baseman allowing 2 runs to
score. LeRoy would go up 3-2 when
Max McKenzie singled, Tyler Slaven
doubled and thenMaxwas able to score
on a wild pitch. Batavia would score
3 more runs to go up the 5-3 heading
into the bottom of the 5th. In the inning
ReeceTresco ledoffwith awalk,which
brought Andrew Tygart to the plate. In
true "Hollywood" fashion as a rainbow
broke through thecloudsand rain (thanks
Coach B), Tygart belted a 2 run HR to
tie the game 5-5. Cody Lytle and Jake
Hill each drew a walk, putting runners
a first and second. Kyler LaCarte hit a
ball up the middle and Lytle was able
to score putting LeRoy up 6-5. LeRoy
wouldgetBatavia1-2-3 in the topof the
6th to win the District Championship.
This was LeRoy's first 11-12 year old
District Title since 2000. The teamwill
now travel toSenecaFalls toplay in the
State Sectional Tournament.
ReeceTresco startedon themound for
LeRoy going 4 1/3 innings and striking
out 4. MaxMcKenzie came in to pitch
the final 1 2/3 innings to secure the title
At theplate forLeRoyMaxMcKenzie
had2 singles and scored1, Tyler Slaven
added a double and Ryan Friend had a
single.AndrewTygart had aHR, single,
2RBI'sandscored2,whileAustinSaeva
and Kyler LaCarte each had a single.
Cody Lytle scored 2 runs and Reece
Tresco added1 run scored.
Section1StateTournament
Quarterfinals
LeRoy7 Gowanda 4
The first game of the Sectional Tourna-
ment startedoff shaky asLeRoygave up2
runs in the top of the first. In true LeRoy
fashion though they battled back and took
the lead4-2 in thebottomof thefirsthelped
byasinglesbyTylerSlaven,AndrewTygart
and Austin Saeva, walks by Ryan Friend
andReeceTresco, andacoupleoferrorsby
Gowanda. The score stayed thatwayuntil
the 3rd inningwhenGowandawas able to
tie the game 4-4. In the 4th inning Kyler
LaCarte was HBP and able to score on a
throwing error on a hit byMaxMcKenzie.
ThisbroughtTylerSlavenwho thencrushed
his first LL home run, a 2 run shot to put
LeRoy up 7-4. The defense held for the
restof thegame for the7-4win.LeRoywill
takeonGrand Islandnow in the semifinals.
CodyLytle started on themound and
didagreat jobgoing5 innings and strik-
ingout 5 toget thewin. MaxMcKenzie
came in for the final inning and struck
out the side toget the save.
Tyler Slaven led theway at the plate
forLeRoywith2 singles, aHR, 2RBI's
and scored twice. Cody Lytle added a
doubleandrunscored,KylerLaCartehad
a single and run scored,AndrewTygart
andAustinSaevaeachhadasingle.Max
McKenziescored2 runsandRyanFriend
scored the other run for LeRoy.
Semifinals
LeRoy 16 Grand Island21
Well LeRoy ran into a heavy hitting
Grand Island team thatwentup14-0after
3 innings. In the 4th though, the no-quit
attitudeof the teamkicked inandLeRoy
putup7 runs. In the5th inningLeRoycut
the lead to14-12.Grand Islandwouldget
7more in the top of the 6th. LeRoywas
able toget 4 in thebottomof the6th, but
it was not enough asGrand Islandwent
LeRoy 11-12YearOldAll-StarsWinDistrict 3Title
HeadToSection 1StateTournament
The boys played very well throughout the entire tournament ending with a 6-1 record. These
players should be very proud of themselves and the job they did representing the town. If you
see any of them around town tell them -CONGRATULATIONS!!! 12 yr olds - JakeHill, Kyler
LaCarte,MaxMcKenzie,AutinSaeva, TylerSlaven, ReeceTresco,AndrewTygart; 11 yr. olds -
ChaseBordonaro,GiavanniCaccamise, RyanFriend,AndrewLoftus, andCodyLytle.