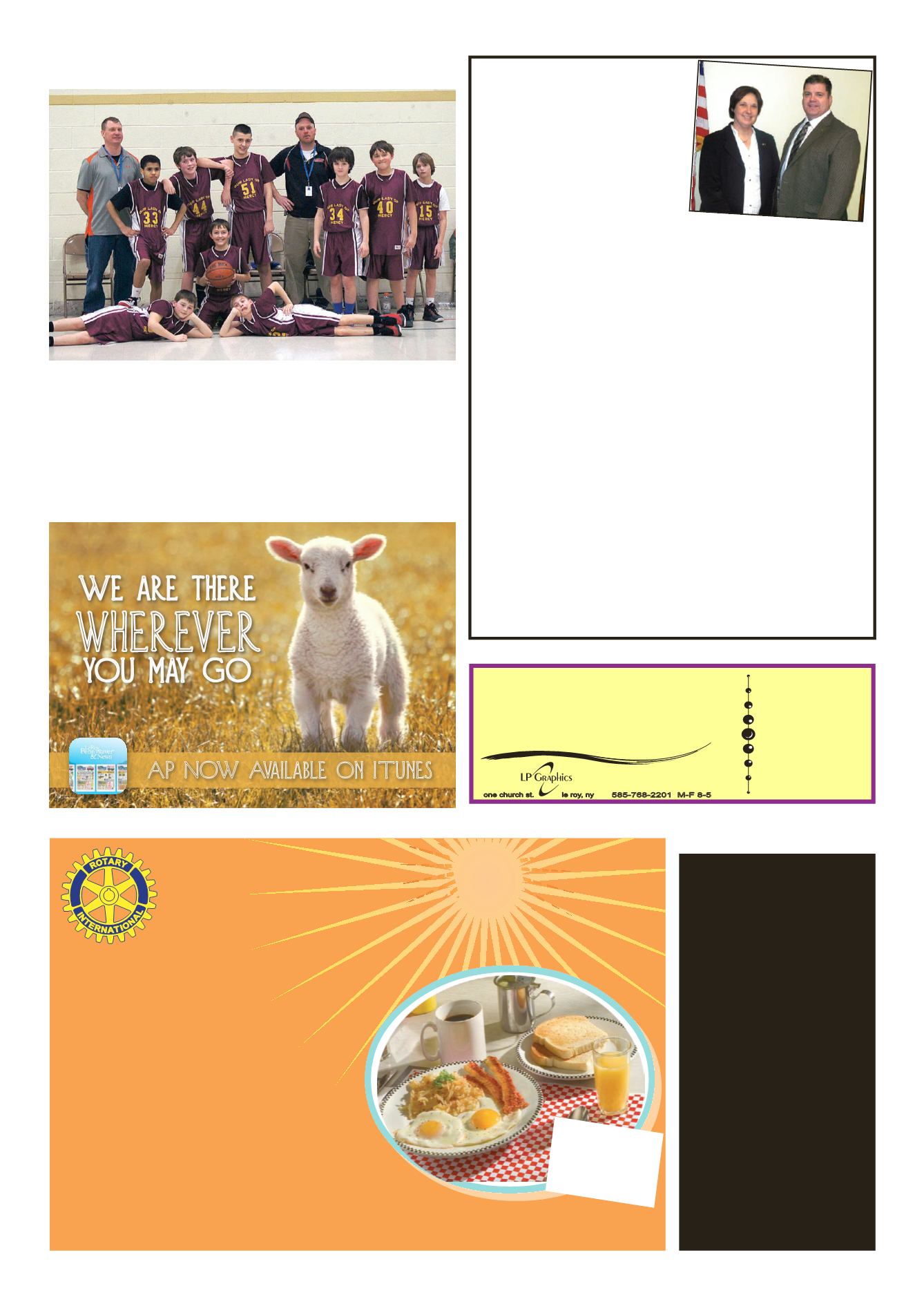 LE ROY PENNYSAVER & NEWS - MARCH 9, 2014
Le Roy
Pennysaver
BREAKFAST BUFFET
Le Roy Knights of Columbus
Tickets
Adults - $6.00, Children (3-10) $4.00, (3 and under eat FREE)
•• Sponsored by Rotary Club of Le Roy - Proceeds to Benefit Le Roy Youth Programs ••
Take Out Available
Will Deliver
Within
Village Limits
Sunday, March 16th
LeRoy boys 5th and 6th graders playing basketball for CYO this
year had an awesome season! Scott Carrick and Ken Ellingham
coached their team to a record of 10-1 (all outright wins, no for-
feits). Not only did the boys learn a lot this season, but almost
every player scored in each game. The teams players were; Ethan
Beswick, Austin Carrick, Kenny Ellingham, Aidan Harrington,
Alex Panepento, Cineque Robinson, Tyler Sterns, Nick Vallese,
and Sam Zerillo.
CYO Basketball
Re-Charge Le Roy
On March 18th Vote for
Jennifer Keys
and Bill Kettle
Re-Charge our Neighborhoods
–
Our community faces a chal-
lenge with so many residential
properties in foreclosure. Homes that
sit empty and stagnant that continue to fall into disrepair take
a toll on our neighborhoods and our property values. There is a
solution for faster bank turnover through the NY State Attorney
General's office and we will aggressively seek help to alleviate
Jennifer and Bill are committed to:
Engaging with mortgage lenders, landlords, property inves-
tors and other organizations, including the Attorney Gener-
al's Office, on timely solutions to get unoccupied, distressed
residential houses back in shape for hard working Le Royans
Working in coordination with our Code Enforcement Officer
to remediate problem properties.
Initiate a 'Spring Clean-Up Day of Service' encouraging
volunteerism and community pride.
Re-Charge Le Roy
for more updates and issues.
Our approach is to find solutions well beyond election day!
KETTLE and KEYS
YOUR VILLAGE TRUSTEES
AP NOW Available on iTunes
one church st. le roy, ny
one church st. le roy, ny