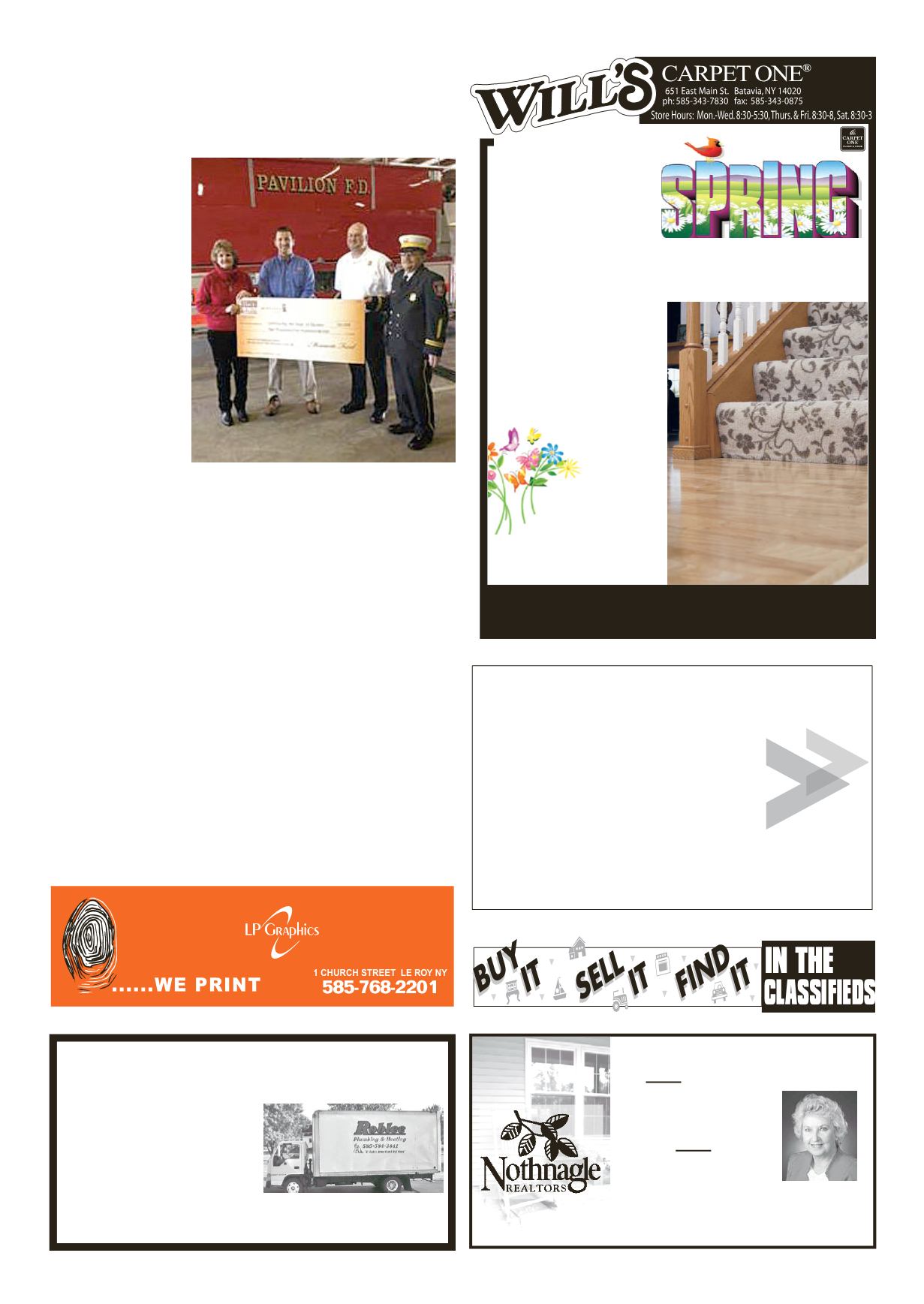 LE ROY PENNYSAVER & NEWS - MARCH 9, 2014
Batavia
585-343-6750
NOW is the BEST time
to BUY with the interest rates
at their lowest!
Don't wait
to BUY -
call
Linda Beaumont
for all your real
estate needs.
Linda Beaumont
Home (585) 768-6315
Licensed Real Estate
Salesperson
department and they have a hard
time raising funds," said Klapper.
"They are an important part of the
community and it is important to
support them any way we can."
America's Farmers GrowCom-
munities works directly with
farmers to support nonprofit
organizations like the Commu-
nity Fire Department of Pavilion,
who are doing important work in
their communities. The program
offers farmers the chance to win
$2,500, which is then donated to
the farmer's nonprofit of choice.
The search for funding to sus-
tain and enhance programs is
a year-round job for nonprofit
organizations across the country.
Through America's Farmers
GrowCommunities, farmers have
been able to support a variety
of groups, such as schools, fire
departments, community centers
and youth organizations like 4-H
Communities launched in 2010,
and has since donated over $13
million to more than 5,200 non-
profit organizations across the
country.America's Farmers Grow
Communities, sponsored by the
Monsanto Fund, is part of the
America's Farmers initiative,
which highlights and celebrates
the important contributions of
farmers like Roberta Klapper.
Local Farmer Supports
Community Fire Department
of Pavilion
From left to right: Roberta Klapper,
winning farmer; Nate Holt, Monsanto
representative; Chad Freeman, Chief;
Doug Wright, President.
ROBLEE
Plumbing & Heating, LLC
10991 Lake Rd., Pavilion • (585) 584-3841
Full Insured
LUXAIRE
GOULD
NYS Certified Backflow Tester
Water & Sewer Lines • Water Treatment & Conditioning Systems
Move
Medical & orthopedic
Check Out Our Large Selection For Your
Next Remodeling Project!
Large Selection
Of Room Size
Carpet Remnants,
In-Stock Vinyl
and Laminate
Flooring
• Professional Installation
lpgraphics.net