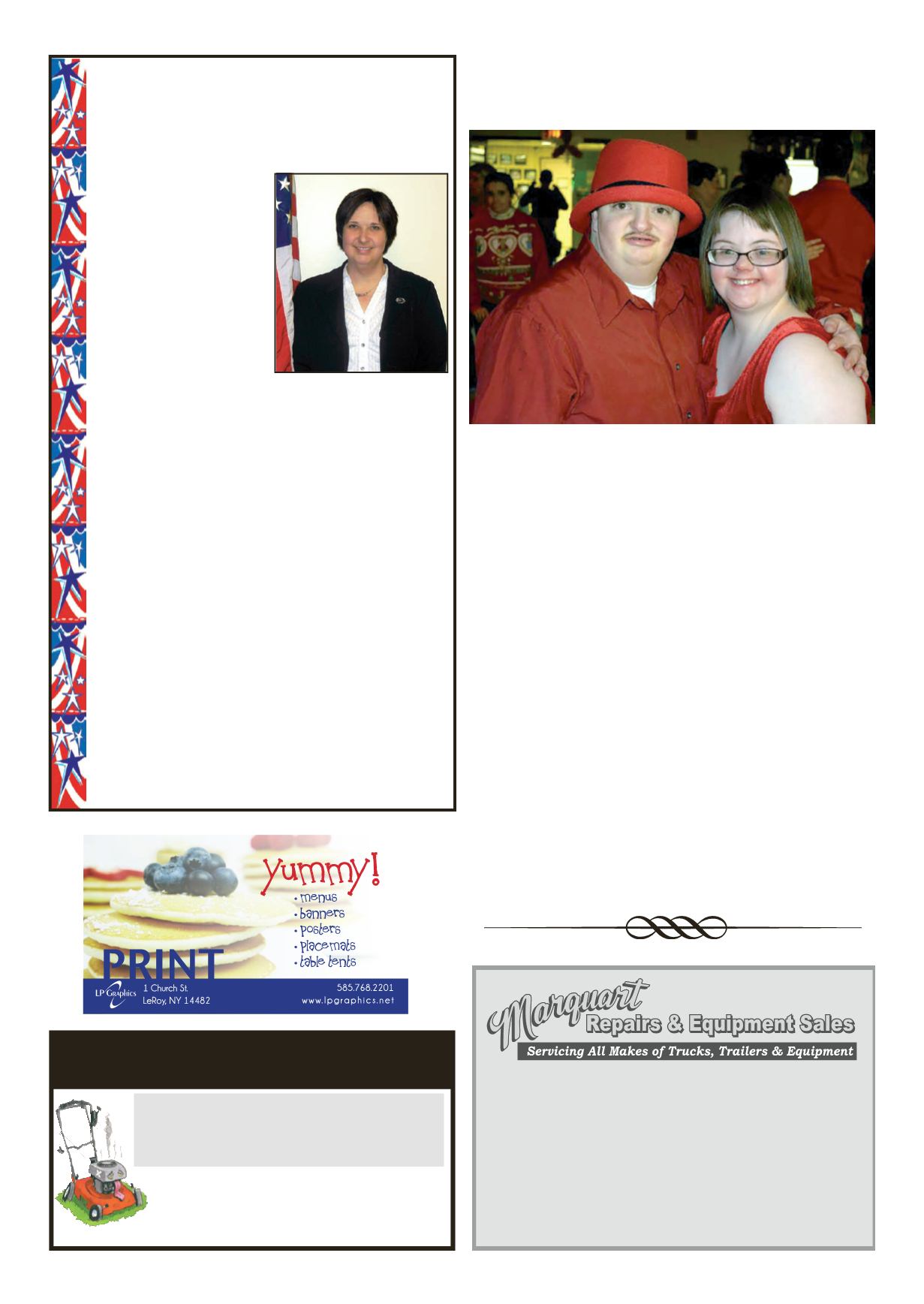 LE ROY PENNYSAVER & NEWS - MARCH 9, 2014
On Thursday, February 13th
at the Byron Fire Hall, 70 plus
attendees came together to cele-
brate Valentine's Day at Genesee
County's Adults with Develop-
mental Disabilities Valentine's
Attendees entered the heart-
filled Byron Fire Hall on a beau-
tifully mild February evening.
Most folks were dressed in red,
some even wore heart adorned
t-shirts. As usual, folks danced
to their favorite songs and en-
joyed the usual snacks. Uncle Joe
snapped photos between filling in
A highlight of the evening was
when our young ByronVolunteer
Fire Fighters paraded to the dance
floor leading the group inMichael
Jackson's "Thriller". Later on
the young men came back to the
dance floor in their fire fighter's
gear to lead the group in the
YMCA dance. February birth-
days were recognized prior to
our customary circle dances; the
chicken dance & the hokie pokie.
The next dance is the St. Pat-
rick's Dance on Thursday, March
13th. The dates for the dances
through May are as follows: the
April dance is a Pajama Dance
on Thursday, April 17th, and the
last dance of the season is on
Thursday, May 15th, it will be
All dances are 6:30 pm to 8:30
pm at the Byron Fire Hall on Rt.
262 near the Rt. 237 intersection.
The dances are sponsored by
Byron Ladies Auxiliary, and are
open to all folks with develop-
mental disabilities ages 13 and up
living in Genesee County, family
and caregivers are also welcome.
Adequate supervision is required.
Anyone wanting to volunteer or
need more information may call
Pat Iamon at 245-2918 or Laura
Photo Caption: Justin & Corrinne dressed in red Strike a Pose.
Volunteer Fire Fighters
Lead a Favorite Dance
RE-ELECT
JENNIFER KEYS
Endorsed by The Democratic Party,
The Conservative Party and
The Re-Charge Le Roy Party
private-
ly
could
to spend your tax dollars
to raze the building. The
between Bacon and Main Street. I now support keeping
the green space area public for our citizens to enjoy.
privately
repairing the Community Pool based on expert profes-
could
pool is now enjoyed by a record number of our citizens
and is supported by an energetic and creative private
citizen group that offsets tax payer expenses.
I supported a plan to provide moderately priced upscale
housing for Le Roy's Seniors so they can 'age in place'
in their own community. This project would have also
increased the tax base and would have created good
paying construction jobs.
"I base all of my decisions as your Trustee on facts be-
cause I am passionate about enhancing our community,
holding the line on taxes and thoroughly researching an
issue to come to an appropriate decision. While we may
not agree on every issue, I will always listen to everyone's
concerns and will look for common ground."
I am always available to listen -- call me at 585-469-9165
or email me at
•Engine and Transmission Rebuilds
•Lawn and Garden Equipment •ATV's, Dirt Bikes
•Pick Up and Delivery Available
Hours: Tues., Wed. 6 pm to 8 pm
Thurs., Fri., Sat. 9 am to 6 pm, Closed Sun., Mon.
8525 Rt. 237, Stafford, NY 14143
5195 Route 19 • Gainesville • NY
585-493-5174 or 585-493-2522
M-F 8:00 am - 5:00 pm; Sat. 8:00 am to 12:00 noon
Has A & B-Shift opening for a qualified
technician for Semi Truck and Trailer repairs
Must have experience in maintenance and repairs of all types of Trucks and Trailers.
Diagnostic software knowledge, NYS Inspectors License and CDL is a plus.
Competitive wages with uniforms and benefits.
Contact Mark Davis at 585-493-5174 between 8 am & 5 pm Monday through Friday.