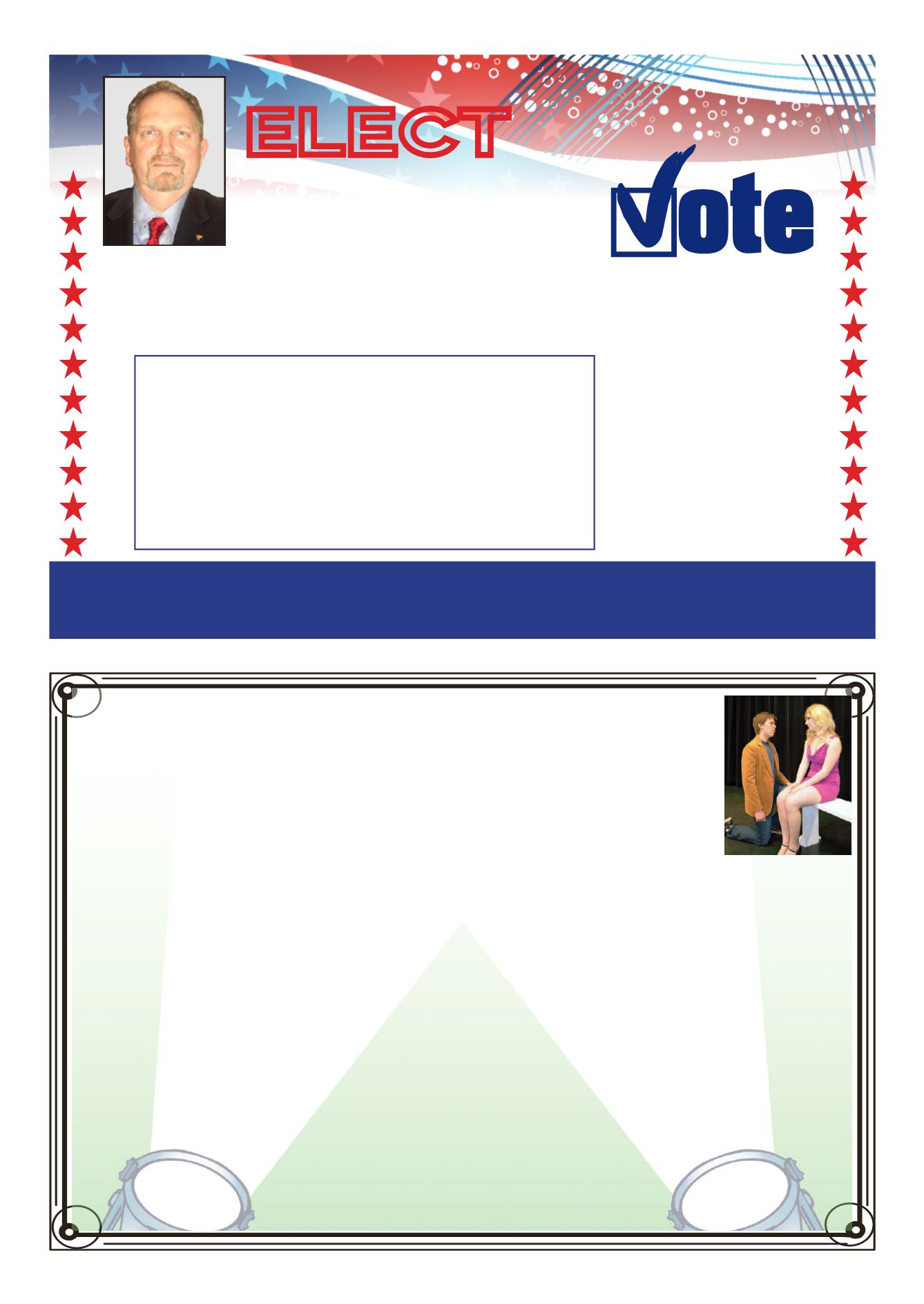 LE ROY PENNYSAVER & NEWS - MARCH 9, 2014
village of le Roy trustee
Experience, Knowledge, Common Sense
Elect
VOTE ROWS
"B" Republican
"C" Conservative
JOHN
MANGEFRIDA
• Life long resident
of Le Roy
• Prior Village Board
Member
• USAF Veteran
• Understands
Challenges
Facing the Village
• Willing to Listen
to All
Legally Blonde
-
The Jr/Sr High 2014 Musical!
We are so excited to be presenting an upbeat, funny, entertaining, and inspiring story for you this year. The cast,
crew, and pit are made up of 150 of the most dedicated students in grades 7-12. This show should not be missed!
Legally Blonde is the story of a girl, Elle Woods (Rachel Glucksman) who is judged by the way she looks. Her
boyfriend of four years, Warner (Danny Weaver) breaks up with her as he feels he is heading off to Harvard
Law School and needs to surround himself with more "serious" people. Elle in a rage, with support from her
friends decides to apply and gets accepted to Harvard Law School where she goes to win Warner's love back.
When she arrives at Harvard she is surprised to find that Warner has a new girlfriend, Vivienne (Katie Mellon). In her sorrow she is
befriended by a fellow law student Emmet (John Snyder) and a local hair dresser Paulette (Natalie Salphine) who teach Elle how to
become a dedicated student and find her way. Throughout the show you see Elle gain confidence in her intellectual side and become
successful. This show has many lessons about how to persevere, how to dream big and of course acceptance of people who are different
We hope that you will join us at one of our performance dates:
March 20, 21, 22 at Le Roy Jr./Sr. High School at 7:00 p.m.
Tickets are on sale starting, February 24, 2014 and will be available to purchase online,through the schools web site at leroycsd.org, in the
High School Main Office, or at the door on the evening of the performances while supplies last. Tickets are $8.00 pre-sale and $10.00 at the
door. This show is not to be missed! Get your tickets today!
Legally Blonde the Musical
Music and Lyrics by Laurence O'Keefe and Nell Benjamin • Book by Heather Hach
Based on the novel by Amanda Brown and the Metro-Goldwyn-Mayer motion picture
We are able to present this show with the approval by Musical Theater International.
Legally Blonde the Musical
Is presented through special arrangement with Music Theatre International (MTI). All authorized performance materials are also supplied by MTI.
421 West 54th Street, New York, NY 10019 • Phone: 212-541-4684 Fax: 212-397-4684