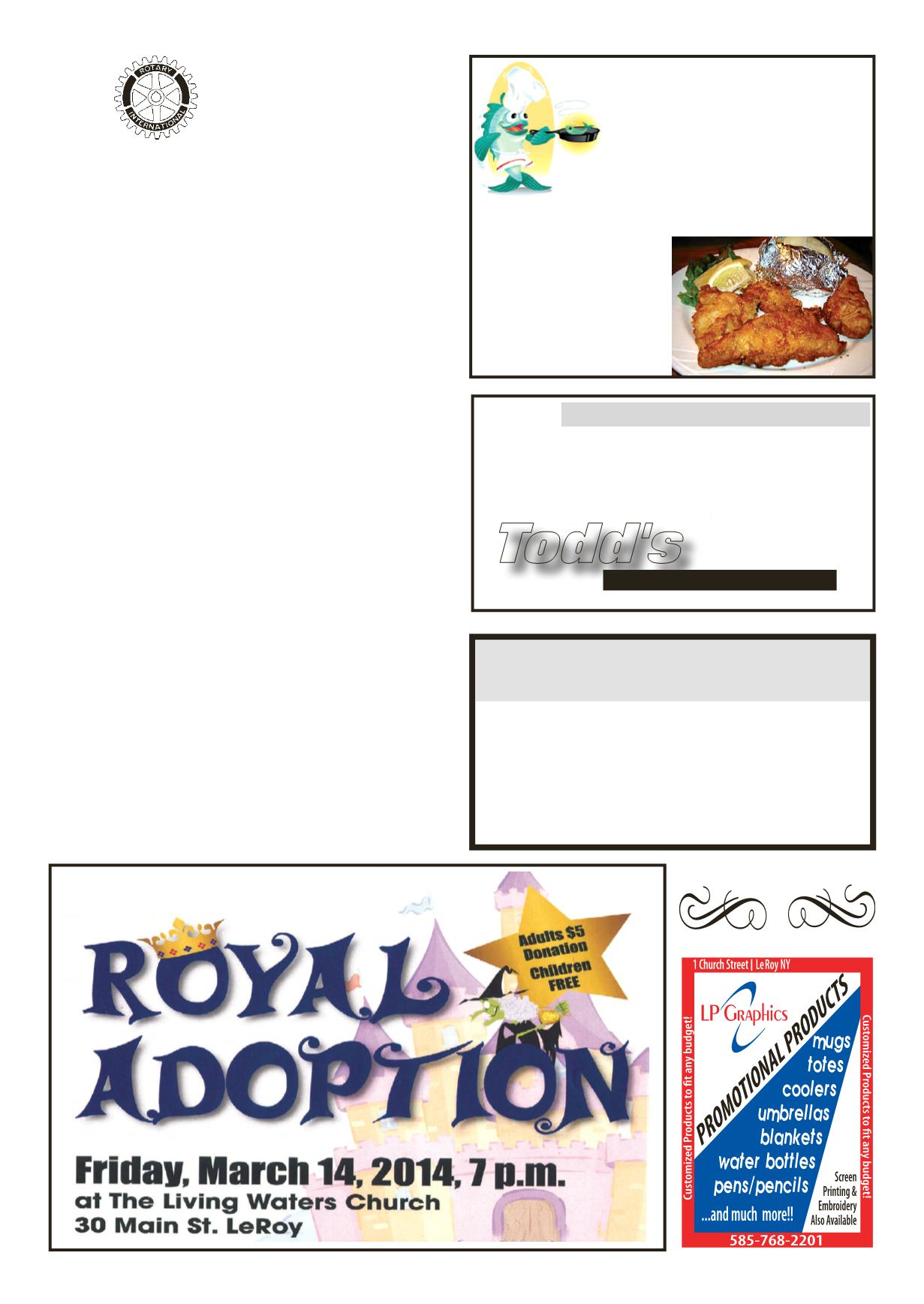 LE ROY PENNYSAVER & NEWS - MARCH 9, 2014
FISH FRY
(585-502-5155)
LeRotary
Notes
President Tracy Ford opened
our February 26th meeting with
the usual ringing of the Rotary
bell and proceeded to the
Pledge
of Allegiance
Our guests for the day were Gary
Churchill from the Batavia Rotary
Club and Le Roy High School Se-
We were reminded by Rotary
members of the following up-
Sunday, March 16th - Rotary
All You Can Eat Breakfast at the
K of C in LeRoy. Serving 8 am
Thursday, May 8th - United
Saturday, May 19th – Rent-A-
Saturday, June 21st – R.E.A.L
(Rotary Excited about Literature)
Rotarians sited for missed
meetings: Martha Bailey, Tom
Cox, Tim Cox, Tony Gugino,
Tracy Martorana, Jerry Mc-
Cullough and Tamara Torrey.
Fines were light this week
with Jerry McCullough and Joe
Giannettino not knowing the
answer to some Rotary Trivia,
Bob Bennett for getting back
some unused drink chips and
Tom and Kim Cox for a picture
enjoying the warm weather on a
Christine Gephart gave a won-
derful presentation about Posi-
tive Youth Development. Noted
were some of the key develop-
mental assets that assist young
people in growing up to be
healthy, caring and responsible
A few of the External Devel-
opmental assets were: Family
support, Positive Family Com-
munication, Caring School Cli-
mate, Parent Involvement in
Schooling, Adult Role Models
and Positive Peer influence.
A few of the Internal Devel-
opmental assets were: School
Engagement, Equality & Social
Justice, Responsibility, Resis-
tance Skills, Self Esteem and
LeRoy Rotary is proud to be
assisting in developing these
assets with programs such as
Interact - a club for youth ages
12-18 who want to connect with
others in their community or
school. Interact club members
have fun while carrying out ser-
vice projects and learning about
the world. And Earlyact – a club
for children in kindergarten thru
sixth grade that focuses on many
of these Developmental assets,
while teaching our young chil-
dren about their community and
The meeting was concluded
with the raffle drawing and was
adjourned for another week.
**Like us on Facebook at "Ro-
New Homes • Additions • Garages • Pole Barns
Todd Carli • Phone 703-0964
Todd's
Decks • Windows • Doors
Kitchens • Baths
Ceramic Tile
Basement Finishing
Custom Shelves/Built-Ins
Siding • Remodeling
Roofing • Snow Plowing
FULLY INSURED
ALL WORKMANSHIP GUARANTEED • INSURED
297-9097 • 768-7737
• Interior Painting
• Plaster/Lath Restoration
• Drywall & Drywall Repair
• Texture Removal
• Floors Stripped
& Refinished
• Old Ceilings & Walls
Made Like New!
Mike Darby's Patch & Paint