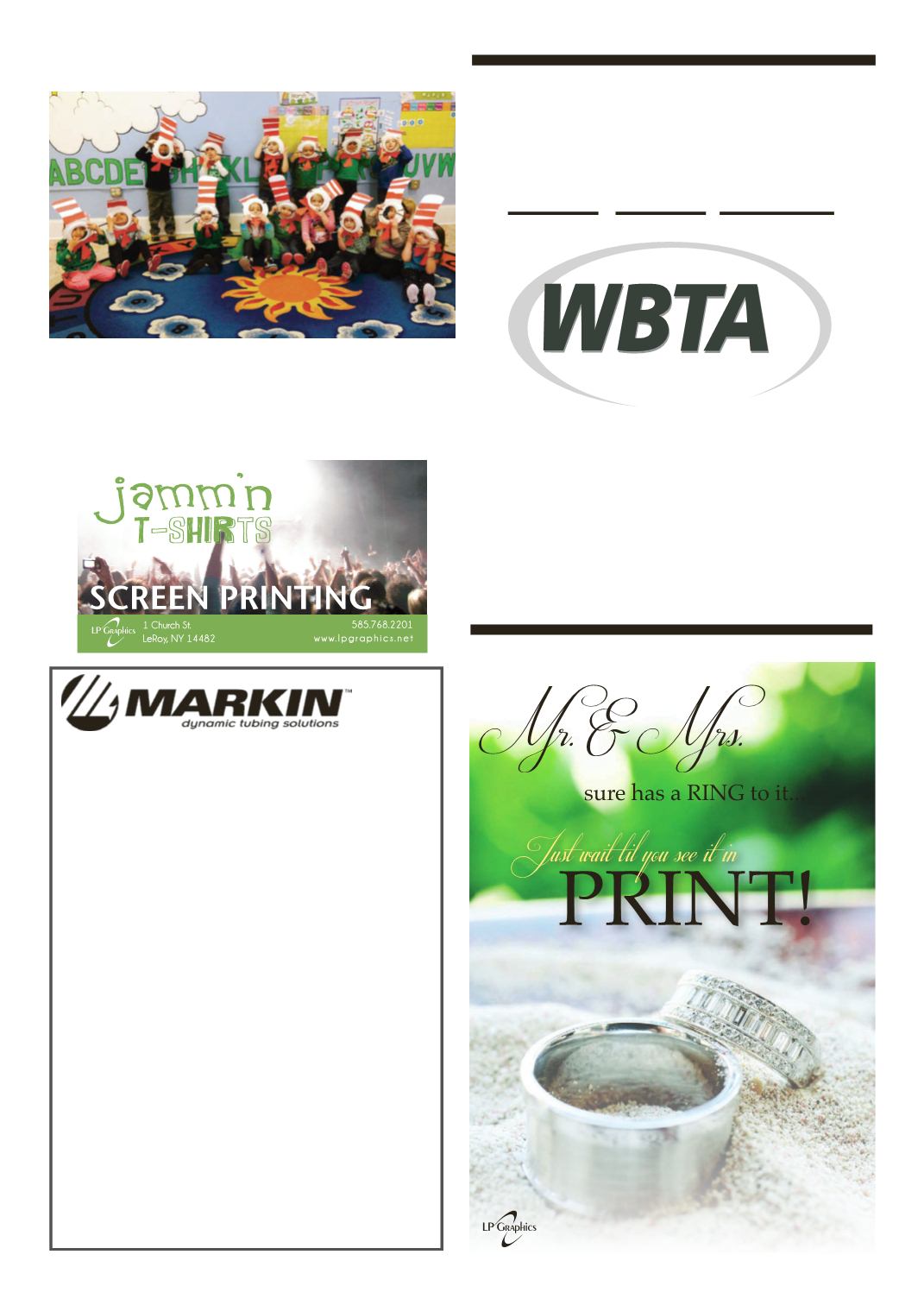 LE ROY PENNYSAVER & NEWS - MARCH 9, 2014
i
WBTA Radio - 113 Main St., Batavia, NY - (585) 344-1490
1 Church St., LeRoy, NY 14482
585.768.2201
Markin Tubing, a leading manufacturer of steel tubing serving the
worldwide automotive and appliance markets seeks a qualified
Electrician to work 3rd shift (midnight to 8 am). Markin's Wyoming,
New York facility is located between Buffalo and Rochester, 10
minutes south of the village of LeRoy in western New York.
Full benefits, $18.92/hr start rate.
The successful candidate will have the following skills:
- 4+ years industrial electrical experience
- Ability to troubleshoot production machinery including
- Ability to read and interpret blueprints and schematics
- Practical knowledge of National Electric Code (NEC)
- Working knowledge of PLCs
- Working knowledge of feeders, power circuits, limit switches,
proximity switches, pressure switches, flow switches, pushbuttons,
solenoids, encoders and lockout/tagout
- Must know how to run EMT and RGC
- Willing to work 3rd shift
- Knowledge of motors/controls, variable speed drives, induction
heating, and a Journeyman certification are all +'s
Apply in person at Markin Tubing, One Markin Lane, Wyoming, NY 14591, or
PO Box 242 - One Markin Lane
Sunshine Nursery School's nursery class had an exciting week
celebrating Dr. Seuss's birthday. They read several of his books
and enjoyed many Dr. Seuss activities. Among their favorites
were making a Cat In The Hat mask, Thing 1 and Thing 2 pup-
pets and cooking and tasting green eggs and ham. Several chil-
dren were in agreement ... they DO like green eggs and ham!
Happy Birthday Dr. Seuss!