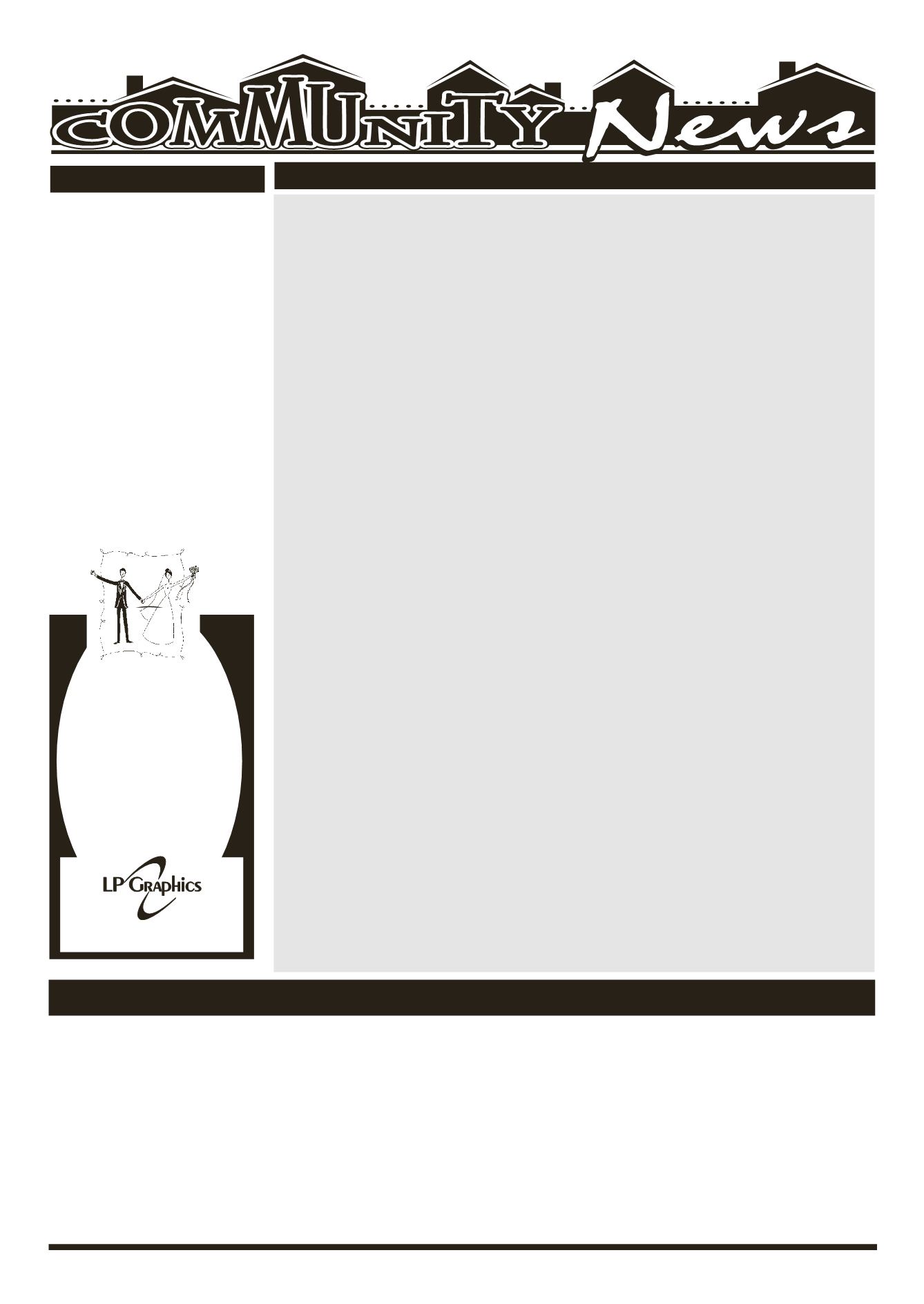 LE ROY PENNYSAVER & NEWS - MARCH 9, 2014
All Genesee County residents, 60 and older, can take part in this week's activities at the Batavia Senior Center, 2 Bank St., Batavia. For more information, call 343-1611.
SENIOR CITIZENS ACTIVITIES
WEEKLY EVENTS
OBITUARIES
Tax Preparation
is available by appointment beginning at 9:00 a.m.;
Arthritis Exercise
is scheduled to begin at 9:30 a.m.;
Bridge
uled to begin at 11:30 a.m.
The Alzheimer's Association Meeting
is scheduled to begin at 8:30 a.m.; along with the
Caregiver's Program
Cribbage
is scheduled for 1:00 p.m.
Tax Preparation
is available by appointment beginning at 9:00 a.m. Additionally, the
OmbudsmanMeeting
is set to begin at 9:00 a.m.;
Quilters
are scheduled to meet at 9:00 a.m. and
Euchre
is scheduled to begin at 1:00 p.m.;
The Medicare 101 Meeting
is scheduled for 5:00 p.m.
A representative from Independent Health
will be available from 9:30 a.m. to 11:30 a.m.;
Cribbage and Bridge
is scheduled for 1:00 p.m.
Musical Keyboard Lessons
are scheduled to begin at 2:30 p.m.
Legal Services
are scheduled for the day by Appointment ONLY.;
Art Class and Line Dancing
Tai Chi
Advertising Templates
Entire contents copyrighted by Carlson Craft ® .
All rights reserved. 12-07
Invitations, Save the Date Cards,
Wedding Accessories, Ceremony,
Reception Essentials, Bridal Party
Visit us today!
with wedding invitations and accessories
Stop in today to view our extensive collection
for every style and budget!
lpgraphics.net, Hours: Mon.-Fri. 8-5 p.m.
1 Church St., Le Roy • 768-2201
SUNDAY, MARCH 9
AWANA Program at Penuel Christian Fellowship.
days 12:15 to 1:45 pm. Ages 5-17 broken into groups. Developing friendships.
Having fun. Learning about God. Safe environment.
Konnect Youth Group at Living Waters Church,
days from 6:30 to 8:30 pm for ages 12-18. "Bring Down all theWalls! Connect
with God and Connect with others." For more information, check us out online
at: livingwatersleroy.org/konnect-youth-ministry/
MONDAY, MARCH 10
TOPS (Take Off Pounds Sensibly)
meets Monday evenings from 6:30-7:15
pm at the LeRoy Presbyterian Church, corner of Clay &Main Sts.Visitors always
welcome. Call 768-2933 for more info.
TUESDAY, MARCH 11
LCCP's GRACE'S KITCHEN:
A FREE dinner every Tuesday evening, 5-7 pm at
theLeRoyUnitedMethodistChurch,10TrigonPark.ParkingavailableonTrigon
Park & the lots to the left and back of the Church. Handicapped Entrance in the
back of the Church. Takeout & delivery are available. For more info. contact
Selby Davis at 585-738-8882 or
Woodward Memorial Library Board of Trustees meet
WEDNESDAY, MARCH 12
Village of LeRoy Board Meeting,
7 pm at theVillage Hall,West Main St.
Writer's Workshop
at theWoodward Memorial Library for children in grades
1-3, from 3:15 to 4:15 p.m. Attend a workshop and write a story that will be
entered in the PBS Kids Writers Contest. Register online at
memoriallibrary.org or call 768-8300.
Catching Fire - Movie Showing
at the Woodward Memorial Library, at 5:30
p.m.Watch Catching Fire in the Community Room at the Library on a big screen
with surround sound. Free popcorn provided. Rated PG-13; 146 minutes. Reg-
LeRoy Town & Country Garden Club Meeting,
@ First Presbyterian Church. Marilyn Palotti will help us work on a project to
get us in the mood to begin our decorating for the season. You're invited to
come and join us. Contact Ann Walters at 737-9481 or 768-8130 for more
information on what materials you will need to bring.
THURSDAY, MARCH 13
Genesee Veterans Support Network
(GVSN) supports the development
of Veterans focused AA meetings every Thursday, 6-7 pm at the First Bap-
tist Church, 306 E. Main St., Batavia. Meetings led by Mike W. & are open to
non-veterans as well. Handicap accessible. For additional information call
GRACE'S CLOSET: A Clothing Giveaway Program
United Methodist Church, 10 Trigon Park, Le Roy. 9:30 am to 11:30 am every
Thursday. We have warm clothing for all ages. Bedding, curtains, comforters,
pajamas, shoes, boots. We are in need of winter coats for all ages. We accept
donations to be dropped off at the house next to the church. Please put all
bags INSIDE on the back porch. No electronics, TV's, computers, dishes, etc.
Any questions, call the office 768-8980.
Town of LeRoy Board Meeting
, 7 pm at the Town Hall Board Room, 48
FRIDAY, MARCH 14
Penuel Christian Fellowship,
One Step to Freedom addictions ministry, a
Christ Centered Addictions program, a weekly meeting every Friday at 7 pm.
Call the Church for more information at 768-6901 or 406-3863.
LCCP's Pleasant Street Players Presents: ROYAL ADOPTION, Friday, March 14,
2014, 7:00 pm , LivingWaters Church, $5 donation for adults, Children free.
UPCOMING EVENTS
LCCP's Mommy & Me Playgroup: Every 2nd & 4th Friday,
Le Roy Physical Therapy (in the back gym). Any moms and their birth-kin-
dergarten children are welcome to come enjoy socialization, lunch, coffee,
structured games & free play. $5 per mom
Wyoming Hook & Ladder - ALLYOU CAN EAT BREAKFAST
16, 2014, 8 am - 12:30 pm, Adults: $8.00 Children: 10 and under $4.00.
The March Meeting of the Le Roy-Stafford Senior Citizens
on Wednesday, March 19, 2014 at 6 pm at the K of C Meeting Hall on West
Main St., behind Save A Lot. This will be a pot luck supper and you should
bring your own place setting and a generous dish to pass. Dessert will be
provided. Program will be Musical Entertainment.
The LeRoy Nursery School is having a Spaghetti Dinner
Friday, March 21 from 4-6 pm at the Leroy Presbyterian Church, 7 Clay Street.
The dinners are $6.00 each and include a salad and bread. It is take out only.
All proceeds go to the Leroy Nursery School. For ticket information, please
contact Betsy at 585-356-4506.
LCCP's 2nd Annual Dodgeball Tournament:
pm, Our Lady of Mercy Parish Center (Former HFS Gym) We are accepting the
first 12 teams, so get registered ASAP. Contact Lauren Humphrey for more
information; 585.615.4213.
Wyoming Hook & Ladder - MapleWeekend "MINI"Breakfast
March 23, 2014, 8 am - 12:30 pm, $5.00 per person.
Community Calendar Submissions should be sent to:
BERGEN—Kevin Ladd, 54, passed
away Wednesday (Feb. 26, 2014).
In lieu of flowers, contributions may
be made to the Wilmot Cancer Cen-
ter or Bergen Volunteer Ambulance.
LE ROY — Dorothy M. Truscott, 94,
passed away on Sunday (March 2,
EAST BETHANY — Mary Louise
Norton, 77, passed peacefully at
home on Tuesday (March 4, 2014)
surrounded by her loving family. Me-
m ri ls may be made t th Betha-
ny Volunteer Fire Department, 5253
Old Telephone Rd., East Bethany,
NY 14054 or to Mary Immaculate
Parish, 5865 Ellicott St. Rd., East