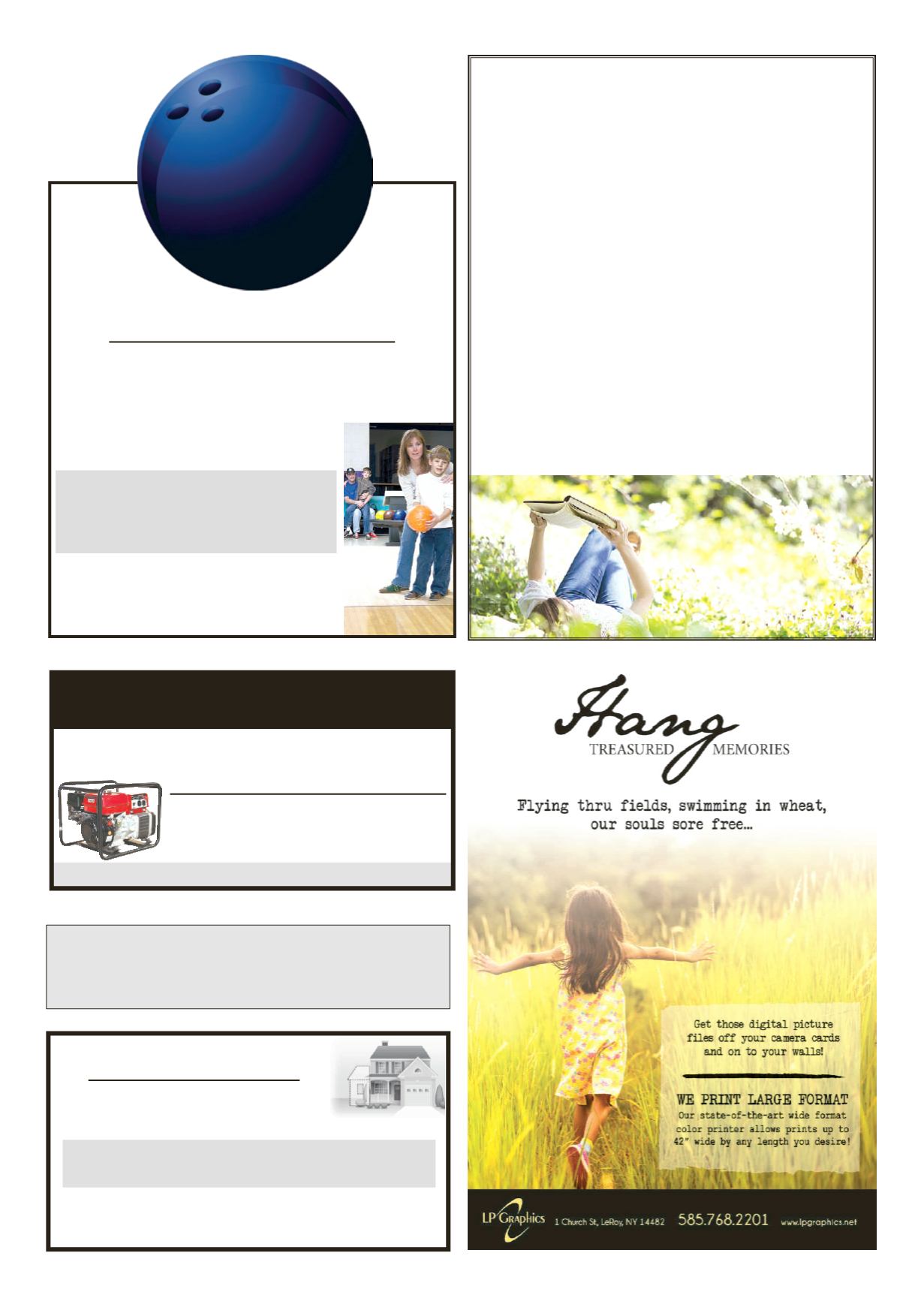 LEROYPENNYSAVER&NEWS - SEPTEMBER 4, 2016
TheWoodwardMemorial Library
would like to
thank
the following for
helpingmake our summer reading
programs a great success:
AdventureCallsOutfitters, AdventureLanding,
BataviaMuckdogs, BuffaloBills,
BW's&DavisCountrysideMeadows,
Crnkovich's FarmMarket, DarienLakeAmusement Park,
GeneseeCountryCampground, GeorgeEastmanHouse,
GevaTheater, Herschell Carrousel FactoryMuseum,
HobbyHorse, Kellie'sCuts, Lakestreet Florist,
LeRoyCountryClub, LeRoyPhysical Therapy,
LeRoy'sNoFinerDiner, LPGraphics,McDonald's,
MedinaRailroadMuseum,Mill StreetWines&Liquors,
Mooney's SportsBar&Grill, PizzaLand, S&SLimousines,
Save-A-Lot, SeabreezeAmusement Park,
SkyZoneTrampolinePark, Smokin' EagleBBQ,
"CompleteCarpentry Service"
M
ILLER
B
ROTHERS
B
UILDERS
CustomHomes •Remodeling•Additions
Roofing• Siding
DANIEL
MICHAEL
SUPPORTYOUR LOCALADVERTISERS!
They help sponsor the local news section of the Le Roy Pennysaver.
THANKS FORYOUR SUPPORT!
SIGN-UPS
LeaguesNowForming!
INDIVIDUALS andTEAMSWANTED
MondayNight Ladies - 4PersonTeam
TuesdayNight 4Man,Women orMixed
WednesdayNight 5Man,Woman orMixed
ThursdayNight 4Man IndividualsNeeded
LeRoy
Legion
Lanes
53WestMainSt.
LeRoy, NY
585-768-8597
Saturday, Sept. 10th
StartingatNoon
$20RegistrationFee (includes SanctionFee&T-shirt
ATV's • Snowmobiles •Generators • Snowblowers
Tuesday-Friday, 10 am to 4 pm, OtherTimesByAppt.
8525Rt. 237, Stafford, NY
Service&Repairs -ALLMAKES&MODELS
PickUp&DeliveryAvailable
AllMajorCredit CardsAccepted