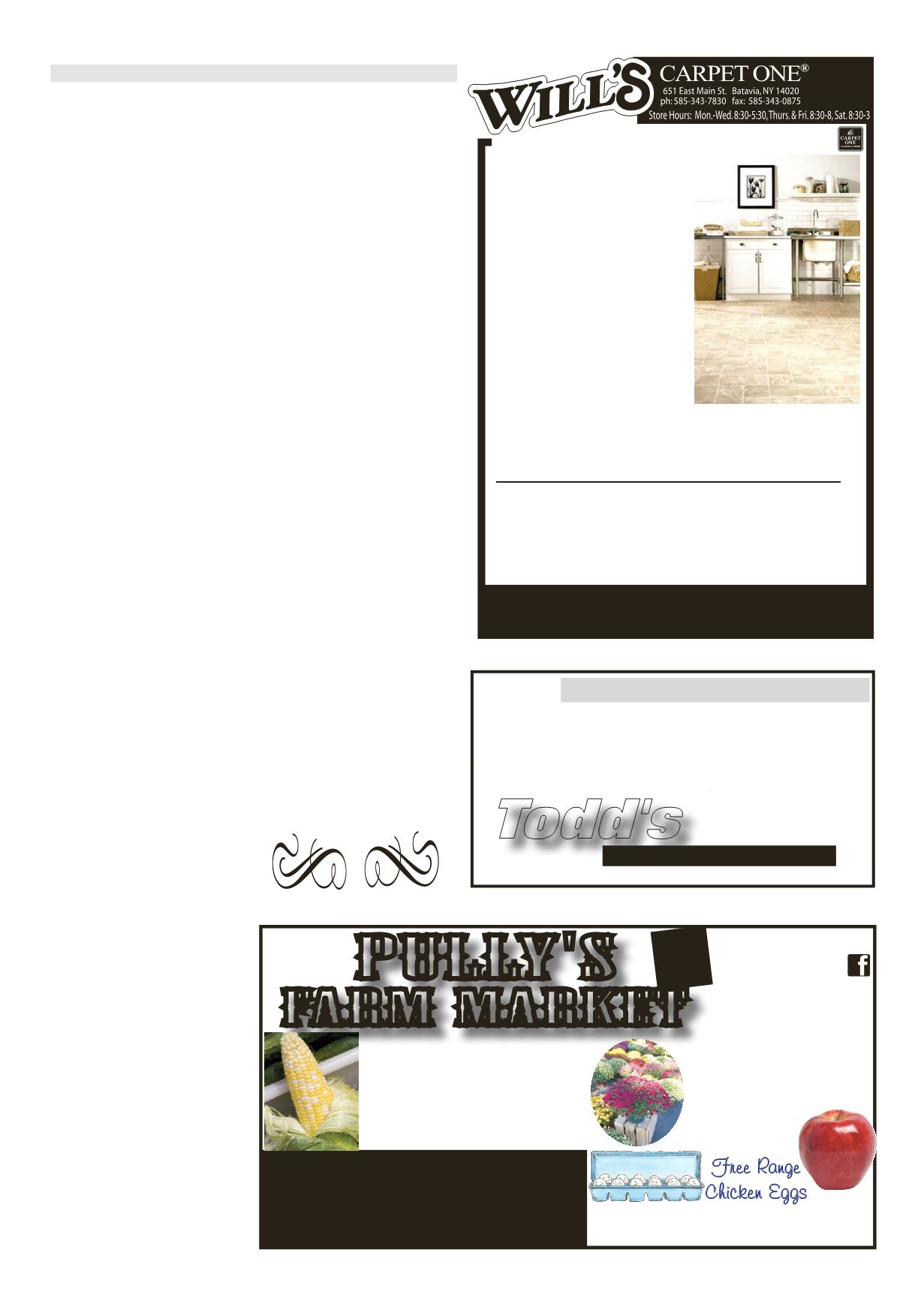 LEROYPENNYSAVER&NEWS - SEPTEMBER 4, 2016
byKimCox,Superintendent
LeRoyCentral Schools
The2016-2017 school year has
arrived! Throughout this very
busy summer, we have watched
our entire campus transform be-
fore our eyes. There is stillwork
to be completed, but we will be
ready to welcome our staff and
students onSeptember 6th.
Here is themost recent update
SiteWork:
both buildings is complete and
will be ready for the new traffic
patterns beginning on the 6th.
Classrooms andCorridors:
Wolcott Street, Trigon andLapp
will be completed by the 6th,
however, there will be some
finishes such as flooring, ceiling
tilesandsomecabinetry thatmay
need to be added once school
starts.Weknew thiswouldbe the
case, and have planned to have
some temporary items in place.
WSS Kitchen:
will be 90% complete by the
6th, however, there are a few
pieces of equipment that won't
be fully installed until later in
September. Our lunch menu is
complete for September and
there will be no interruption of
lunchat thisbuilding.Weplan to
start theyearasweended,witha
temporary kitchen operating for
Trigon Gym:
WSS Gym and the New
Media Library/Center:
projects areongoing andnot due
to be completed until later in
Hartwood Park:
ready to open by our September
Jr. -Sr.HighSchoolLibrary
and Cafeteria:
tional, but are waiting for a few
finishes. The cafeteria at the Jr.-
Sr. High School may take a few
weeks intoSeptember, but lunch
MainOffice inBothBuild-
ings:
to completion, but our priority is
student space, so work on these
will resume when classroom
We are so excited about the
changes to the campus. It is
going tobegreat! There is a tre-
mendous amount of work being
completed through thisweekand
through theLaborDayweekend.
There is so much happening.
What looks discouraging one
day, the next day is ready! Our
own building and grounds crew
have worked diligently to ready
our spaces for learning. The im-
portant thing is that thebuildings
aresafeand ready foroccupancy,
althoughnotnecessarilyas"pret-
ty"asusual. Thankyou for your
patienceandunderstanding. Ias-
sureyou thewaitwillbeworth it!
At this time Iwould like to in-
troducesomenewpeople joining
our LeRoy family. At the Jr.-Sr.
HighSchool: JenDean, Athletic
Director;KristenHake,Psychol-
ogist; Brigid Norton, Business
Teacher and Zack Paley, Math
Teacher. New at the Wolcott
Street School: Chelsea Eaton,
Assistant Principal; Jamie Tur-
man,2ndgrade teacherandStacy
Wilson, 3rdgrade teacher.Core-
ena Green is a new secretary in
thespecial educationdepartment
andTammyTiberio isanew food
I look forward toanother excit-
ing year of continuous improve-
ment and can't wait to have all
of our students back with us on
Tuesday, September 6, 2016!
Enjoy the remaining days of
8160LakeRd. (Rt. 19)
LeRoy, NY
1/2mile southof Thruway
768-2280 • 704-1157
Hours:Mon.-Sat. 9-6, Sunday9-5
pullysfarmmarket.com
Jams • JellyHoney • Syrup
Gift CertificatesAvailable!
NowAvailable!
Watermelon •Cantaloupe • Peppers
Pears • Summer Squash •Zucchini
Onions •Tomatoes • Peaches
(PaulaRed)
TheONE store for your perfect floor.
FLOOR
&HOME
•Professional InstallationAvailable
•FinancingAvailable forQualified
Sale!
In-Stock
FiberFloor
Vinyls
99
¢
Large&SmallCarpetRems
• Professional BindingAvailable
NewHomes •Additions •Garages •PoleBarns
ToddCarli • Phone 703-0964
Todd's
Decks •Windows •Doors
Kitchens •Baths
CeramicTile
Basement Finishing
CustomShelves/Built-Ins
Siding •Remodeling
Roofing • SnowPlowing
FULLY INSURED