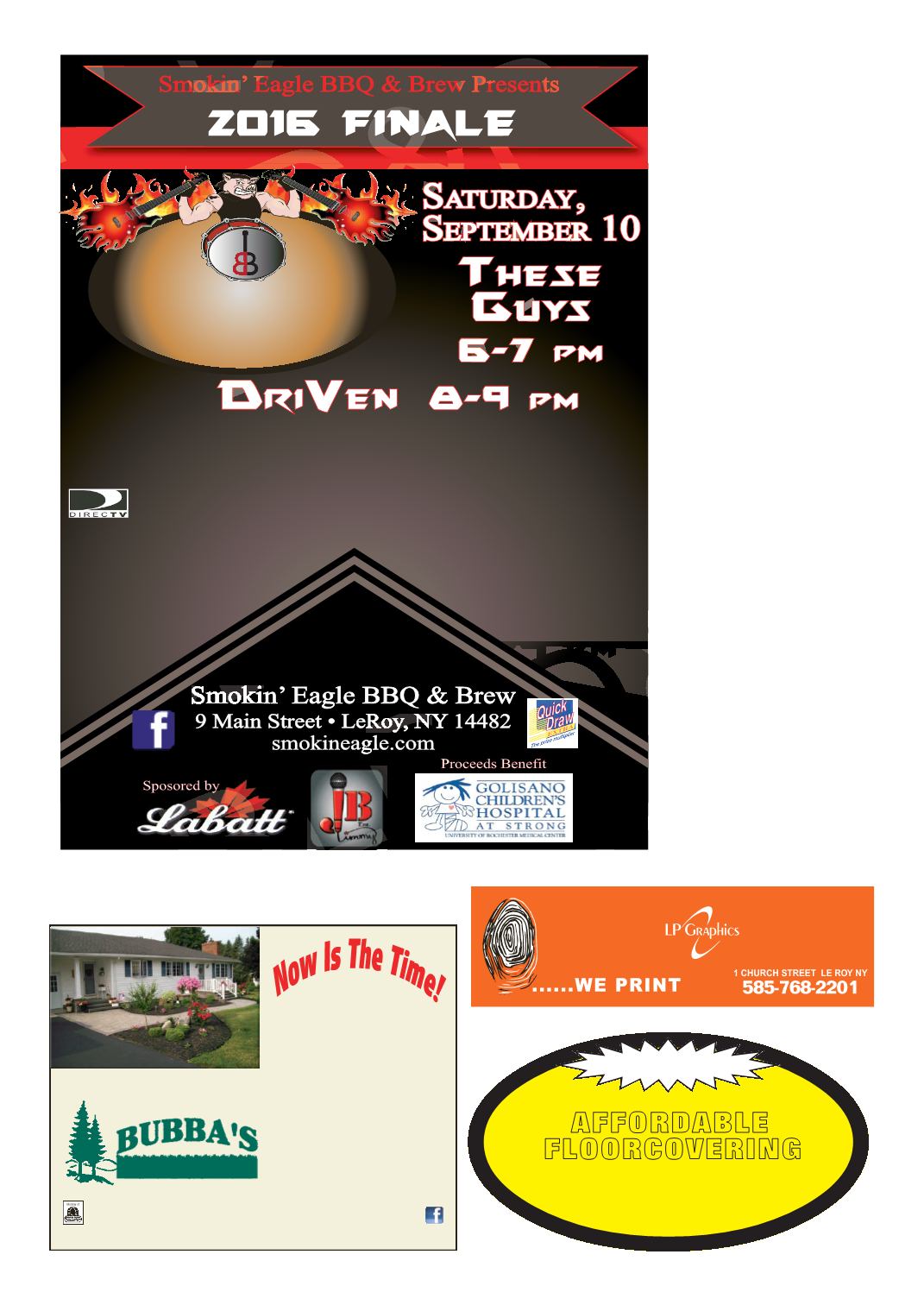 LEROYPENNYSAVER&NEWS - SEPTEMBER 4, 2016
LEROYflagRED team started
off the year against Hornell with
quarterback Ryder Stiles show-
ing great command in a motion
offensehittingDonovanGaillard
with an early touchdown pass
to open up the seasons scoring.
Stiles would continue to feed
Gaillard with a variety of hand
offs and passes as Gaillard was
too fast for theHornell defenders
tohandleashe found theendzone
Andreas Condidorio found the
end zone as time expired with a
dramatic highlight reel run. The
RED teamdefensewasanchored
by the right side which left no
openings for Hornell backs.
Chandler Hall had a touchdown
JacobKochmanski,andCarson
startedof theseasonagainstHor-
nell with Jude Christ at quarter-
backcommanding theoffenseby
feeding Grady Kanaley delayed
handoffs that Kanaley would
take the distancemultiple times.
Marin Kemp showed some girl
power as she found the end zone
onabeastmode type run that left
Hornell defenders helpless. An-
choring the black teams defense
was Christ & Kemp along with
some nice plays from Brayden
Wilson andCameronDunaway.
LeRoyFlag
Football
81 LakeSt., LeRoy
Thebest time for
trimming shrubsand for
newplantings isuponus.
Call now to set-up your appointment.
Patios •Walkways • Firepits
VALU HOME PLAZA • WEST MAIN • BATAVIA
AFFORDABLE
FLOORCOVERING
AFFORDABLEFC.COM
585-345-1108
M-W-F,8-6pm
Thurs.8-7pm, Sat.8-3pm
0
%
Financing
lpgraphics.net
Please joinus
Sunday, September11th
forOpeningDay
of theNFL
Congratulations to "RadioRelapse"
& toall other competitors
"TheseGuys"
competeat6pm
BBQEatingcontest
7pm
"Driven"
competeat8pm
VS.