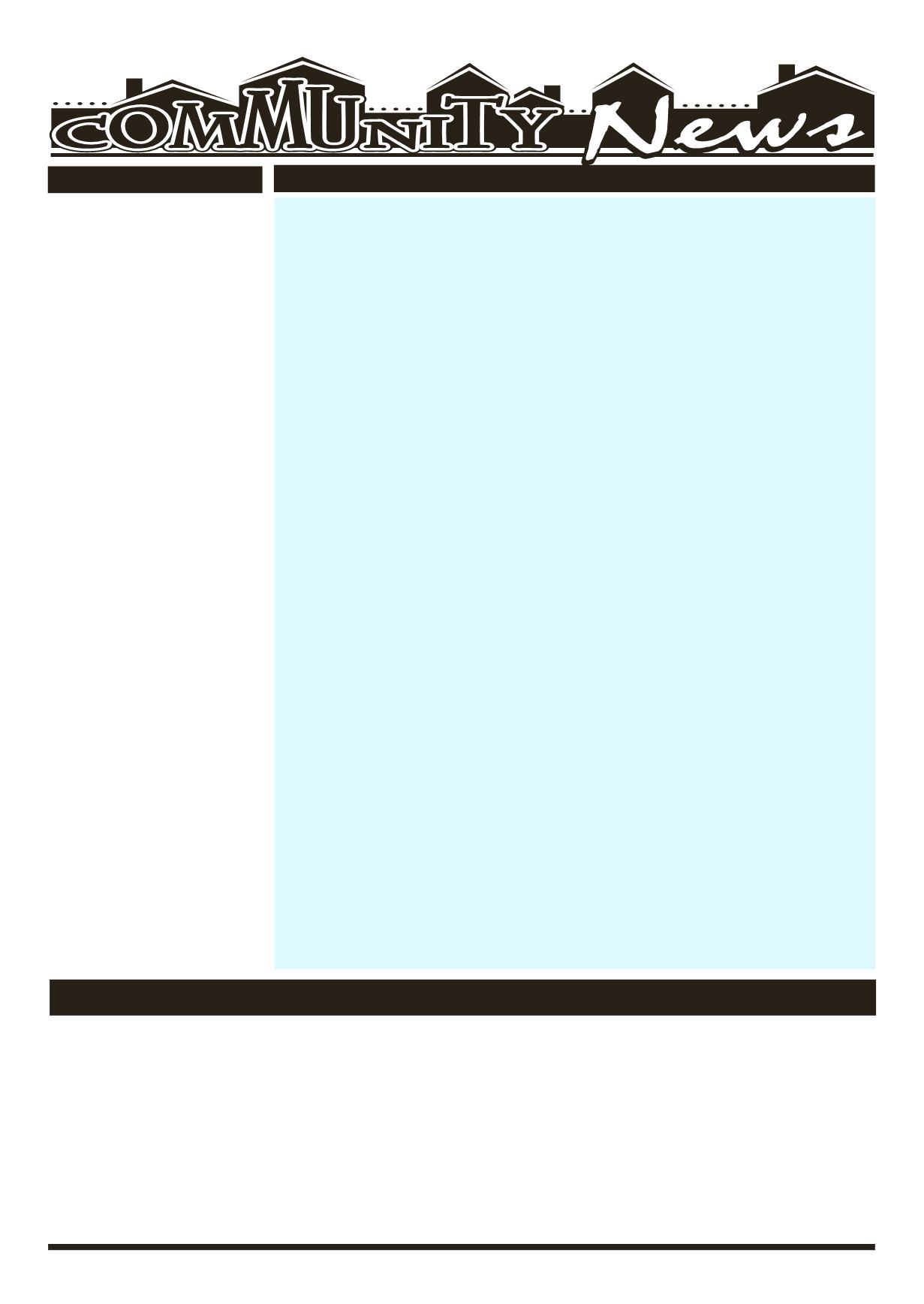 LEROYPENNYSAVER&NEWS - SEPTEMBER 4, 2016
All GeneseeCounty residents, 60andolder, can takepart in thisweek'sactivitiesat theBataviaSenior Center, 2BankSt., Batavia. Formore information, call 343-1611.
SENIORCITIZENSACTIVITIES (September 5th - September 9th)
WEEKLYEVENTS
OBITUARIES
LaborDayHoliday–SeniorCenterClosed
Cribbage
is scheduled tobeginat1:00p.m.
Quilter'sGroup
is scheduled tobegin at 9:00 a.m.;
Alzheimer'sAssociationMeeting
is scheduled tobegin at 9:00 a.m.;
Euchre
isscheduled tobeginat1:00p.m.;
OfficefortheAgingAdvisoryBoardMeeting
isscheduled tobeginat1:00p.m.
Cribbage
isscheduled tobeginat1:00p.m.;
Bridge
isscheduled tobeginat1:00p.m.
Legal ServicesBYAPPOINTMENTONLY
is scheduled for this day;
Art Class
is scheduled tobegin at 10:00 a.m.;
Line
Dancing
is scheduled tobeginat10:00a.m.;
Euchre
is scheduled tobeginat1:00p.m.
SUNDAY, SEPTEMBER4
MONDAY, SEPTEMBER5
TOPS (TakeOffPoundsSensibly)
meetsMondayevenings at the
LeRoyPresbyterianChurch, cornerofClay&MainStreets.Doorsopen
at 6:00 pm andmeeting is from 6:30-7:15 pm. Visitors are always
welcome. Call 585-768-7103 formore information.
TUESDAY, SEPTEMBER6
Preschool Storytime :
Every Tuesday at 11 am featuring stories,
craft and songs at PavilionPublic Library, 5WoodrowDr., Pavilion.
LCCP's GRACE'SKITCHEN:
A FREE dinner everyTuesday evening,
5-6:30pmat theMasonicCommunityCenter on12BankSt. Plenty
of parking. Takeout &delivery are available. Formore info. contact
SelbyDavisat585-738-8882or
GRACE'SCLOSET:Aclothinggiveawayprogram
RoyUnitedMethodistChurch,10TrigonPark,LeRoy,9:30amto11:30
ameveryThursday.Wehave clothing for all ages. Weare inneedof
boy's clothing sizes 0-3T. Donations canbedroppedoff at thehouse
next to the church. Pleaseput all bags INSIDEon thebackporch. NO
ELECTRONICS, COMPUTERS,DISHES,etc.
OpenTuesdays5-6:30pm.
Anyquestions call theoffice768-8980.
WEDNESDAY, SEPTEMBER7
THURSDAY, SEPTEMBER8
Town of LeRoy BoardMeeting,
7 pm at the Town Hall Board
MovieShowingofMeBeforeYou foradults
WoodwardMemorial Library, 110minutes, RatedPG-13.
Registration is required. Call 768-8300 or register online at
FRIDAY, SEPTEMBER9
Penuel Christian Fellowship,
One Step to Freedom addictions
ministry, a Christ Centered Addictions program, aweeklymeeting
every Friday at 7pm. Call the Church formore information at 768-
PenuelChristianFellowship
isorganizingayoungadult fellow-
ship andBible study. Ages: 12 andup, Time: Fridays from7-9pm,
Study: the book of Romans (a 16week course), taught by Josiah
Gariboldi.Place: 7115WestMainStreet.
SATURDAY, SEPTEMBER10
VeteransOnlySocialClub -
GeneseeVeteransSupportNetwork
announcesanewmeeting locationatScooter'sFamilyRestaurant,
3711WestMain Street Road, Batavia, NY - for the once amonth
VeteransOnlySocial Club.Meetingsareheld the secondSaturday
of eachmonth from 7:00 to 8:30 PM. Veterans of all eras are in-
vited to attend. GVSN is located at 3837WestMain Street Road,
Batavia, NY. For more information, contact GVSN, PO Box 541,
UPCOMINGEVENTS
The Stafford United Methodist Church is working in
partnershipwith Foodlink of Rochester to sponsor the
Foodlink FreeMobile FoodPantry.
It will be held from 4 to
5:30p.m., September 16at EmeryPark, locatedat 6061Route5
in Stafford. The exact items are not known, but fresh produce is
alwaysavailable. Food isdistributedonafirst-come,first-served
basis while supplies last. There is no income or ID requirement
but recipients must be 18 years of age and provide their own
The Genesee Valley CivilWar Roundtable
on"EmoryUpton -TheFormationofModernAmerica",Wednesday,
September 21st at 7:00 pm. Themeetingwill take place at LeRoy
UnitedMethodistChurch,3rddooron rightendof longsidewalk,10
TrigonPark, LeRoy, NY. Discussionperiodwill followprogram. New
St.Mark'sEpiscopal Church
, 1EastMainSt in LeRoywill hold
SecondAnnual TakeoutRoastPorkDinner
September 24th from 11am til sold out. Pre-sale tickets are
recommendedandcanbepurchased fromanyparishioneror the
churchoffice.St.Paul'sEpiscopalChurch,Stafford,willbeoffering
whole or by the slice fruit pies for sale during the pickup hours.
Please call StMark'swithanyquestions; 768-7200.
CommunityCalendarSubmissions shouldbe sent to:
BERGEN -StephenC.Dermody,77,
passed away on Thursday August
25, 2016 at Strong Memorial Hos-
pital inRochester. In lieuof flowers,
memorials may be made to the
Bergen Evangelical Presbyterian
Church, 38SLakeAve,Bergen,NY
14416 or thedonor's choice.
CALEDONIA - Floyd J. Manley
passed away unexpectedly on Au-
gust 24, 2016at age75.Memorials
may be made to Caledonia Fire
Dept., PO Box 1, Caledonia, NY
14423orTeresaHouse,21Highland
CALEDONIA- Shannon Comstock,
52, diedAugust25,2016.Acelebra-
tion of Shannon's lifewill be held at
LEROY ~ Robert J. Lathan Sr.,
age 82, of Munson Street, passed
away Sunday morning (August 28,
2016) at UnityHospital in the loving
presence of his family. In lieu of
flowers, memorials are suggested
to the Wilmot Cancer Center, 601
Elmwood Avenue, P.O. Box 704,
MUMFORD - John Kelly passed
away August 28, 2016 at the VA
Hospital inBuffalo. No serviceswill
be held. Memorialsmay be sent to
his sister Margaret Clyne, PO Box