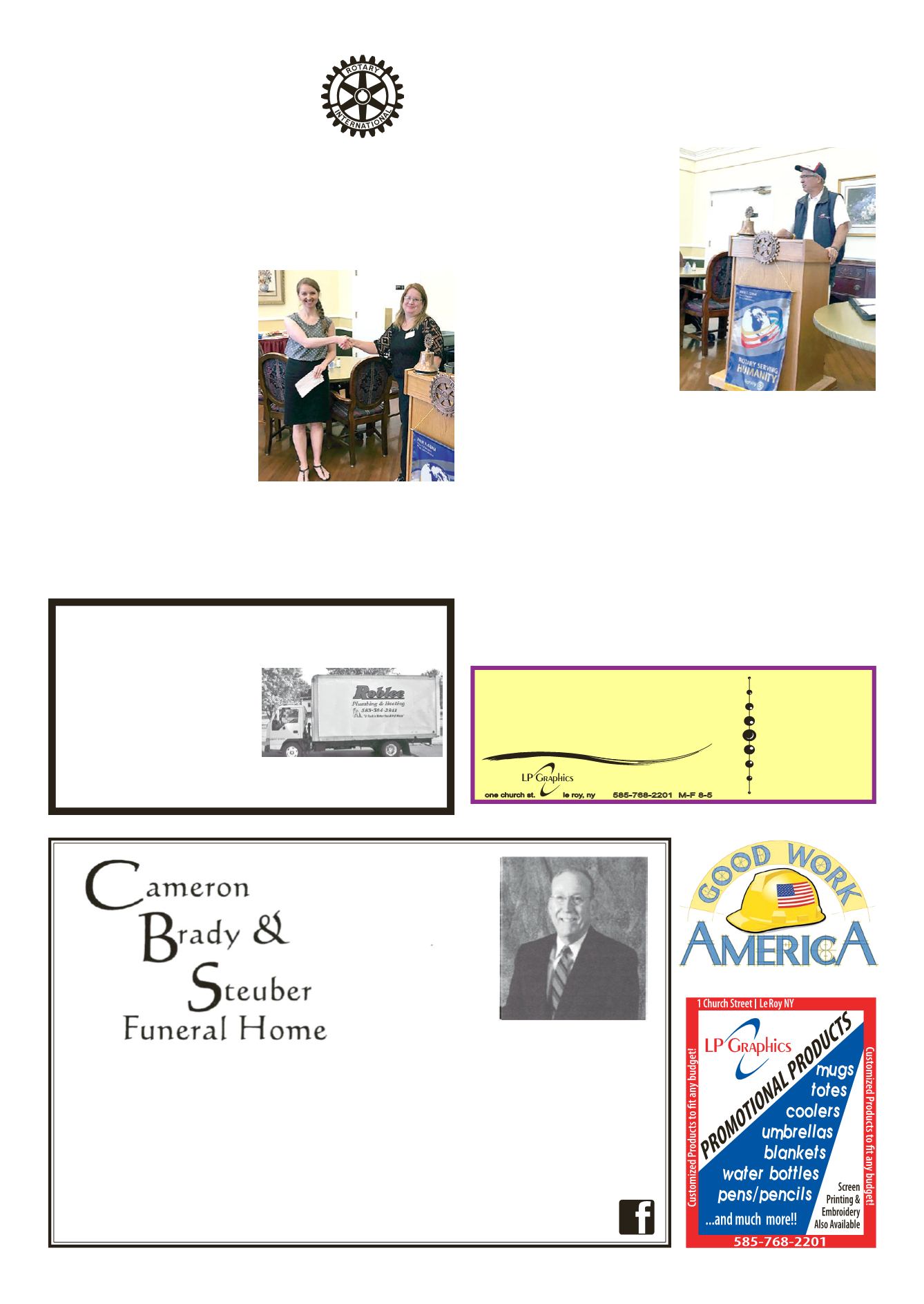 LEROYPENNYSAVER&NEWS - SEPTEMBER 4, 2016
LeRotary
Notes
Providing full funeral and
cremationservices.
111Wolcott Street, LeRoy, NY14482
ROBLEE
Plumbing&Heating, LLC
10991LakeRd., Pavilion • (585) 584-3841
Full Insured
LUXAIRE
GOULD
NYSCertifiedBackflowTester
Water&Sewer Lines •Water Treatment&ConditioningSystems
Several guests were in atten-
danceat theAugust24thmeeting
of theLeRoyRotaryClub.Benja-
minDadzweit fromHelimission,
whowas our guest speaker, Dan
Murray fromWestminsterColo-
rado Rotary Club, Janine Pajek
from Tompkins Insurance, and
Jessa Dechant from the LCSD
Several announcements were
made by Rotarians. Martha
Bailey informed the Club that
on September 17th therewill be
a Grant Management Seminar.
Martha also informed us of, and
encouraged us to participate in
the LeRoy Business Council
Golf Tournament on September
13th. Bob Carlson informed us
of theEastBethanyPresbyterian
PresidentDavidGraysonwent
down the listofmissedmeetings.
MarthaBailey, LynneBelluscio,
Bob Carlson, Ben Darregan,
Tracy Ford, TomMcGinnis, Dr.
Bruce Baker, Bob Boyce, Bob
Sullivan and Mary Young all
eitherhadamake-uporpaidwith
It is always a pleasure to sup-
port community activitieswith a
Rotarycheckpresentation. Jessa
Dechantacceptedacheck to fund
funds the purchase of lesson
books for LCSDmusic students.
The LeRoy music program has
received the NAME award for
the10th time. Theaward isgiven
to school districts for their out-
standing efforts to make music
available to all children.
President David Grayson is
alwaysprepared foragoodfining
session.ThisweekMarthaBailey
was fined for posting something
on facebook. BenDerraganwas
finedfor leavingbehindagift that
was graciously given to him at a
previousmeeting. TomMcGinn-
iswasfinedforanoldphotoofhis
son. President David could find
nothing to fine Ron Pangrazio
for and therefore he asked him
to come up with his own. Ron
finedhimself for a terrible round
of golf. BobBoycewas fined for
Our program was presented
by Benjamin Dadzweit from
Helimission. Ben provided an
interestinghistoryofHelimission
whichstarted45yearsago. Ernie
Tanner fromSwitzerlandhad the
unique idea toutilizehelicopters
for missionary work. The pro-
gramcurrentlyhas10helicopters
in use in Africa and Asia. The
program provides disaster relief
and humanitarian support.
Please don't hesitate to contact
anyRotarian if you are interested
in learning more about the won-
derful work being done by the
RotaryClubofLeRoy.Visit leroy-
rotary.organd likeuson facebook.
one church st. le roy, ny
one church st. le roy, ny