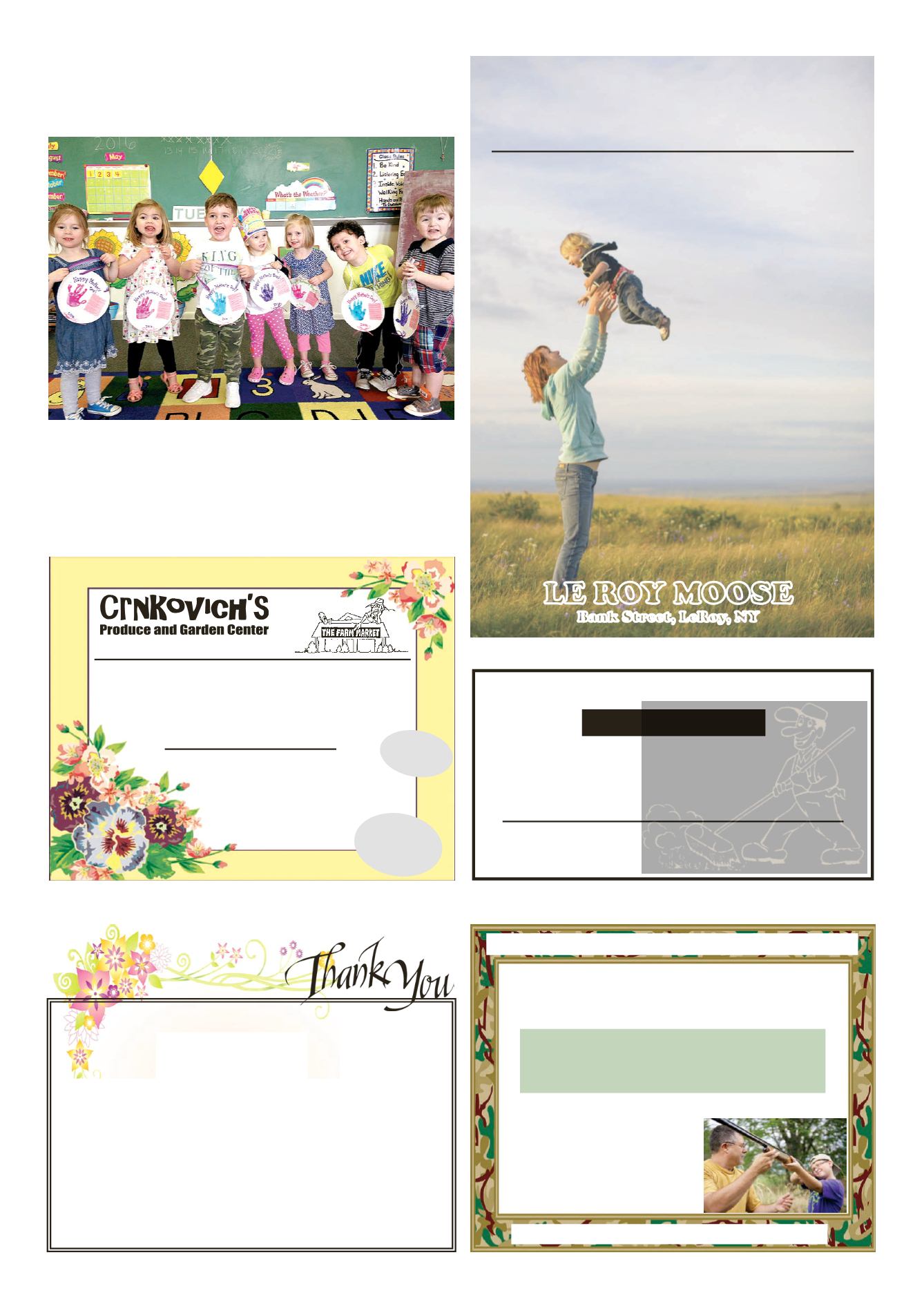 LEROYPENNYSAVER&NEWS -MAY 8, 2016
Our hearts are full of gratitudewhenwe saymany thanks to family
members, friends andneighbors for all their acts of kindness and
sympathy: food, flowers, donations, cards, visits andkindwords spoken
toour family regarding the recent passing of awonderful wife,mother,
sister, Memaand aunt, Barbara J. Rogers.
A special thank you to Kylynn Arthur for the loving care youprovided toBarb.
Thank you to St. ColumbaChurchandRev. JohnHayes
for hismanywords of comfort and to the Alhart Funeral Home
for their professional arrangements and caring service.
Special acknowledgement toWNYHospiceCare for their support.
The family of
BarbaraRogers
ForMore InfoEmail:
8041 E.MainRd. (Rt. 5) 1Mile East of LeRoy
OpenDaily •768-7259•768-7813
Gift
Certificates
Available
OPEN
ALLDAY
Mother'sDay
EverythingForAllYourSpring
Planting&LandscapingNeeds!
HangingBaskets •ComboPots • PansyBaskets
Annuals&Perennials MULCH • SOILS • PEAT
COMESEEWHAT'SNEW!
HomemadePasta •Handmade Soaps
Gourmet DogTreats • RusticHomeDecor
Pottery
BakedGoodsAreNowAvailable!
Many new items
addedweekly!
All thechildrenatLoveBugsPreschoolhavebeenbusypreparing
forMother'sDay!Theyhavebeen learningsongs, readingbooks
all aboutmoms and talkingabout different things that they can
do tomake theirmommy's feel extra special thisMother'sDay!
Picturedhereare some friends fromLittleBugsPlaygroupwith
their gifts for theirmoms!
HappyMother'sDay
FromLoveBugs
Mother'sDay
Sunday,May 8th
9 am to 11 am
Open to the
Public
FreeFlowerTo
AllMothers!
CleaningService
•Carpet &UpholsteryCleaning
•Spot Cleaning&Odor Removal
•Tile&WoodFloor Cleaning&Waxing
•Complete Janitorial Services